This review isn't complete since it hasn't finished final testing. Will update as testing occurs.
I got this gun from 007 Airsoft. It was my first time dealing with Ken. And his customer service was great. He answered all my questions within 24hrs. And kept me informed as to were it was as I ordered this during the preorder stage of his first order. It cost about $425-$430 dollars after paypal and shipping via purolater.
Now onto the gun.
Appearance:
The box it came in was a nondescript brown box. The inside was a different story. Inside was gray styrofoam that was cut to fit the gun and accessories.
In that box included:
-M4a1
-450rd highcap mag and 3000 bb's
-wall charger and adapter, as well as a barrel/flash hider wrench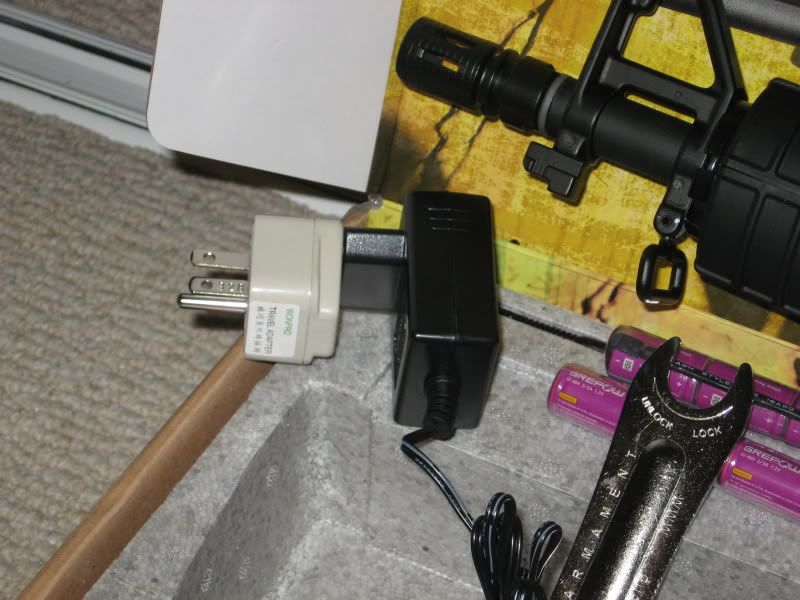 -Shooting glasses and glasses case
-9.6V 1400mah NiMH battery, unjamming rod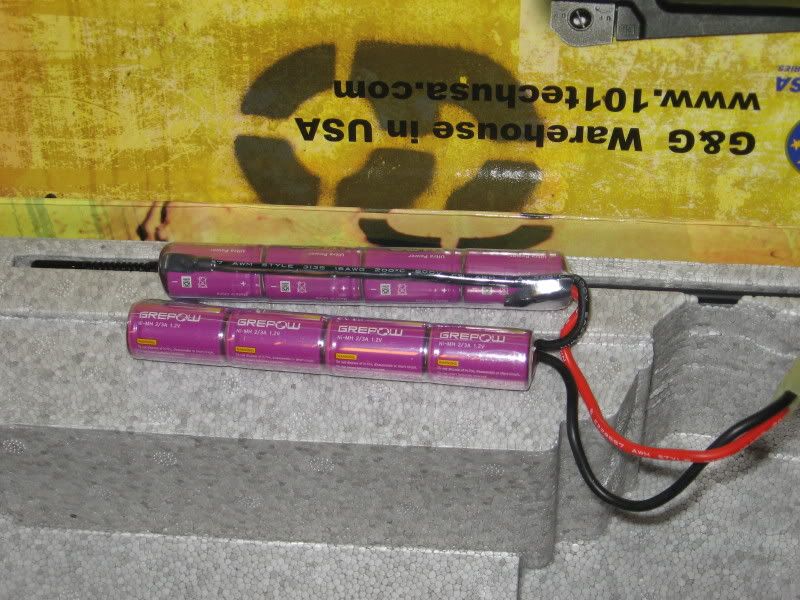 -also an instruction manual, and front sight detente tool, and small tactical rail.
The wall charger looks flimsy and is configured for Taiwan use but the charger takes care of that. I won't use this and will not since the battery is a nimh so unless the battery is 100% dead it is useless(IMO). But it does offer me a free mini tamiya plug and wall charger for my brother.
The shooting glasses fee flimsy, but the bag is nice so I have my regular shooting glasses stored in it.
The mag it comes with is bigger than my KA mids. It appears to be real steel size.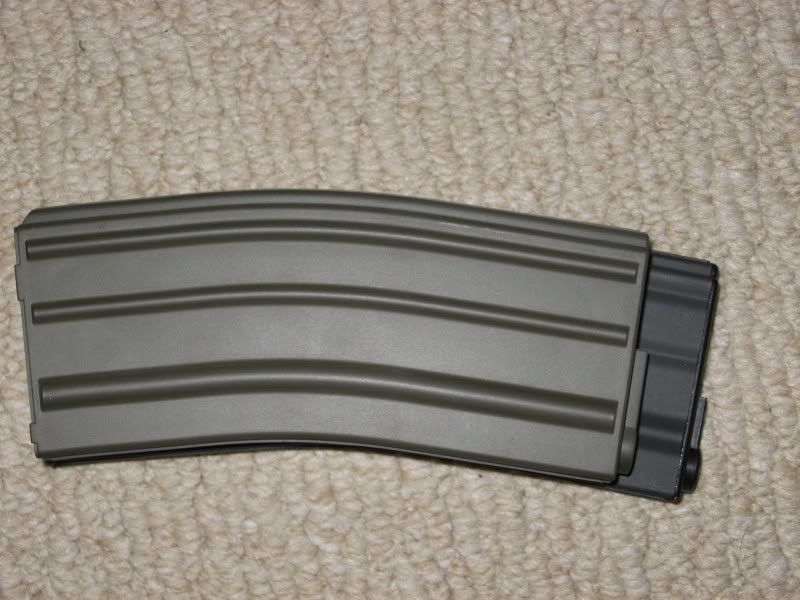 Now what you have skipped down ignoring everything else to see. The M4:
As you can see there is a lot of metal. So its easier to list what isn't so here goes:
-The upper and lower receivers.
-The pistol grip
-The handguards
-The included tactical rail
-The stock
-and the carry handle although the sights, screws, and thumbscrews are metal.
The trades look nice and don't scrape easily. I tried it was required a sharp knife to start to get them off.
The gun w/o mag or battery weighs 5lbs.
The supplied mag fits in well and the mag catch is tight. The KA mags fit in tighter and have less side to side wiggling.
Performance:
Please note before I tested I changed the battery connectors to deans.

This m4 had a nice healthy sound when fired, and different from TM's as well.
The ROF was high. Don't have exact figure though.
The range of the gun is about 120 ft w/ supplied bb's and no hop. This was measured at the local field which has a firing range w/ distance markers.
Trigger lag was low to nonexsistent even when the battery was starting to run low.
The Hop up is hard to adjust which is a good thing since AR's are known to have the hop up come loose.
Getting to the hop up at first was difficult since the cocking handle and bolt were sticking to the upper receiver. After a couple hundred pulls it slides nice and smooth.
I skrimished the gun a couple times and it was very easy to round structures due to its size. The front sling point jiggles a fair bit it is only really loud when you are running.
Now I intentionally dropped the gun, fell on it, banged it against walls. The thing doesn't even creak or flex when I did this. Its solid.
Groupings were good due to the tightbore barrel which is 6.04mm.
I never used the supplied mag just my KA's. This was because unless I used the highcap first all of the bb's would fall out. The door for the highcap does not like to stay closed. Not a big deal to me I don't like highcaps. The KA's fed well, no miss feeds.
This gun has yet to be chrono'd.
Upgrades
The gun has been repainted black
Had Deans connectors added
And had a full stock attached.
When taking it apart to be painted I found out that it will need a different cylinder as this one doesn't have the right porting for a 300mm barrel.
The Motor is unlabeled but has a good weight to it. It didn't look like anything was wrong with it.
Now I went to change the cocking handle latch to a KA tactical one and the handle broke. I wasn't using exes force or pressure, and I was using roll pin punches. It broke on the thinner bottom section or the handle.
In order for a suppressor to be attached you need to either add a spacer or get a supressor like the one that comes with the Mk.23 NBB.
Whats next: Well a new cylinder and a sorbo pad. A new cocking handle After that I'll see what it needs.
Conclusion:
This gun has been solid, Taken most external upgrades gracefully. And gone through 2000 rds and no wear internally to be found. But thats just my initial assessment. After I get to game this gun in a really game and put more rds though it will I really know how well it holds up.
But as of right now it has both mine and my birds approval lol.
Got to go and do my final testing yesterday.
Well the weather was about -3c all day, little to no wind, and about 4 to 6 inches of snow on the ground.
Being that I'm not easy on the gun it was covered in snow. In the barrel, hop up, mags, everywhere. The battery that came with the kit lasted about 1600 rds. And its only a 1400mah batt. but it could partially be explained by the deans connectors. Now the gun was miss feeding when the mags were near empty. Now this problem was complicated by 2 mags not wanting to feed well.
The gun came out with a few new scratches, but what do you expect from a game. But it took bb hits very well, the metal barely scuffs. Its great.
Now I was using .28's today and I was getting about 80ft. with the hop up set right. Not 100% on that since its hard to get a real good bearing in a white bb over white snow. The hop up adjusted well to the larger weight. Although closer to the end of the day it was going a little wonky.
Conclusion
I like the gun, alot! I never thought I'd be an Armalite fan. And it performs great, the only real thing I didn't like are the stupid roll pins. They have caused me to break the cocking handle and a roll pin punch. GR!
Performance: 10/10
Appearance: 9/10
Weight/Build Quality: 7/10
Upgrades: 9/10
Overall: 8/10