Creating an official thread for this
It's beginning to hit the market. Release date is NOW. Companies are taking pre-orders now, and I have access to a few. More information has been made available for this system:
- Retail Price in Japan: ~$395 CAD (once landed in Canada, it will be more than that)
- Fires a selectable 3 rounds OR 6 rounds per shot.
- Gas powered
- Gas Reservoir is stored in the full stock, and can be removed and replaced like a gas cartridge.
- Each gas reservoir is able to fire 100 shots. In other words, if you're shooting 3 rounds, you can put 300 rounds downrange on each tank of gas. These ratings are on duster gas. Unknown performance on propane.
- Can use old Marui shells, or the new ones
- Each shell holds 30 rounds
- Features a patent-pending industry first: Dual hop up system. Each system controls the spin on 3 BB's. With 3 BB's being fired, only one system is engaged. 6BB's engages both systems.
- FULL METAL, where it all should be! Die cast aluminum receiver, and metal outer barrel
- Online videos show Marui reps racking this thing single handed... to prove that there is durability in the cocking mechanism.
I've been looking forward to a GOOD shotgun for airsoft for years. Many companies have tried... all have failed. Durability and performance were always the biggest downfalls. I am expecting good things from this, and am excited to get my hands on one.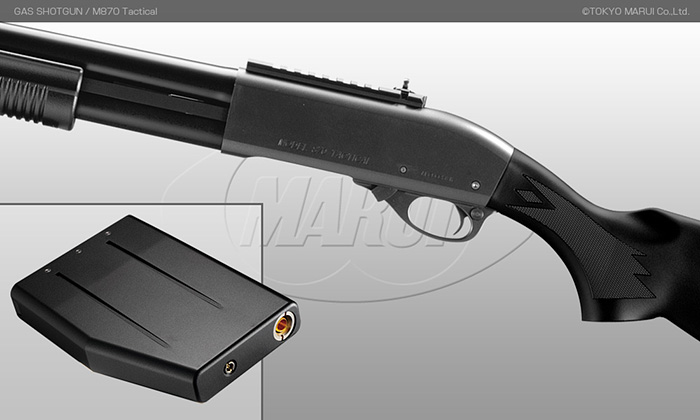 Image of the gas reservoir
Image of the hop up unit and 3>6 round selector