TM HK45 low gas efficiency.
---
Hello,
I have two TM HK45 and a KWA HK45. The two TM gas efficiency is about 21 bbs before the mag runs out of gas and the KWA is about 30 bbs. I happen to see a video on youtube that the TMs suppose to be doing about three times what they are doing so if anyone has one and can relate to what is the correct number of BB I should be getting out of one mag fully charge I would be grateful.
PS. I also have a TM XDM.40 that is ridiculously low in gas efficiency.
__________________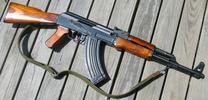 .
.
Stop sharing fight and hate video.