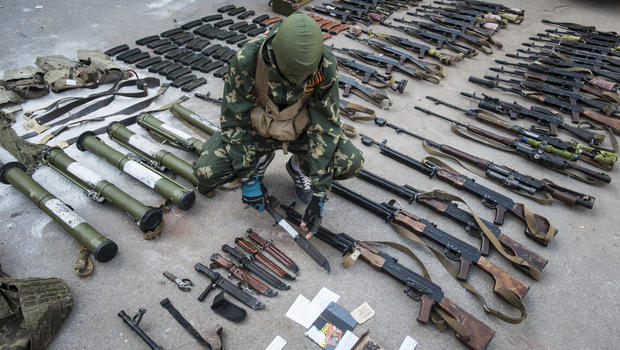 (
"Sometimes a good knife is all you need!"
)
Russian Airsoft Guns:
This is a list of Russian weaponry that I've compiled that is either currently available on the market in an airsoft version or models that are highly sought after by the community. I believe this list may assist those looking to improve upon their existing loadouts or give them ideas of what may become available in the future. If you have any questions or suggestions please feel free to comment below as I will be updating this list periodically.
*NPO-AEG is a premium airsoft manufacturer from Russia and is highly expensive and next to impossible to obtain. However, they have some unique models that I thought should be included as they may one day be cloned by a Chinese manufacturer.
Handguns:
Nagant M1895 (Gun Heaven, WinGun)
Tokarev TT-33 (SRC, WE, KWA)
Makarov PM (KWC, KWA, Gletcher)
Makarov Baikal .380 (WE)
Stechkin APS (Gletcher)
MP-443 Grach (Gletcher)
MP-412 Rex (No Airsoft Verson)
Submachine Guns:
PPSh-41 (ARES, S&T, Hexagon, Lancer, Snow Wolf)
PPS-43 (No Airsoft Version)
PP-19 (Cyma, Silverback, Echo 1, LCT)
PP-2000 (No Airsoft Version)
Assault Rifles:
AK47/AKM/74/101-108 (Various)
AN-94 Abakan (No Airsoft Version)
OTs-14 Groza (Hephaestus)
AS Val (AY, LCT, S&T, Zeta Labs, NPO-AEG*)
SR-3M Vikhr (LCT, NPO-AEG*)
9A-91 (NPO-AEG*)
AEK-971 (NPO-AEG*)
AK-12 (Well, NPO-AEG*)
Military Rifles:
Mosin-Nagant Rifle (PPS, S&T, Zeta Labs)
Tokarev SVT-40 (No Airsoft Version)
Simonov SKS (Some Rare and Crappy Spring Versions)
Sniper Rifles:
Simonov PTRS-41 (No Airsoft Version)
VSK-94 (NPO-AEG*)
VSS Vintorez (AY, King Arms, Echo 1, LCT, NPO-AEG*)
Dragunov SVD (King Arms, Cyma, Classic Army, WE, Real Sword)
Dragunov SVD-S (Cyma, ARES)
SVU (NPO-AEG*)
SV-98 (Technically the WELL MB4409D is close in appearance)
OSV-96 Anti-Material (No Airsoft Version)
ORSIS T-5000 (No Airsoft Version)
Shotguns:
Saiga 12 (No Airsoft Version)
KS-23 (No Airsoft Version)
Vepr 12 (No Airsoft Version)
MTs-255 (No Airsoft Version)
Light & General Purpose Machine Guns:
Degtyarov DPM (No Airsoft Version)
Degtyarov RPD (No Airsoft Version)
Kalashnikov RPK/74 (Various)
Kalashnikov PKM (A&K, Echo1)
Pecheneg PKP (No Airsoft Version)
Degtyarov DShK 12.7 (No Airsoft Version)