Hi All,
I'm back in the country after a hellish Christmas and New Years...But anways...
This has been a long time project for me. I wanted to do this build a while ago but since couldn't really find time to do it.
But now here I am. All done.
I present to you my take on Tokyo Marui's newest iteration of their p226 line.
This is a P226 E2
Enjoy!
The Pro-Win kit was more trouble than anticipated. Even though it looks good, there were numerous modifications that were made to allow for a full and easy slide cycle. This kit is not for newb at heart. Parts need to be sanded/filed in order to accomodate the kit.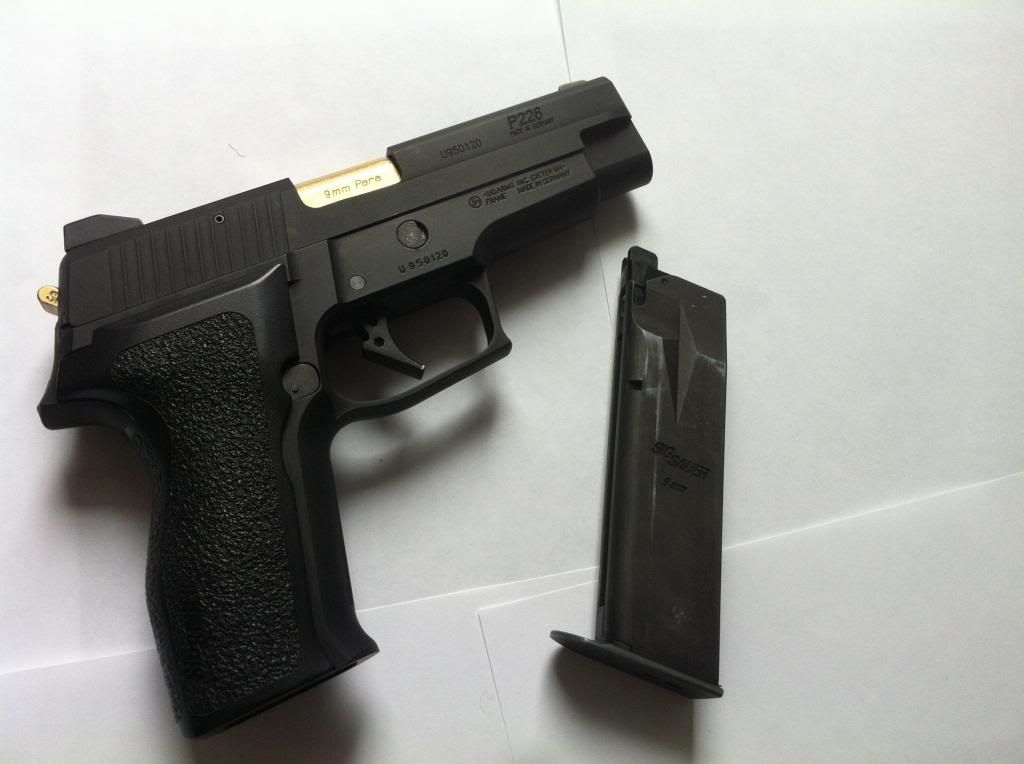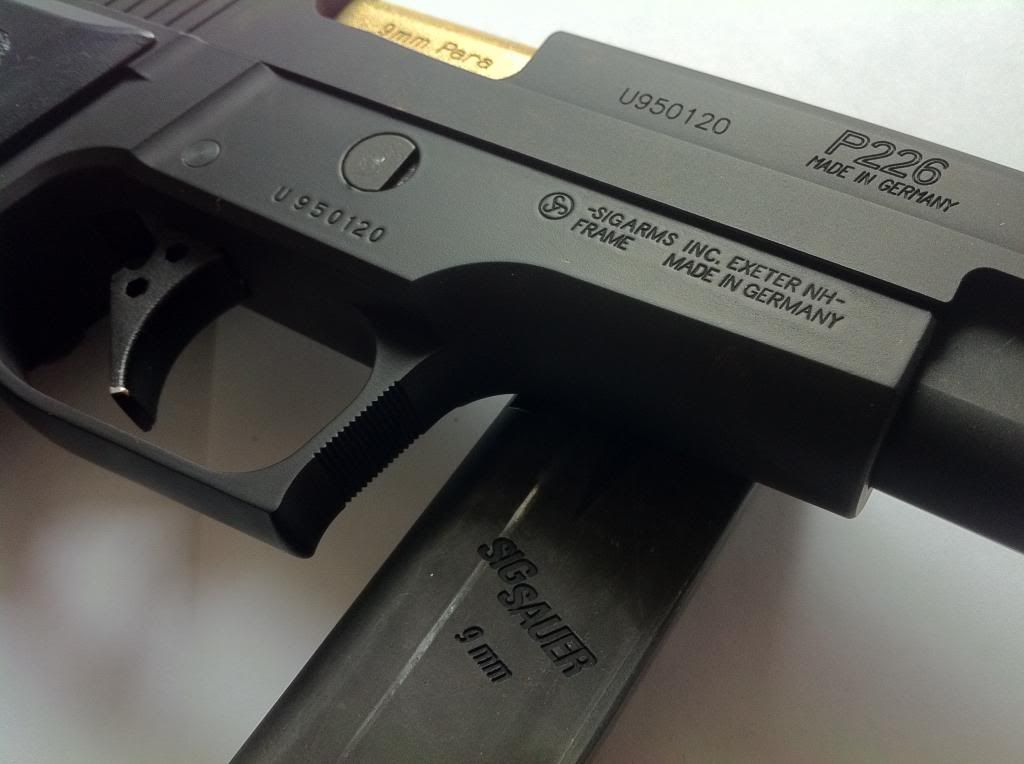 I wanted a slightly unique look to the pistol. This provided just that by offering trademarks that are not the generic 226 markings.
The trigger is a MODIFIED Sentinel 9/P-Virus style skeletonized trigger.
I went with this set up just for the sake of style.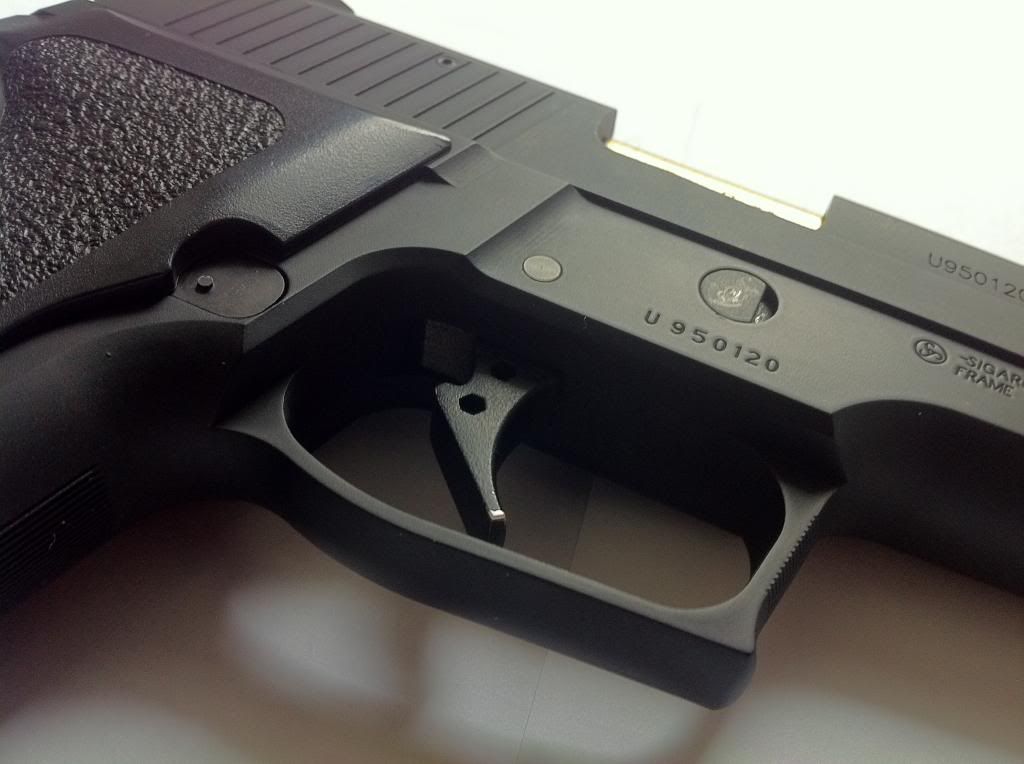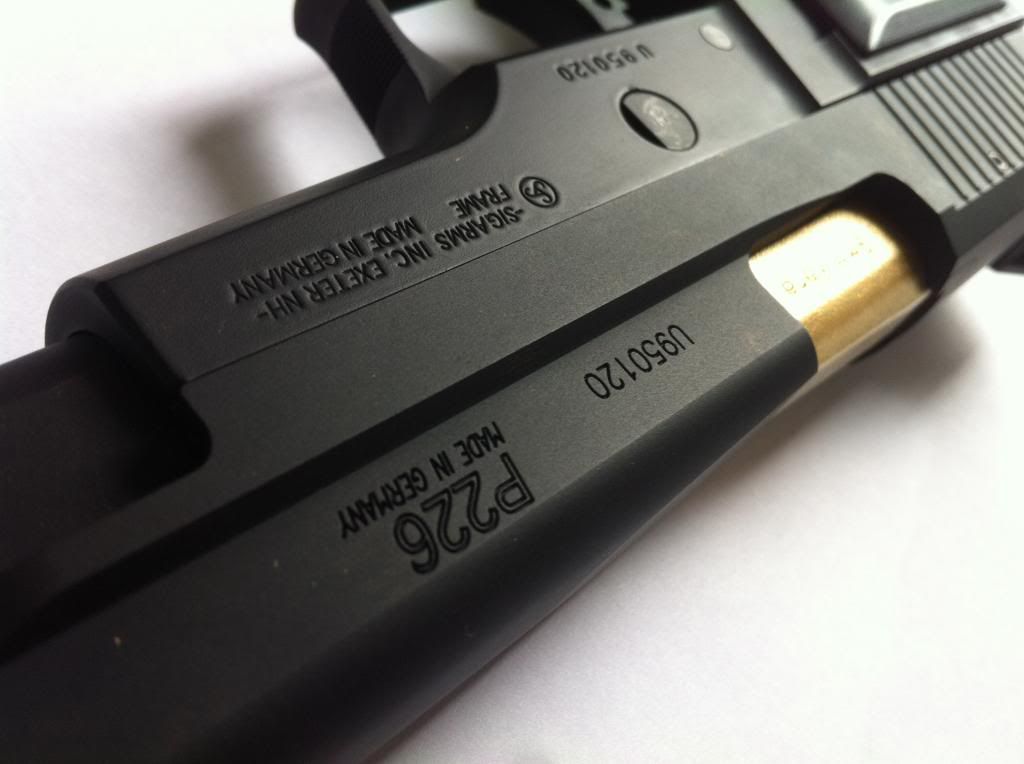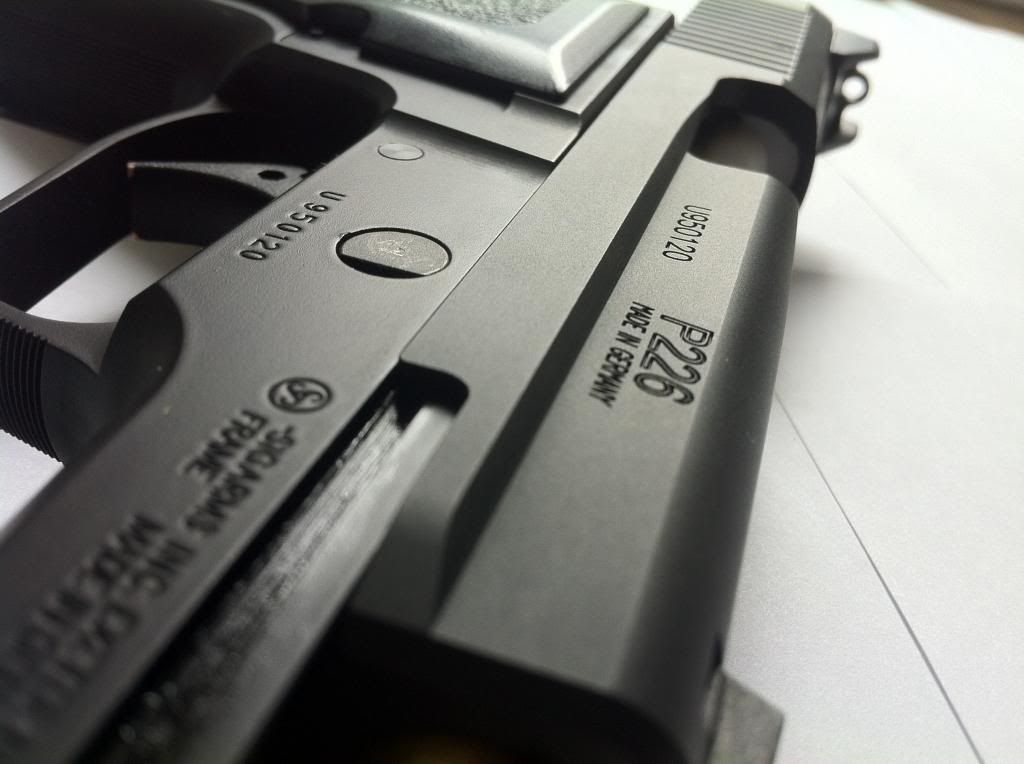 The system utilizes a duo tone color scheme.
THe barrel, recoil, and hammer are gold(ish) color provides a nice contrast to the all black frame and slide.
This was done intentionally to make the gun "pop" a bit more rather than stay in the background (so to speak).
In a real world scenario, gold(ish) probably will not be acceptible as it gives too much away about the operator's position.
But whatever. I saw and I wanted it. So I bought it and I installed it.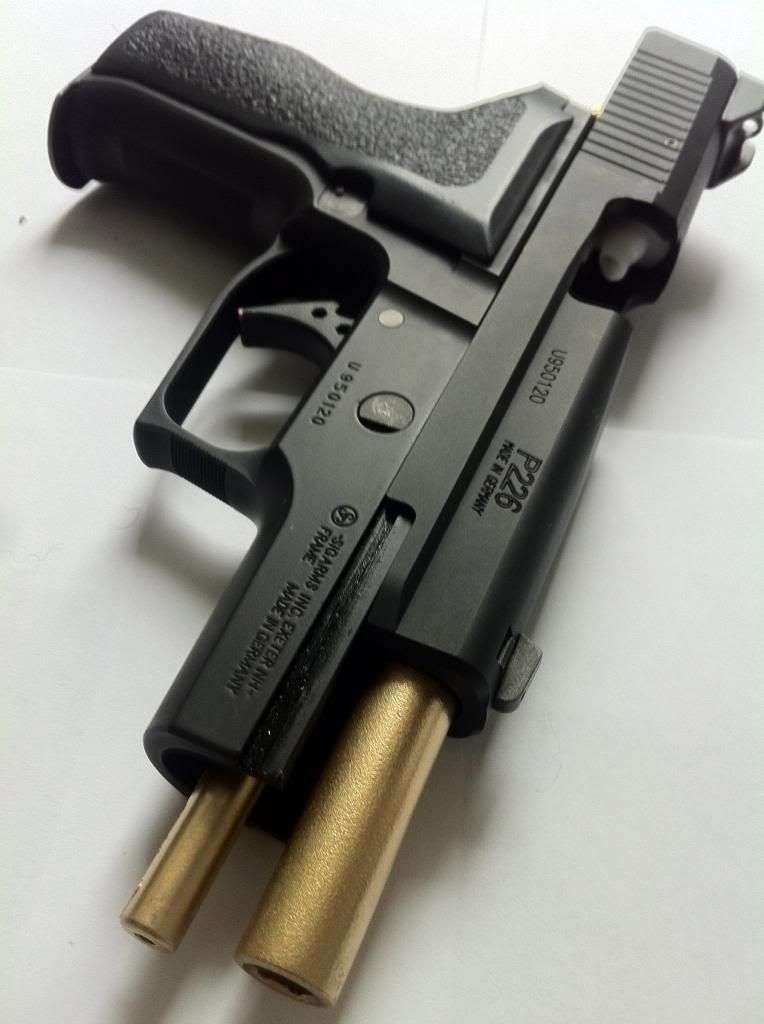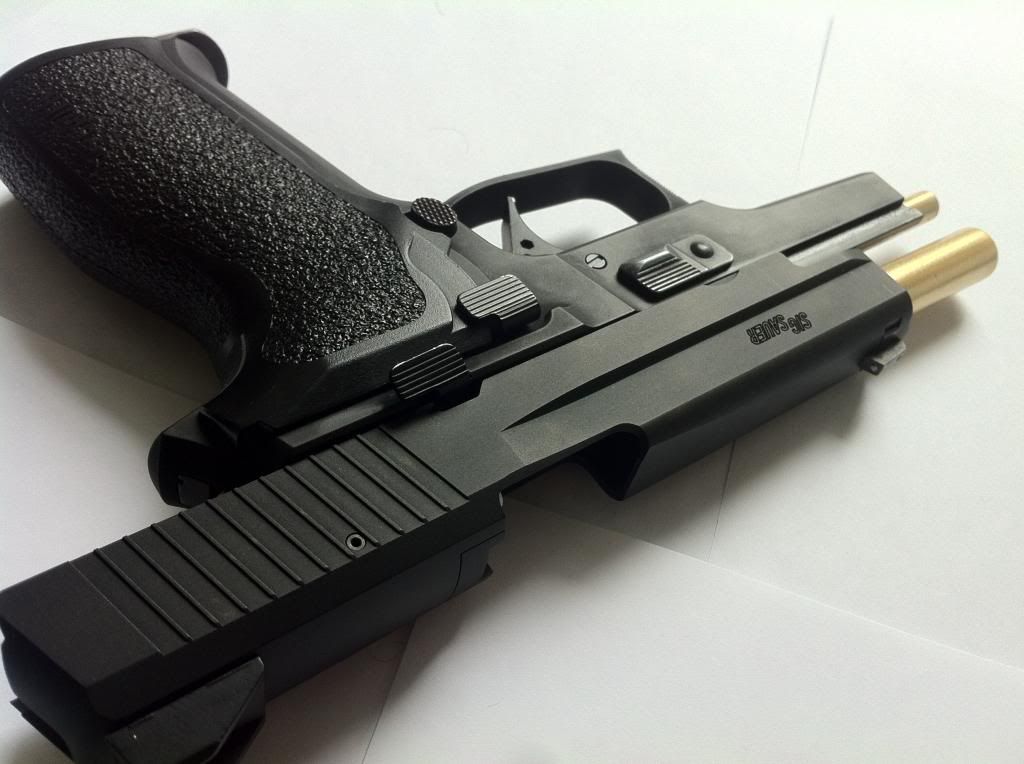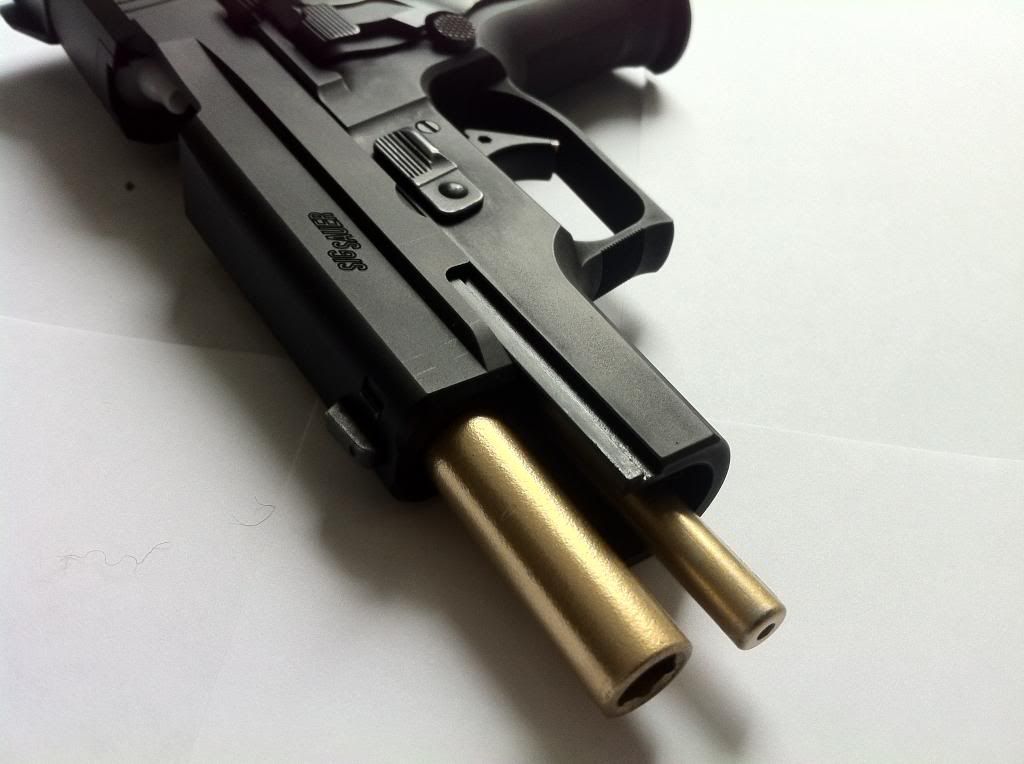 At the time when these pictures were taken, the gun was utilizing the stock hand controls. Since then, I've upgraded them to a full steel set from Guarder.
They needed modifications but nothing major.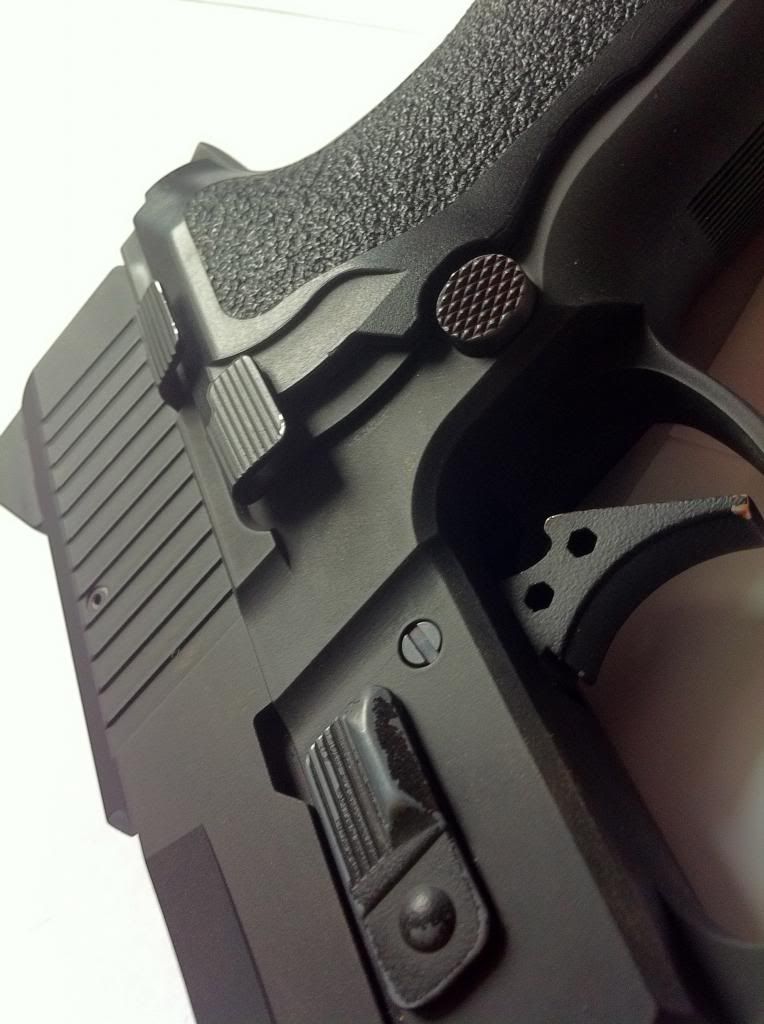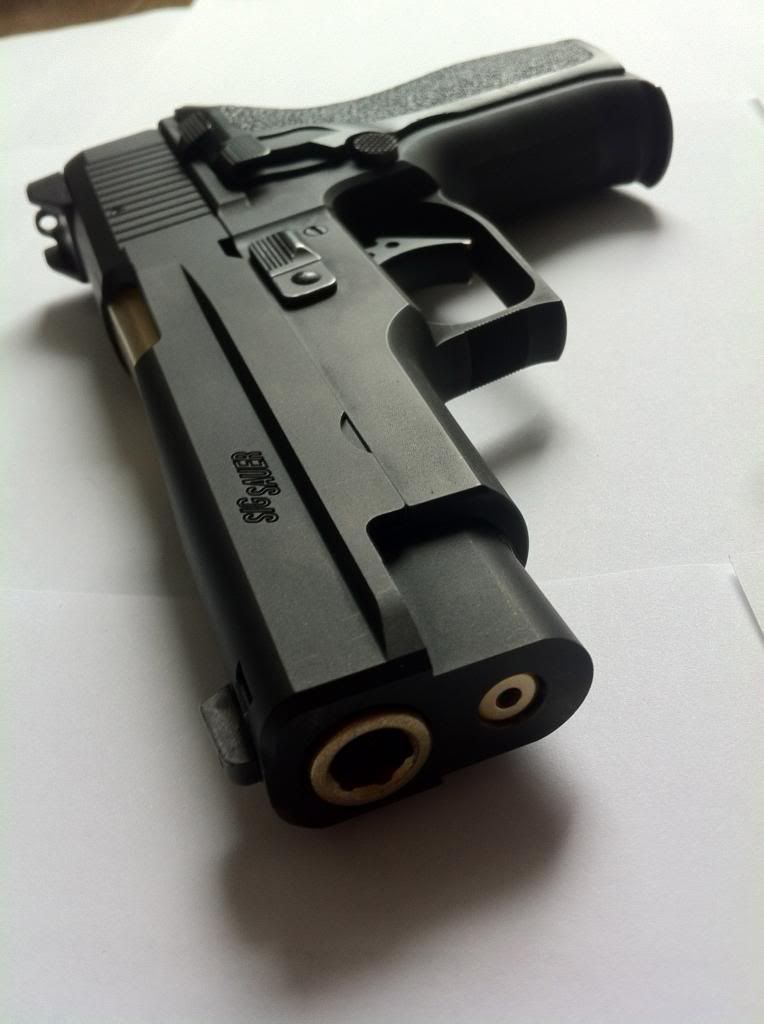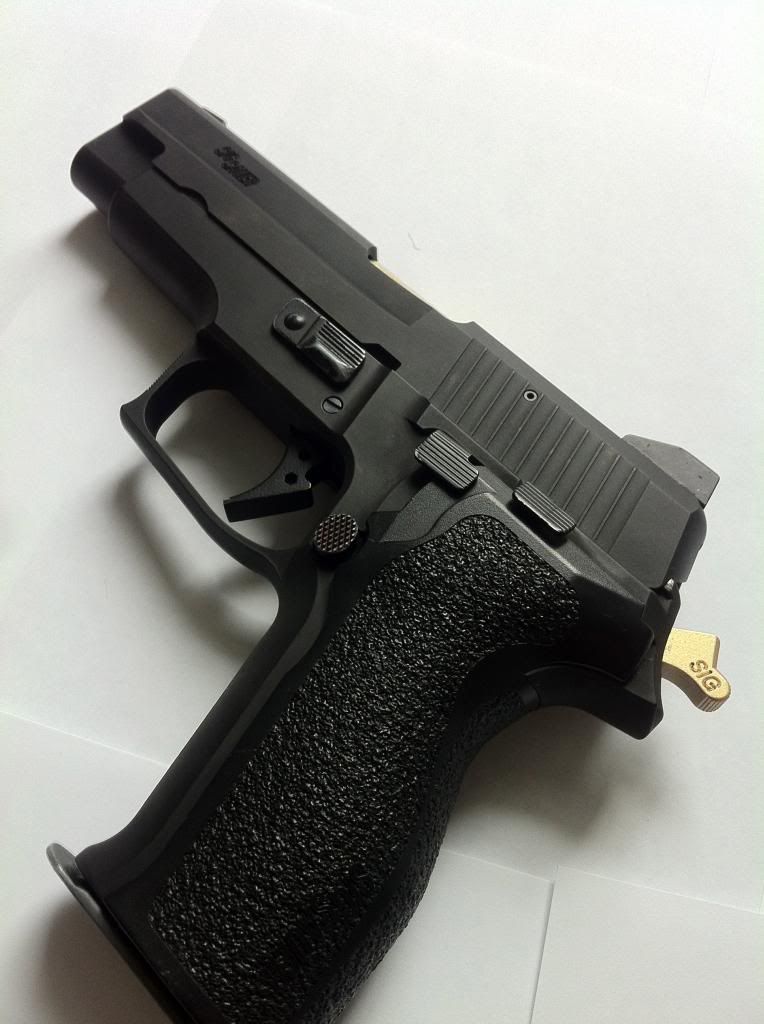 The inclusion of ghost ring sights was a debate I fought internally.
Ghost ring sights on pistols are tricky to master. The are not fixed like rifle ghost rings so lining up shots can be a hassle.
They limit your plane of sight just by simply looking through the ring itself.
For me these ghost rings are horrible actually.
The plane of vision is just simply too...limited!
In any case, I modded them for night use also:
These are the three dot-system I modded. Looks pretty cool at night.
The designator "E2" or E Squared, simply denotes the this iterations upgraded ergonomics.
The SIG SAUER made an effort to improve upon the previous P226 designs by re-designing the grip angle and the grip texture itself.
As you can see, the grip angle allows for easier use of the hand controls. THe grip is also much slimmer than the standard P226 Rail making it easier for operators with all hand sizes to operate.
Along with the grip, the trigger has been re-vamped with a system that allows for shorter travel and quicker hammer breaks.
Lastly, the magazine catch has been re-modelled to for easier access.
This Tokyo Marui version is quite accurate in capturing all these changes. The complaint lies in the texture of the grip. It's too...plasticky. The finish or coating they put simply defeats the purpose as your hand will get sliperry when you start to sweat.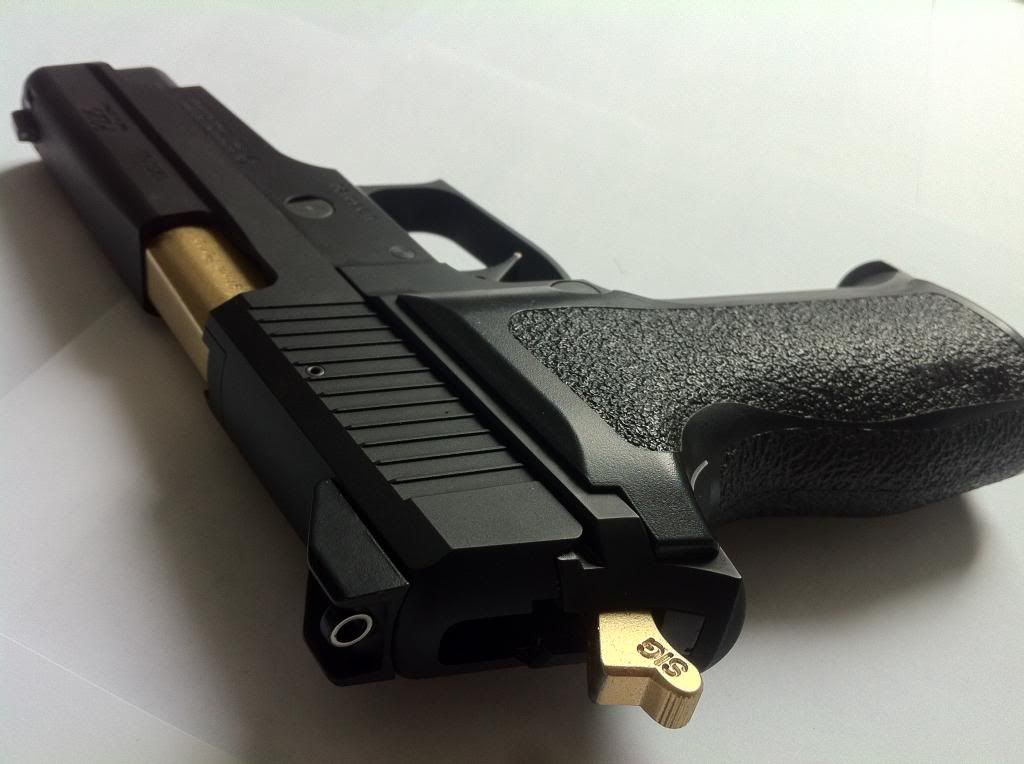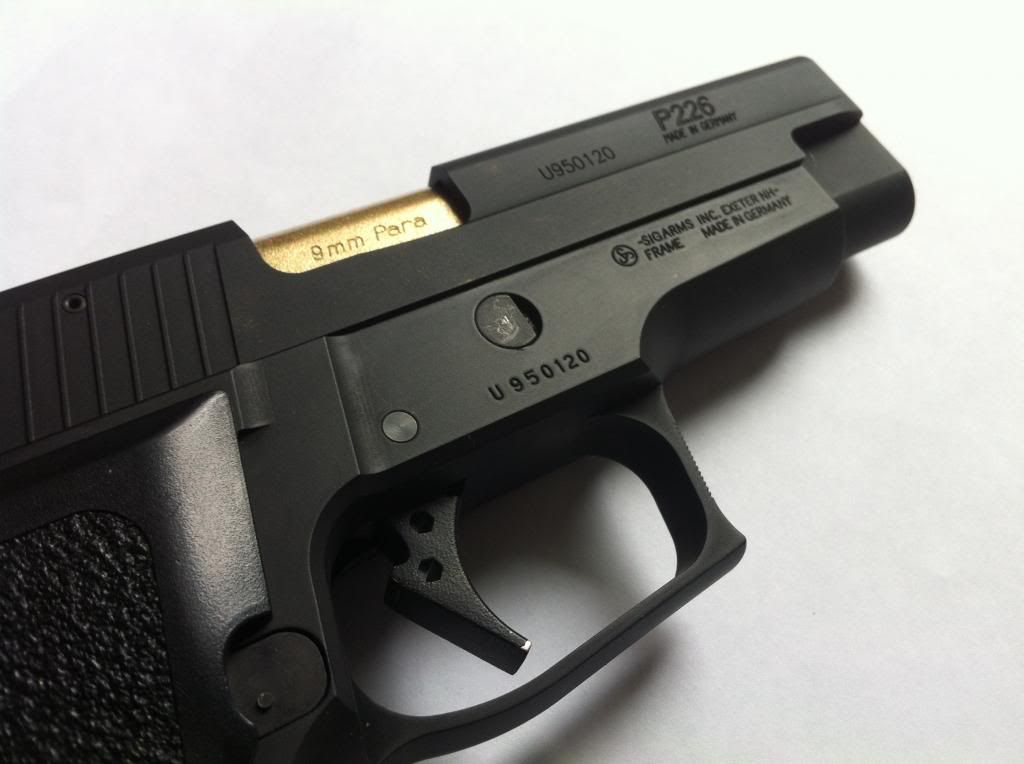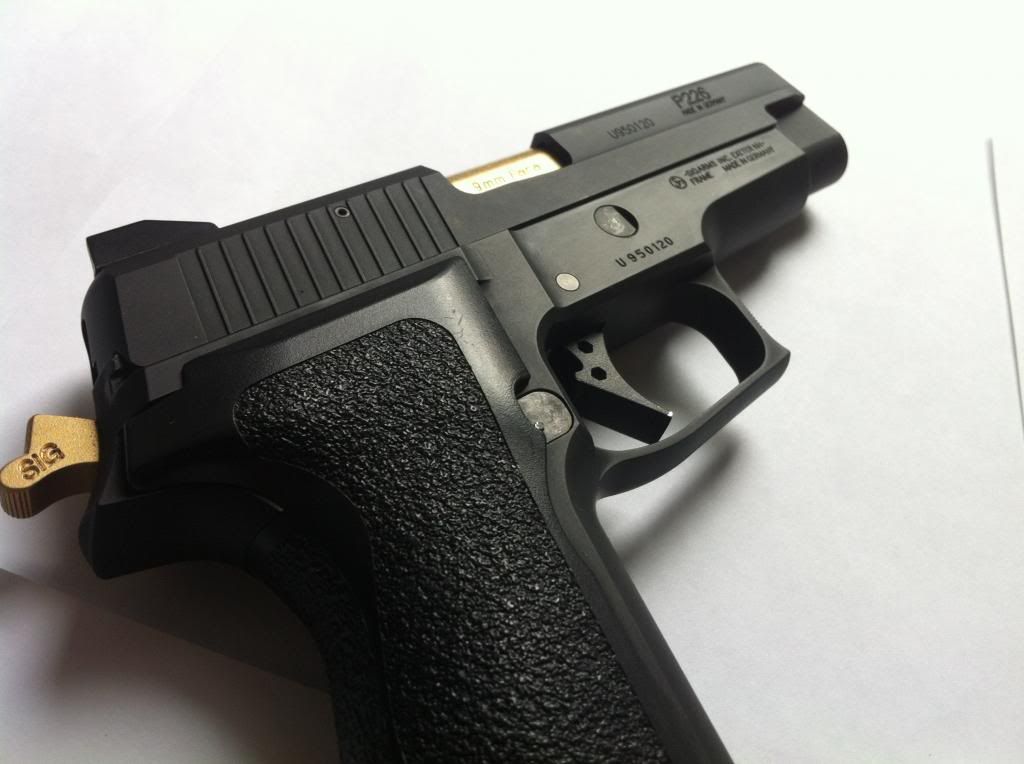 If there was one thing to complain about, I'd have to say that the hammer breaks are quite interesting.
In my case, I found that there is no real definitive hammer breaks in ALL the Marui P226s.
Each pull of the trigger gives a different break point.
It may not be a big deal to some of you but it gets quite annoying if you're in a competive shooting situation. Knowing when the trigger breaks preps for the next target acquisition and/or easier double taps (For me anyways) by reducing your "flinch".
And for a real operator, trigger operation is something that one becomes familiar with in his weapon.
Ask a sniper and he'll tell you.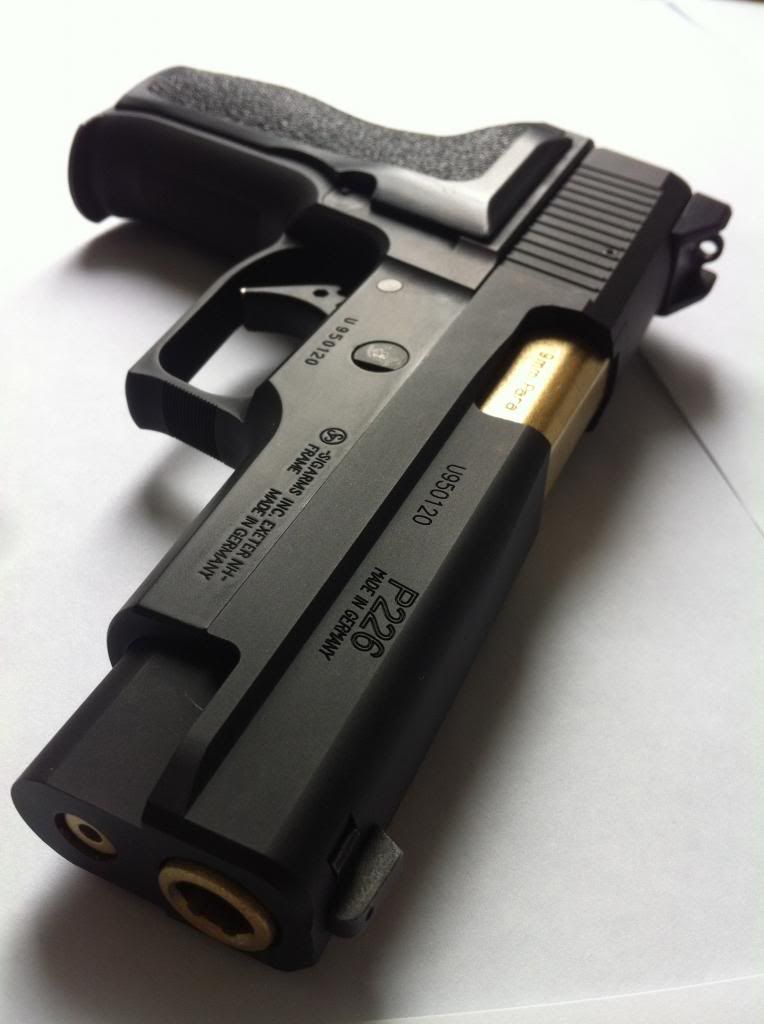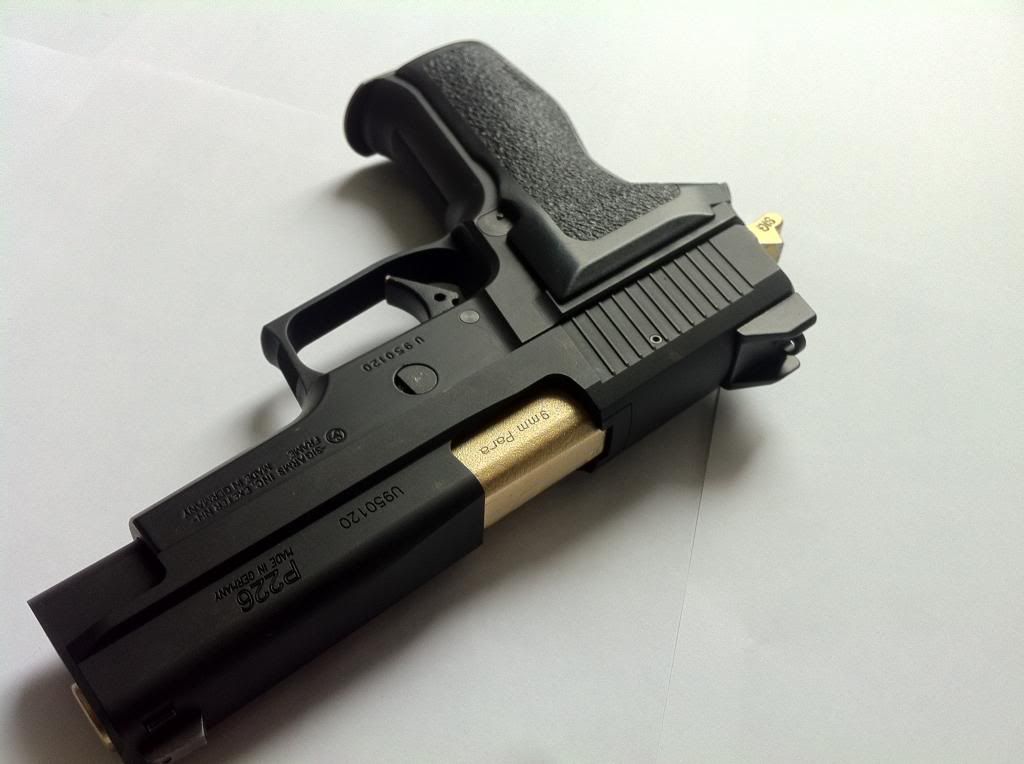 The Kit List:
-Pro-Win P226 E2 metal body kit
-Nineball Metal outer barrel (Silver, No marking)
-Creation Steel hammer
-Guarder enhanced recoil spring
-Guarder enhanced hammer spring
-Guarder high output blowoff valve
-PDI stainless steel 6.01 tightbore inner barrel
-A+ hop up bucking
-A+ hop up assist
-Shooter's Design POM Loading muzzle set
-Action aluminum hi-flow floating valve
-PDI Standard Piston head
-Guarder Takedown lever
-Guarder slide catch
-Guarder magazine catch
-Guarder steel decocking lever
-Some sort of fake firing pin (ask Jamuke. I think it's the Prime ones)
-Real Steal SIG SAUER P226 E2 Grip
-Real Steal SIG SAUER P226 E2 hammer strut
-Real Steal SIG SAUER P226 E2 Hammer spring weight
This P226 shoots at 330-345FPS on .20g and green gas
THe slide stroke is hard and fast.
Shooting Video:
Marui P226 E2 w/ Pro-Win Metal Body kit - YouTube
That's all for now.
Many Thanks to Jamuke for the base gun and Akamikee for all his help!
See you next build folks!
MOARRRRR PICS:
Upgraded to the muffuggin' T.
...for tits.
"What grip is that?"