Quote:
Originally Posted by
Cassius

amazing duals, I hated the cougar up until 2minutes ago and now I want one.

How big is it if you compare it to lets say a Glock 19?
Pretty much the same size as a Glock 18C- same when laid on top of it. Don't know the size of a 19, sorry.
It's a pretty compact gun, but I'm more then suprised about the range I get with it- outranges my friend's Marui M4 easily, and I haven't even adjusted the hop-up.
As for silencers, I'm looking into threaded barrel adaptors but I can't find one- the clamp adaptors wouldn't work because of how little the barrel sticks out the end of the slide.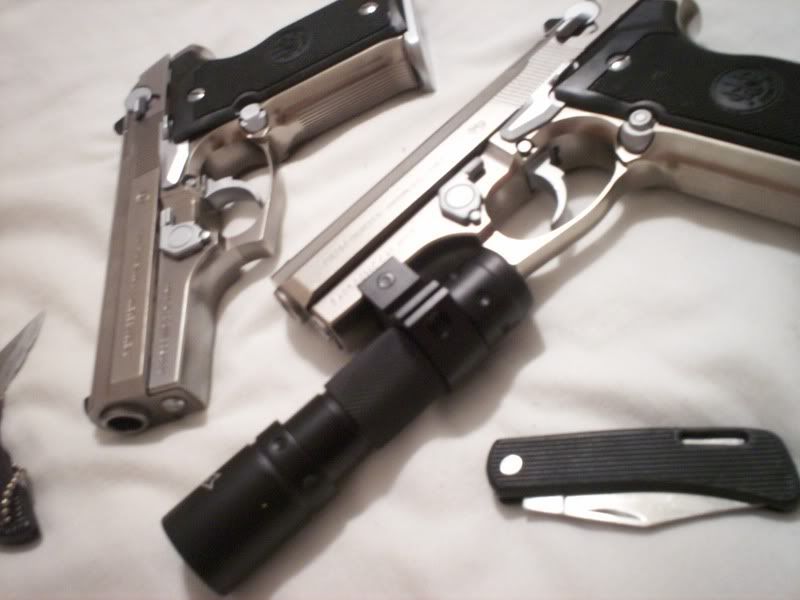 More eye-candy.
I'm looking into a pair of universal trigger-guard mounts and a matching red and green laser.
A pair of compensators
or such may be in order.
Something like a cheaper, more reasonable version of
should do great, and a UT1 barrel mount
fits perfectly. There are no threaded barrels made for Cougars, so that's out of the question for now.
Matching left-and-right holsters are a must, just gotta find a decent price for some good ones.