Since Stalker is so damned impatient!
My plan was to incorporate several designs that I've seen around. First, I've noted that anytime I try to get into this 3D effect Stalker is on about, :P, it just gets sucked under the thread I have and you don't see it at all. So I decided I'd do it all in layers. First I am doing the long narrow threads to create a leafy-bushy look, picture in your head a Cedar tree. ((A did you know: In Eastern Canada, the most popular tree to grow is White Cedar, in fact it outnumbers strong Maples by about10 to 1. Also, looking at Pine trees here as well.)) Anyway, so I decided I'd get that done first through out the piece and then go on to get into the next layer: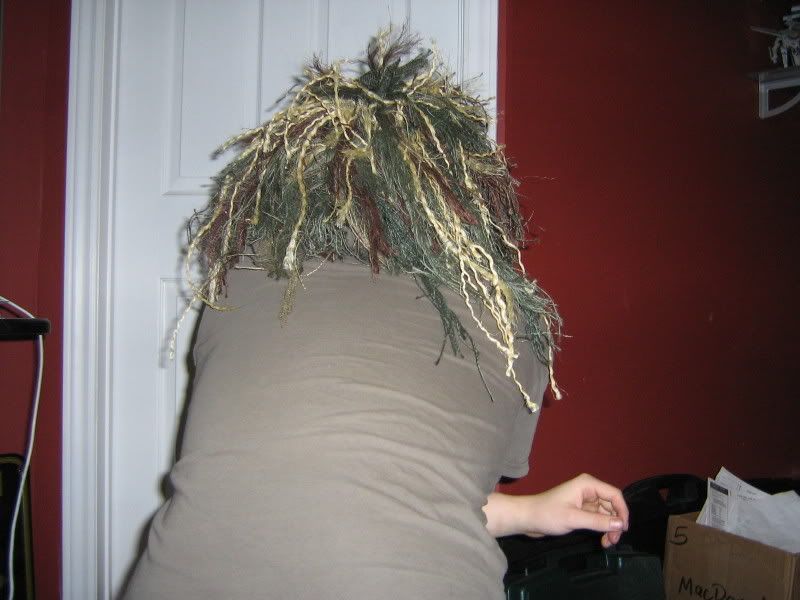 And since the hat was done for thin strands I put some of the twine I have in the garage for it. And since I'll have to buy more, and already used my available funds for this project for the moment, I'll just go through the jacket and by the time I'm done that, will have to pick up some.
__________________
_________________________________
"The hydrogen economy car from the people who brought you the '
Hindenburg
'" - Glen Foster
Condoms do not guarantee safe sex any more. A friend of mine wore one and was shot by the woman's husband!