Wasn't gonna do a thread for this gun but I'm kinda bored at home.
I've had this for several months now.
After building a few for others, I thought I might tackle building mine.
I've always fancied this gun.
Smooth lines, nice sight picture, good grip angle.
What's not to like, eh?
So here's my take on Tokyo Marui's Beretta PX4 Custom....
PS...Sorry about the pics. I got lazy and didn't edit them.
Kuwabara Kuwabara!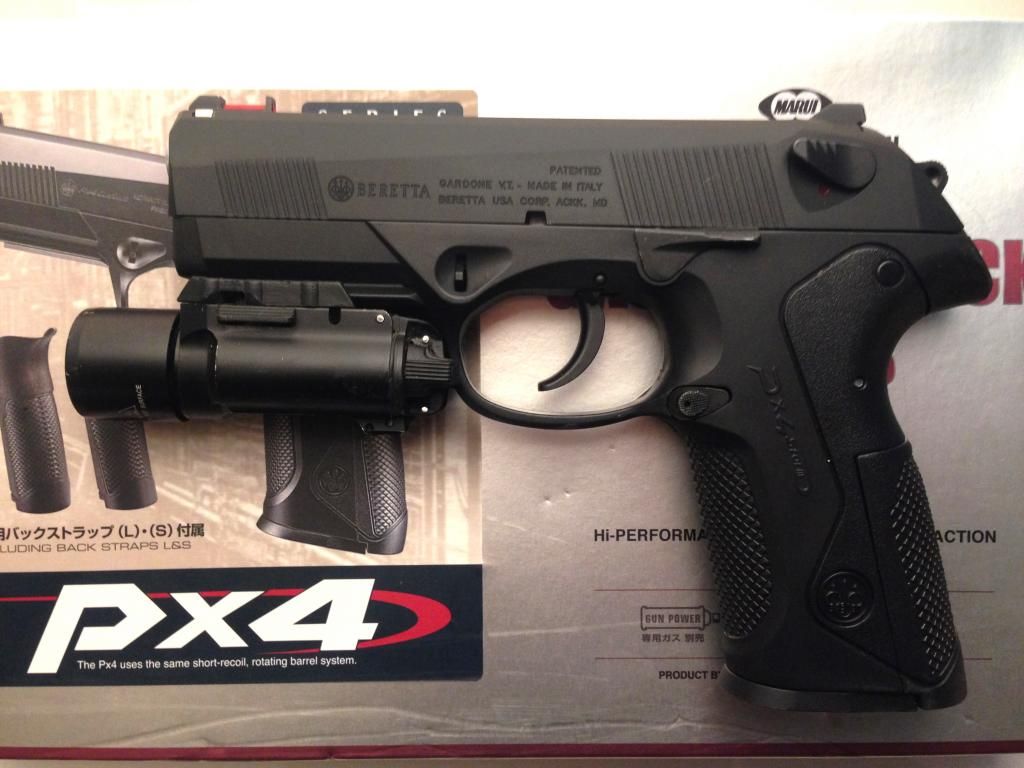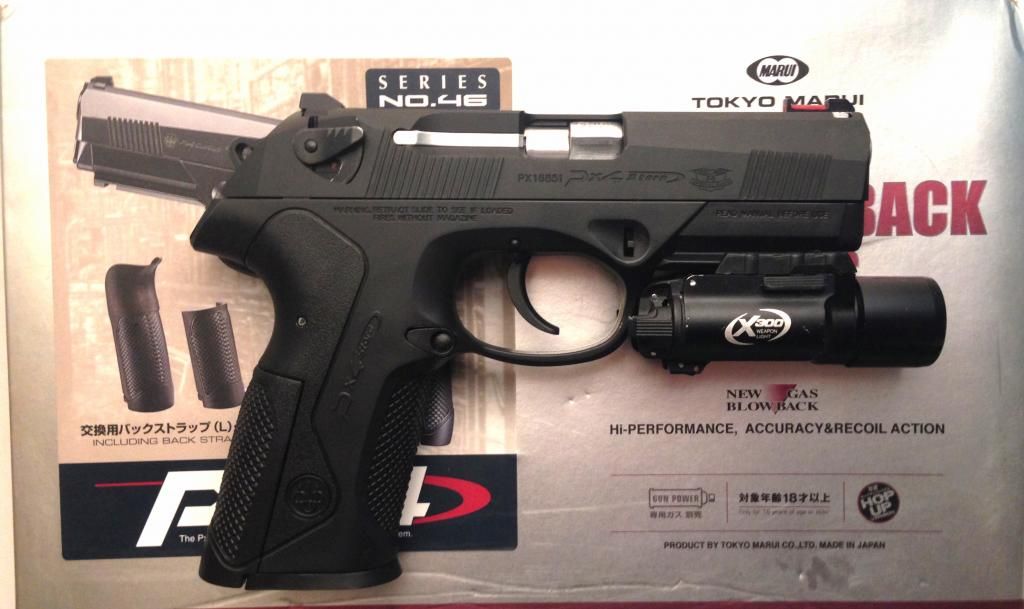 OOOHHHH....Baracuda!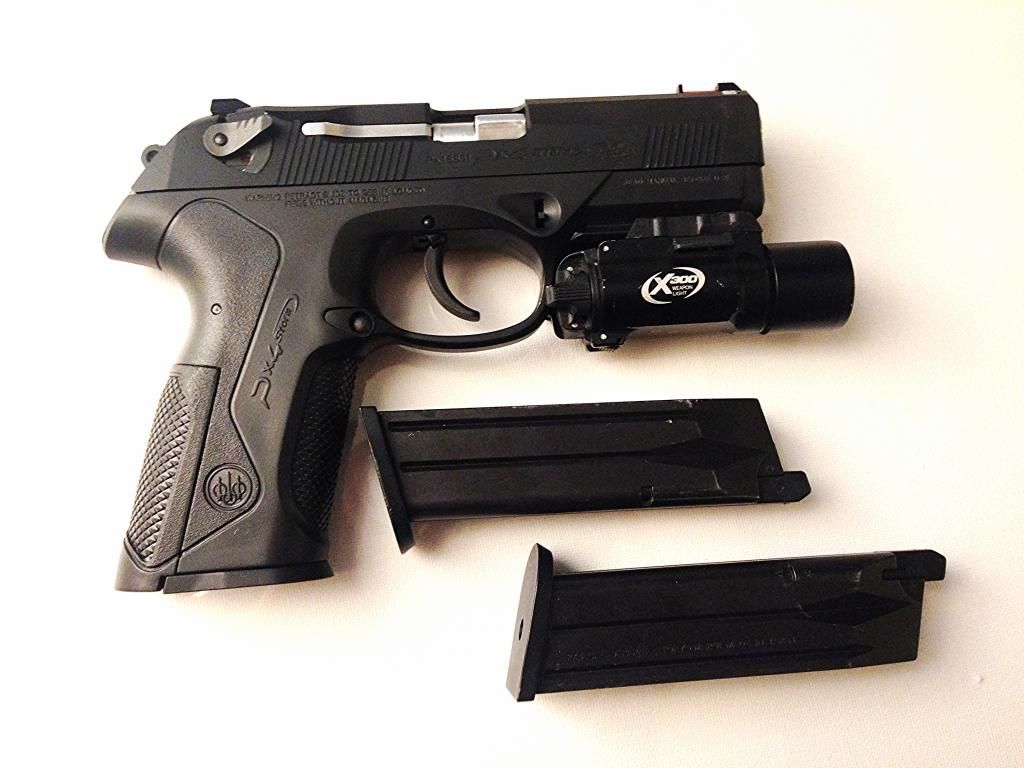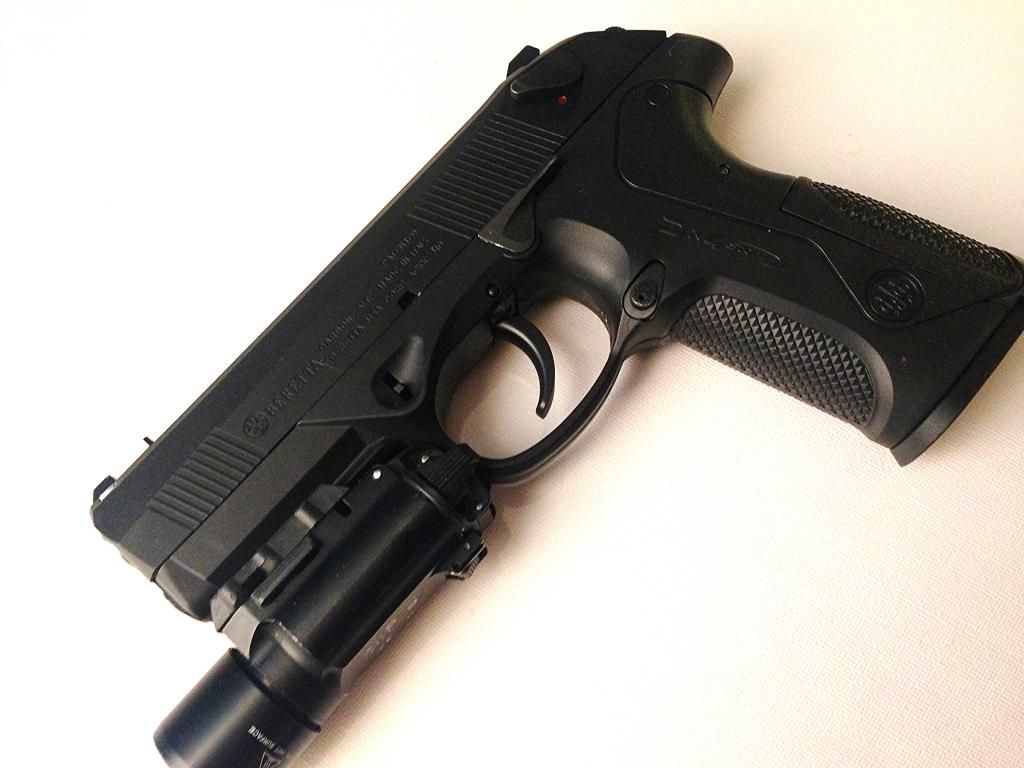 This gun features an aluminum slide made by Detonator.
It is the "Special Duty" type (SD). It comes with a threaded barrel but I hated the look of the barrel sticking out.
So I did what any sensible man did: I cut that shit off.
It didn't turn out bad. But I was forced to turn the barrel silver to hide the mill marks on my cut barrel. lol.
About the Detonator kit...
It's not as easy as looks installation wise. This particular one was prolly THE hardest to install. There's a lot of bits and bobs that can go missing during installation. Plus, it didn't fit as well as I had hoped...which was odd. Detonator usually makes amazing slides....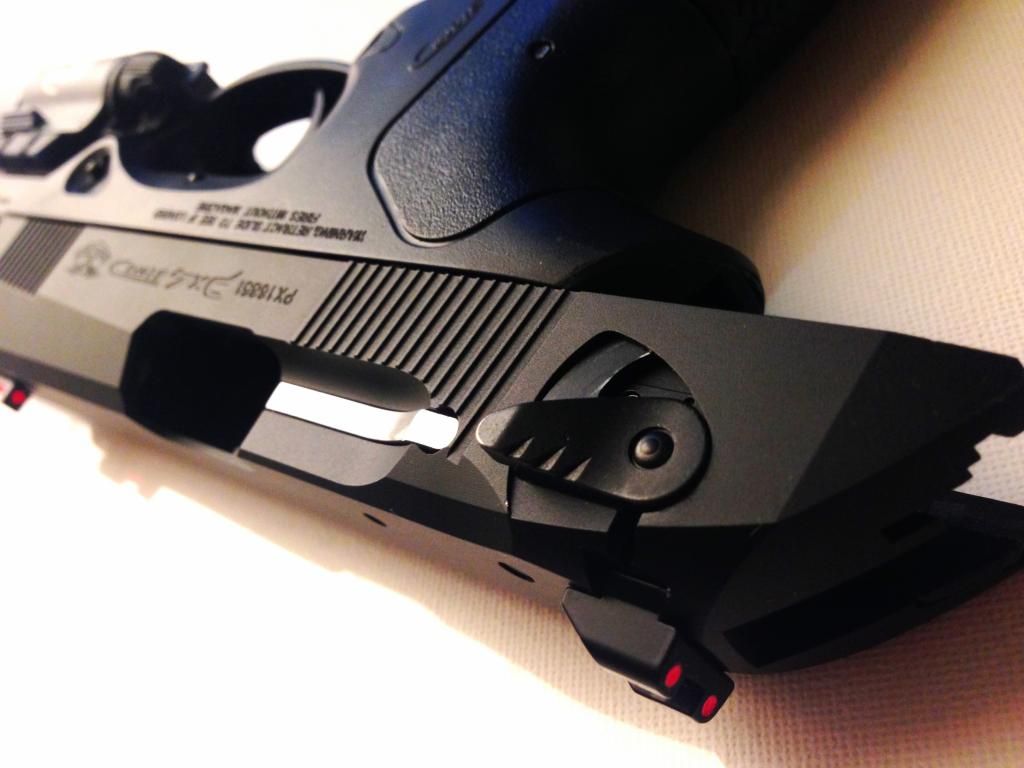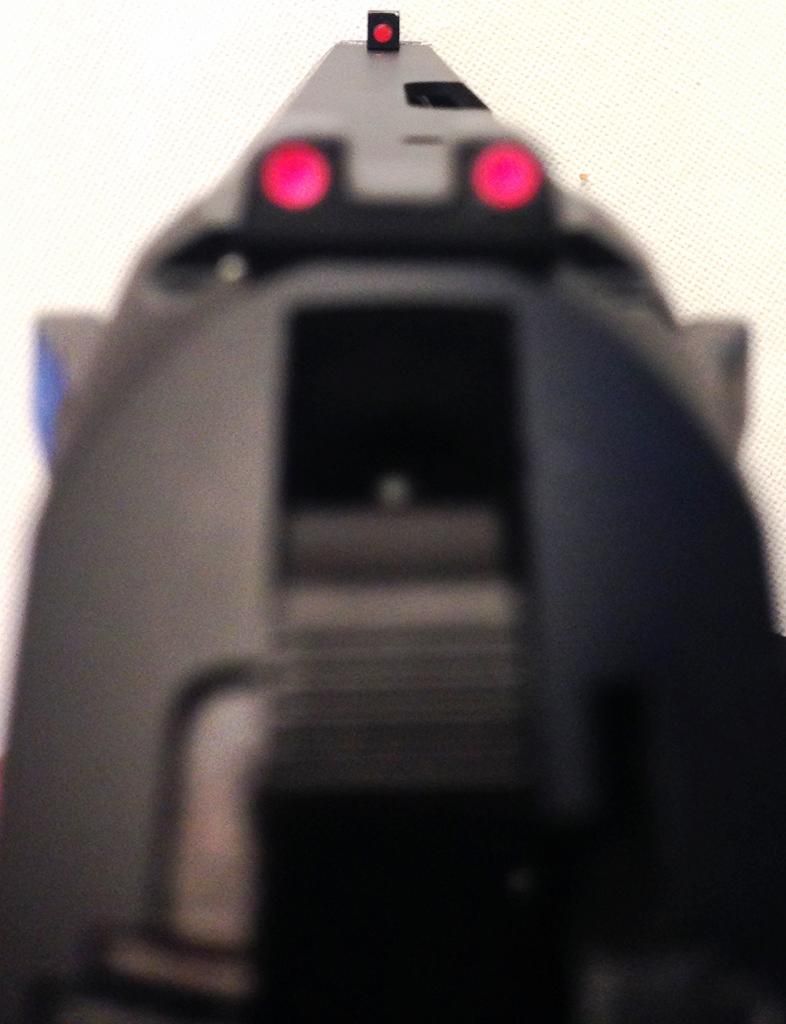 DaySiters were installed for the rear stock sights while the front is a Freedom Arts fiber optic sight. I botched the installation so bare with it for now.
Fast target acquisition. Easy to pick up front sight. Great!
....During the day that is...
When night hits, you're SOL with these bad boys.
LOL. I might change them in the future.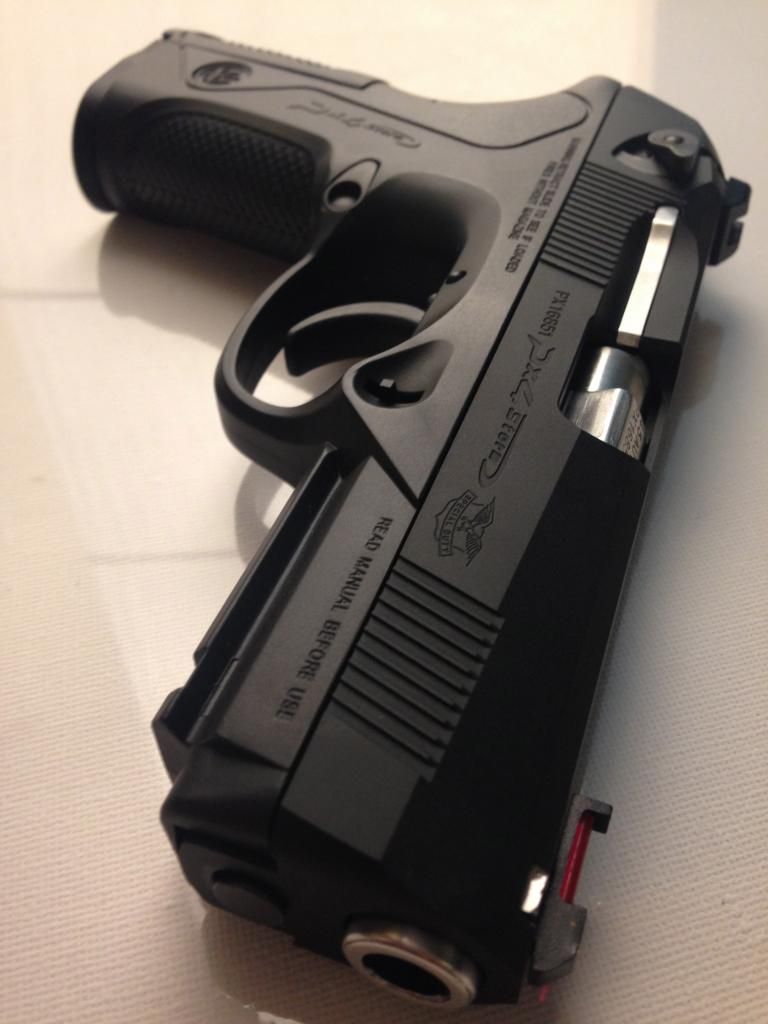 The frame is a Nebula PX4 Storm frame from overseas somewhere.
THe frame feels no different than the stock frame. It has that ugly shiny coat.
All it has is some good looking proper trademarks. Which is.....proper. Nicely raised lettering as you would find on the real gun.
...oh it comes with the two other backstraps too.
......and the pin....i think.....i dunno anymore...
The frame was no trouble to put on. In fact, it was actually easier to install than the slide. I ran into an issue where the mainspring weakened with this frame but after i fixed it (which was easy), the gun was good to go go go!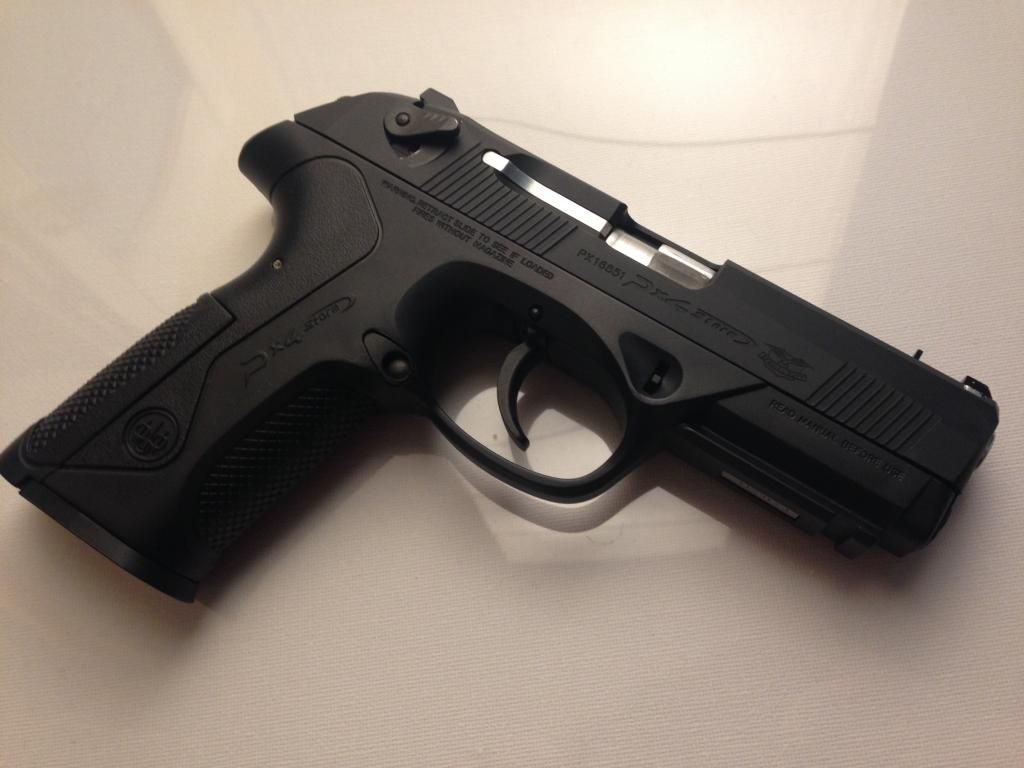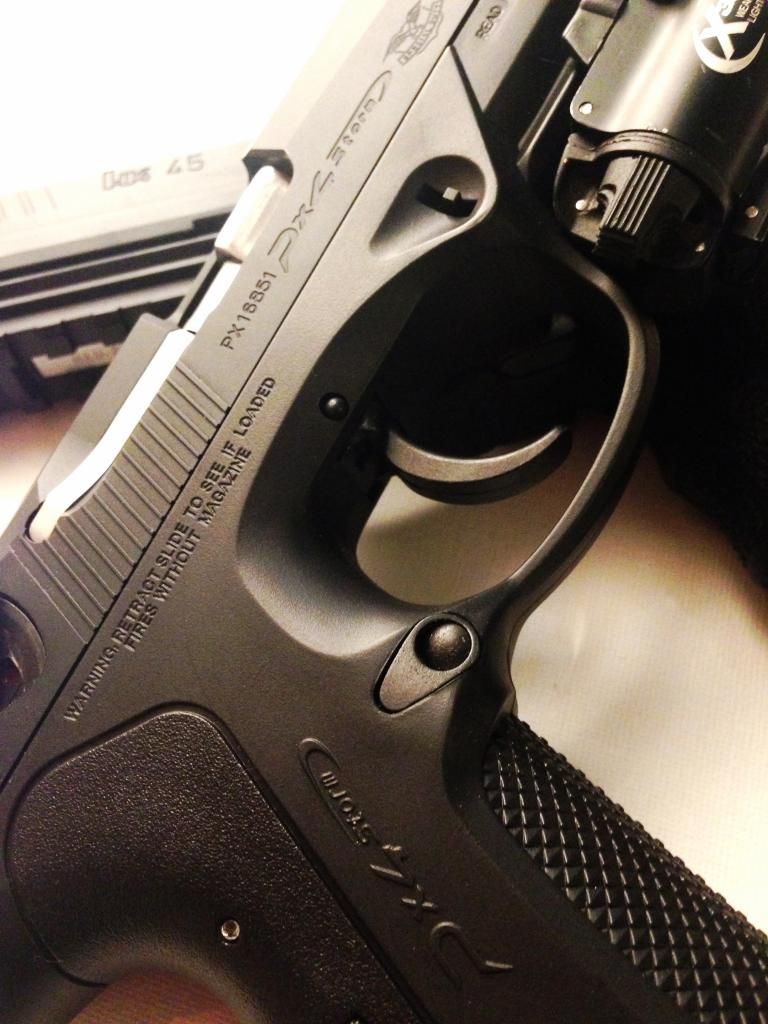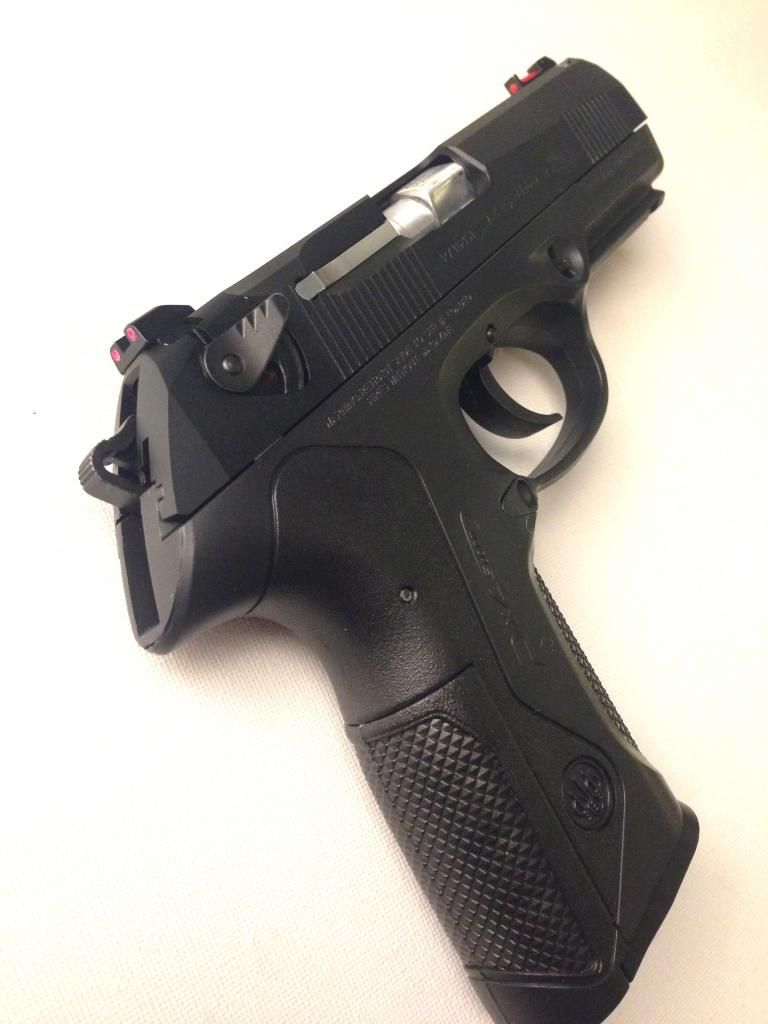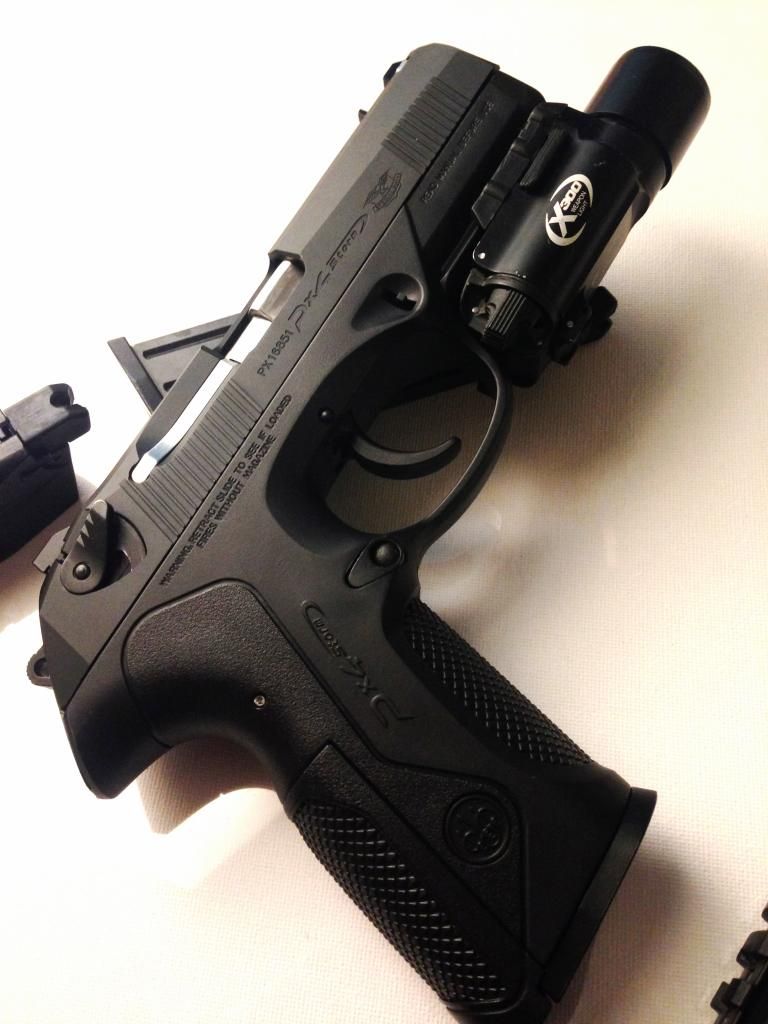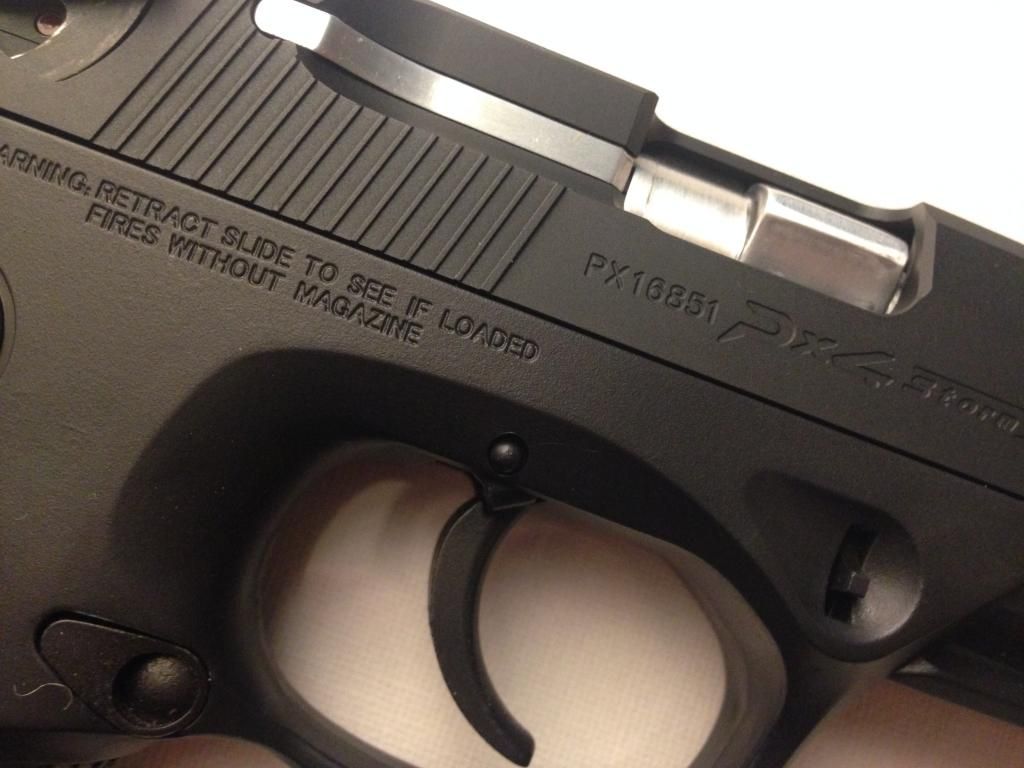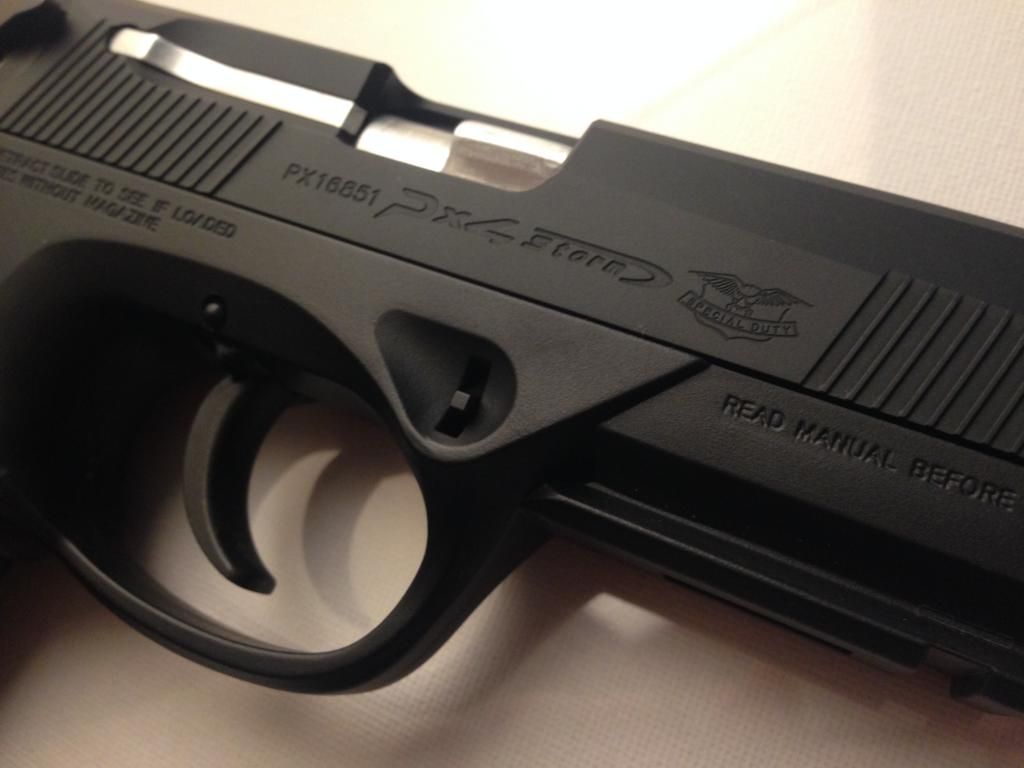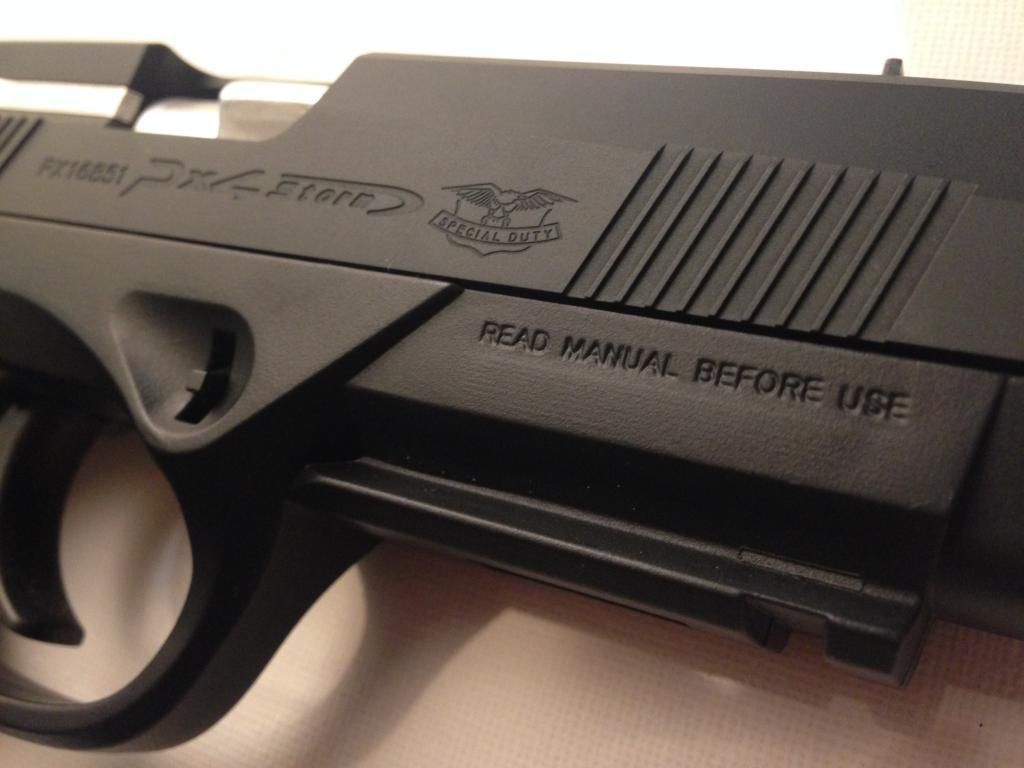 As you can see, the slide has some nice and deep engravings on it. Most noticeably, it doesn't have "Custom" but rather "Storm" as the designation, matching the frame.
In addition, it has the "Special Duty" logo nicely engraved on there.
Dunno about that now that I took away what gave it that "special duty". lol.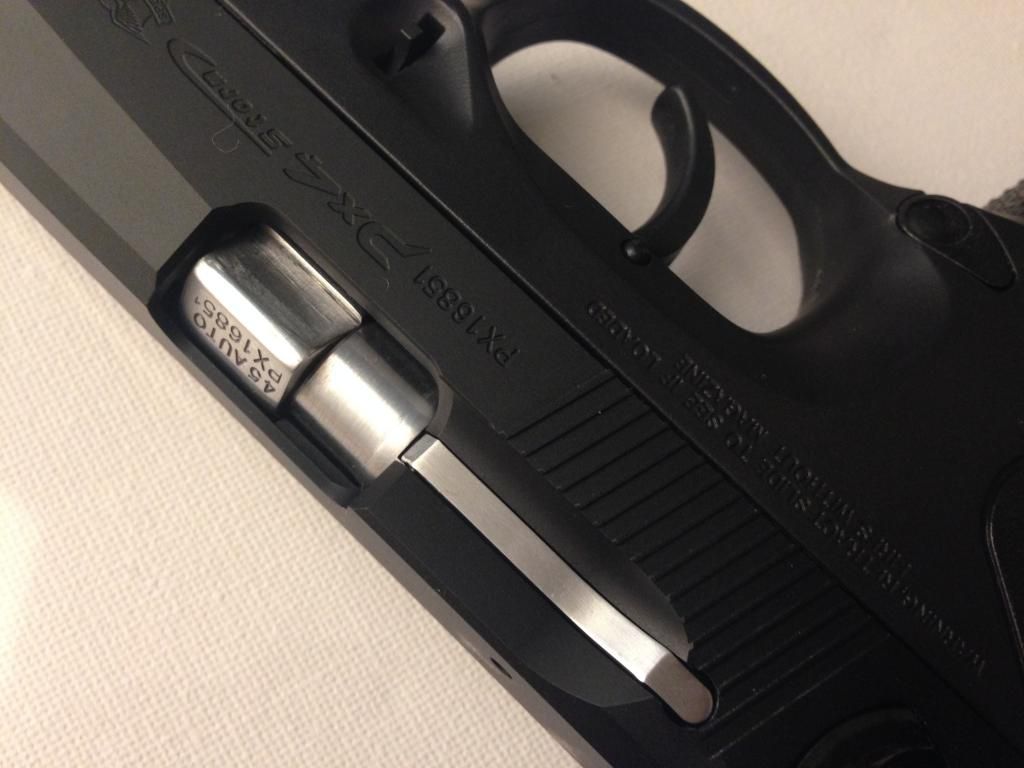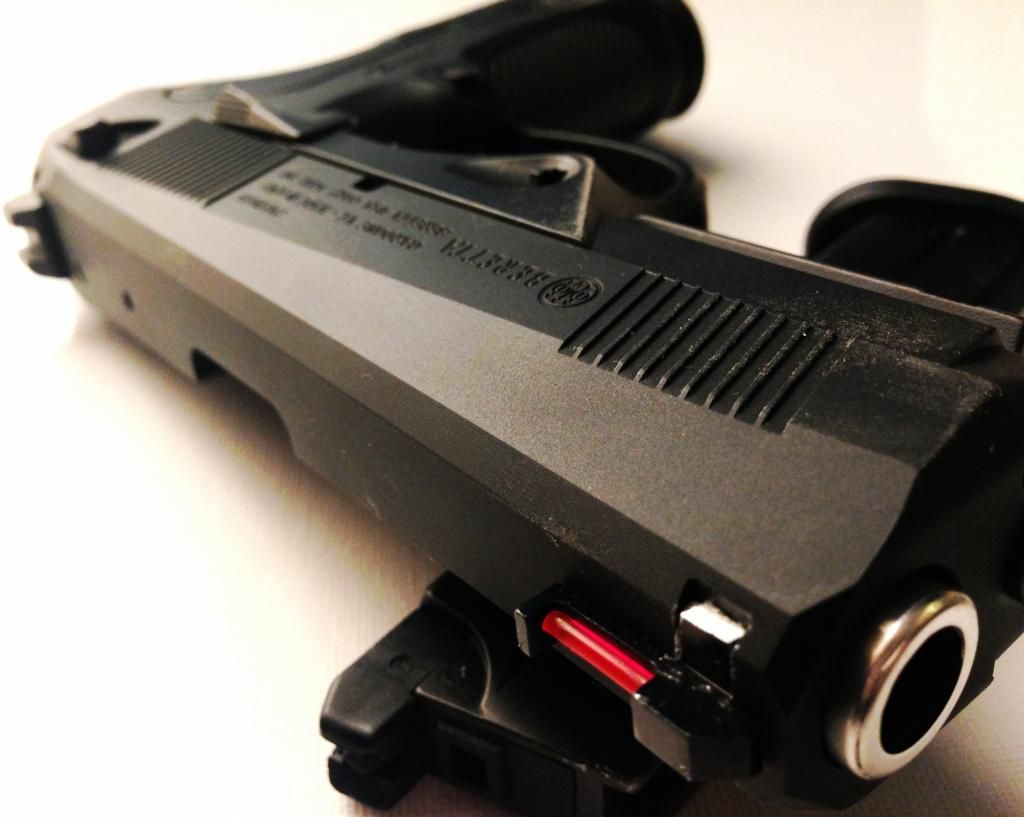 .......yes that's dust at the end of my slide. Special Duty right there. It's also a nifty duster if your furniture is full of dust and debris (like.....for real tho).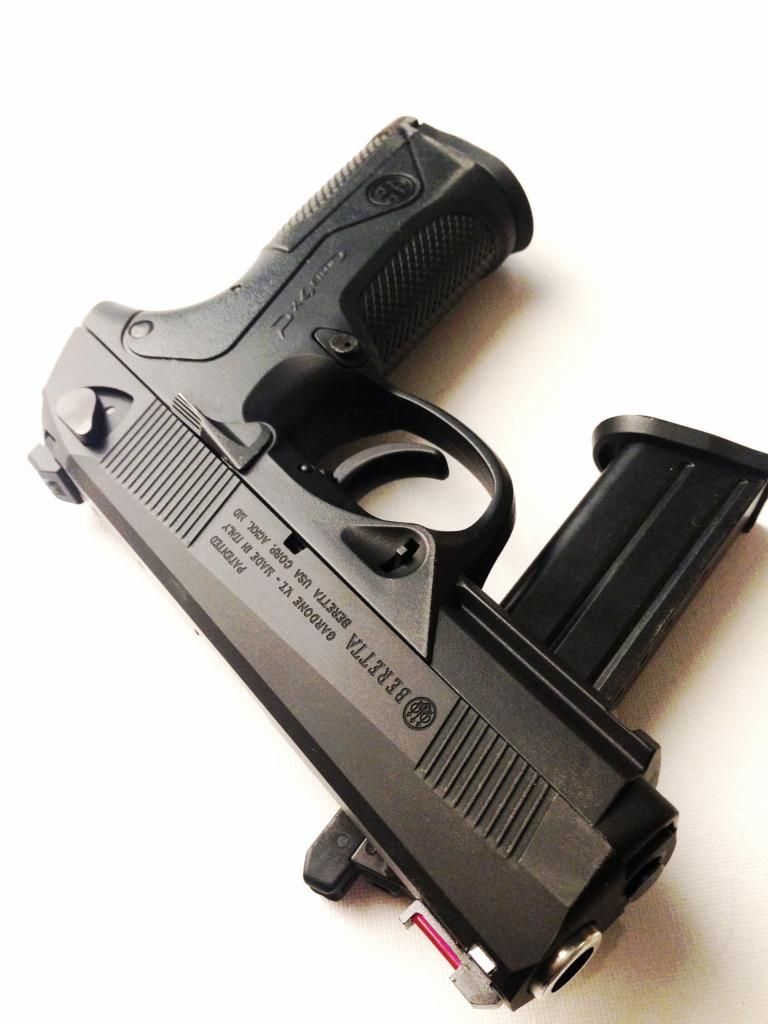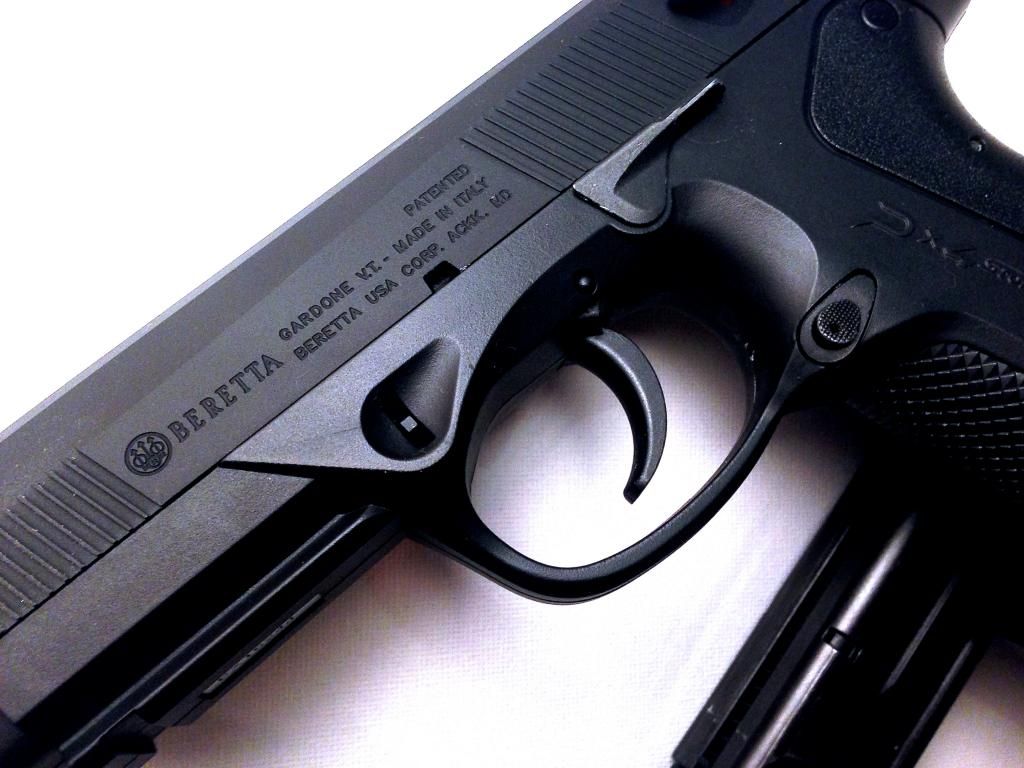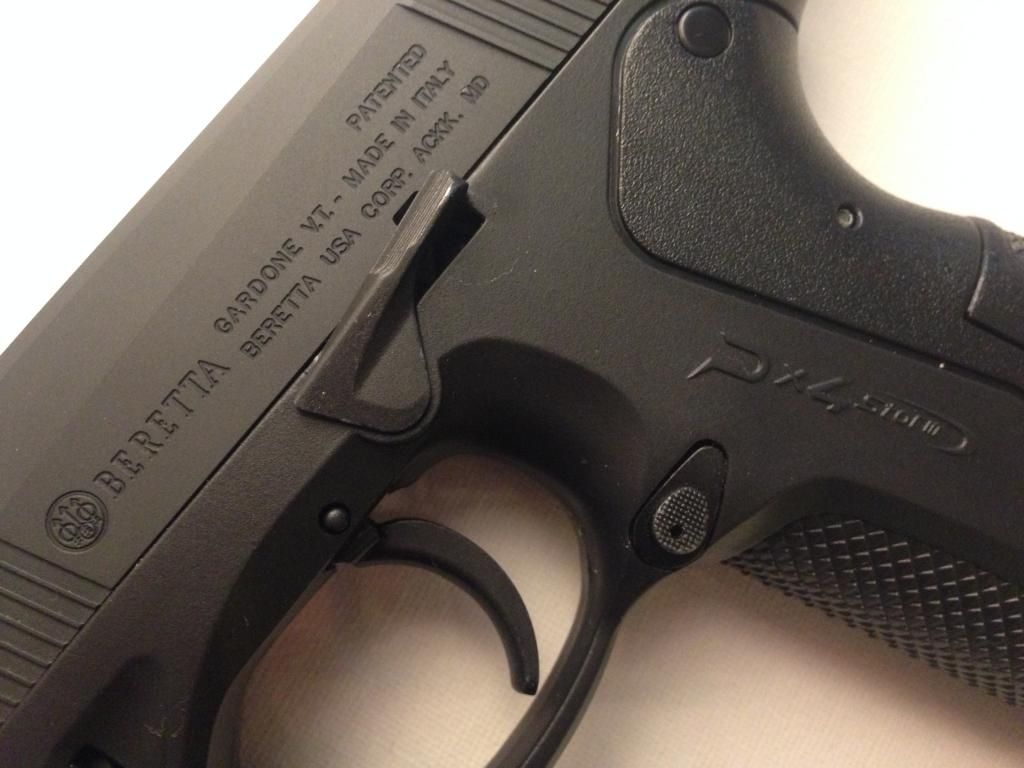 Internally, the gun is rigged with whatever parts I can find to install (which is not much). It has a DYNA style piston head and an aluminum high flo floating valve. The hammer spring is a 130% hammer spring from RCC and the recoil spring is a 150% Guarder Glock spring. Although, I've switch the recoil spring back to stock because it kicks soooo hard with it.
THe inner barrel is a 6.01mm barrel. It's ok. Not the best but ok.
The magazine is rigged with a Shooter's Design enhanced magazine gas route packing rubber as well as a KM High flow valve.
I would have liked to get some steel safety levers but they are so damn expensive. Guess, it'll be something to do over the course of time.
<sigh> it never ends, does it?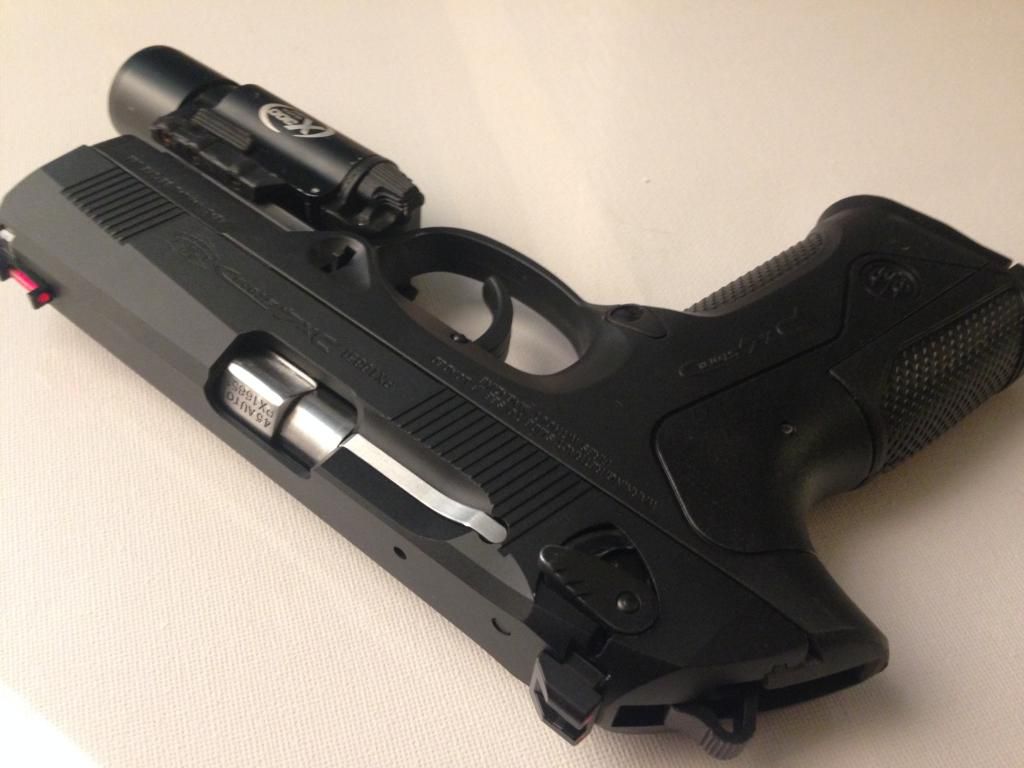 VIDEO:
e's Tokyo Marui PX4 Storm: "Special Duty"

The Parts Kit:
-Detonator Aluminum Slide and Barrel Set (SD Type)
-Freedom Arts Fiber Optic Front Sight for Marui PX4 Custom
-DaySiters for the rear sight
-Infantry Extreme Floating Valve
-Infantry Extreme Piston head
-PDI 6.01 Raven Inner barrel (or whatever it's called)
-Guarder 150% Recoil Spring for Marui Glock
-Nebula Frame for Marui PX4 Custom (Black)
-RCC 130% Hammer Spring
-KM Stainless Steel Hammer For Marui Px4 (Black)
-KM Magazine Valve For Marui Px4 (on all mags)
-TeamGBB Steel Slide Lock
-Detonator Steel Slide Catch
The gun chronos at a consistent 290-305FPS on .20 BB Bastards and propane with a peak velocity of 334FPS.
MANY MANY MANY Thanks to Turok_T! You are the best friend a guy like me can ever have! You know what for.
FULL HOMO.
That's all for now!
See you next build folks!
...WTF?