This review has been a long time coming. My apologies to Bean for the tardiness.
This is the
Pantac Messenger Bag
. The sample I received is the production version in OD.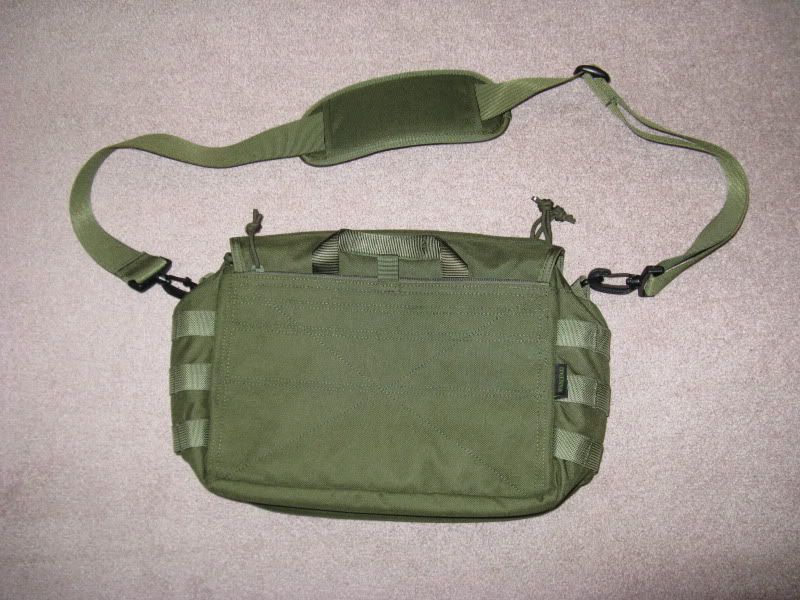 First Impressions
Out of the box the bag feels solid. The cordura was a bit on the shiny side, not unlike the fresh shimmer that I've found on new BHI and TAG pouches. After a walk through the rain (more on that below), the bag has dulled and the shine is gone.
An initial colour impression has it in line with the majority of OD products I've seen. As seen in Pantac's product photography, the bag's PALS channels are a lighter shade of OD. All plastic hardware (fastex, tri-glide, D-rings and strap clips) on this particular model are black.
First impressions on the bag's purpose are that it is… schizophrenic. On the one hand, it is tactically-inclined – covered in MOLLE, tactical colour, weapon and accessory features. On the other hand, it is a shoulder bag – hardly tactical in any but the most benign environments – and is has a soft urban textile feel to it. The bag, it would seem, hasn't quite made its mind up as to what it wants to be when it grows up.
On second thought, however, this initial identity crisis is exactly the intention.
It is a tactical bag meant for covert, urban environments.
Not unlike how the SOTech Go-Bag covertly carries long arms and its support accessories, so too does the Pantac Messenger Bag covertly carry pistols (or SMGs).
With that in mind, let's take a closer look at how well the bag performs in this capacity.
Appearance
The light-dark OD scheme between body and PALS material certainly draws attention to the bag's "irregularity" and makes it a noticeable accessory on the average streetwalker. However, it isn't irregular enough that it screams "beware, tactical contents under pressure" to bystanders. I suspect that with a bit of use and scuffing that the vibrant colours will fade, not unlike a good messenger bag should.
For those that would prefer a more OVERT tactical appearance, the bag features a very large velcro patch for tacticool patchage and MOLLE on both ends of the bag for the attachment of additional pouches.
As advertised on Pantac's website, the bag's cordura does feature a certain amount of water resistance. In a 15-minute walk through a medium drizzle, the bag exterior was found thoroughly damp, but its contents (looseleaf pages and books) were completely dry.
Under the Hood
The bag's cover flap flips open to reveal a length-sealed clear plastic liner. You can use this for large maps, radio codes, eyeliner, translation codes, lip gloss, keys, or any number of other small items. Unfortunately it is not completely separable from the bag body, so every time you want to navigate or get something, you have to flip the cover again.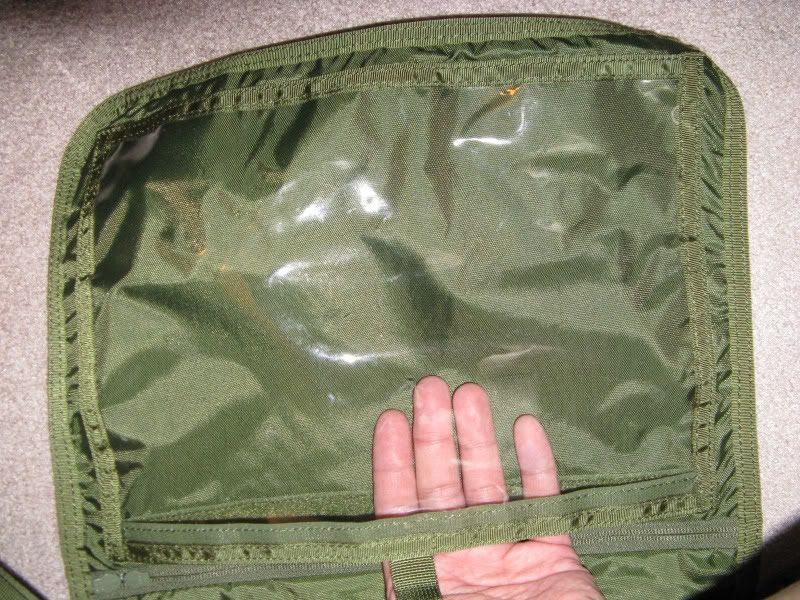 In the bag's main compartment, we have elastic holders in two different diameters on the outboard reverse side. One is fitted for pens or chemsticks, the other is a mystery diameter too large for even the fattest of writing utensils, but not wide enough for the fattest of pistol magazines without stretching the elastic. In any case, as seen here you certainly have significant elastic storage space. My only complaint is that there is no reinforcement to keep accessories in their "upright and locked" position for quick access – with enough weight, the holder panel tends to sag. Hot extraction of accessories is probably not possible.
Behind the elastic holders is another body-size compartment, almost length-sealed with a strip of velcro. The compartment itself is smooth and has no velcro.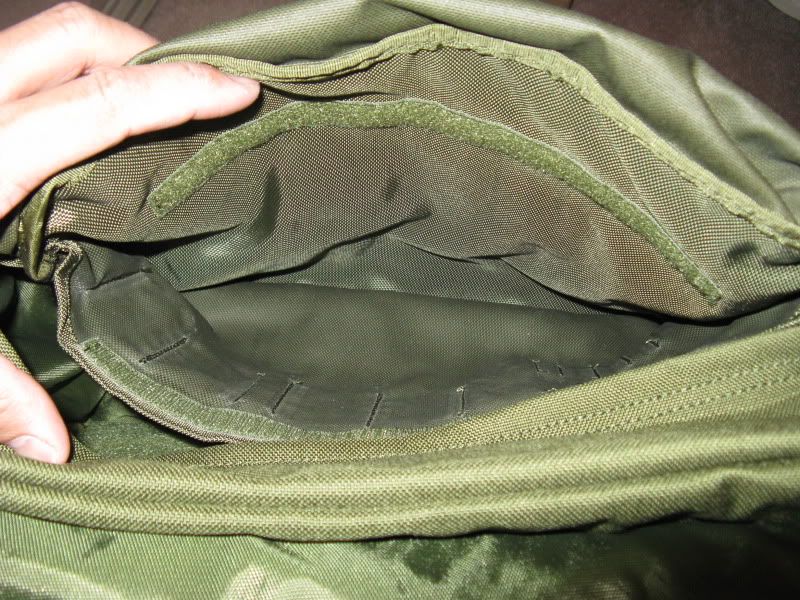 On the inboard side, we have a full-size patch of pile velcro and a hanger hook. Like the elastic holder side, the body-size compartment underneath is length-sealed with a strip of velcro and the interior is smooth.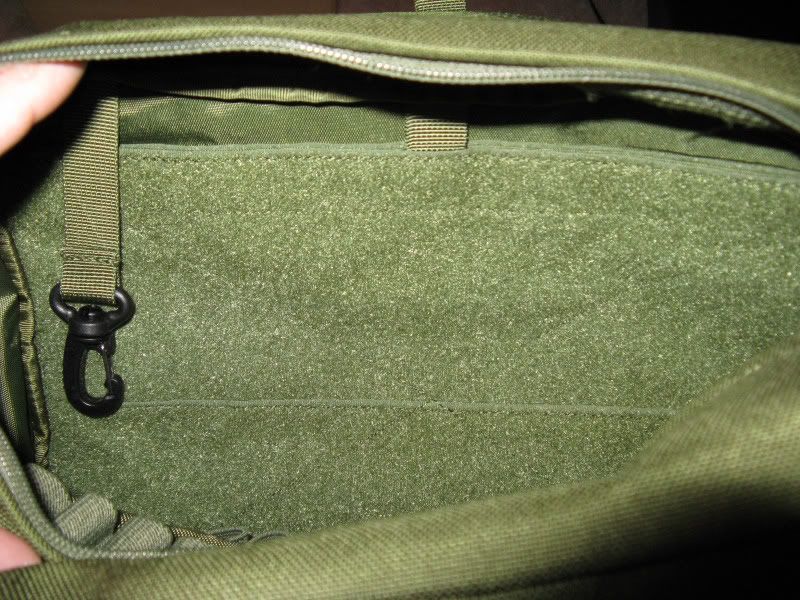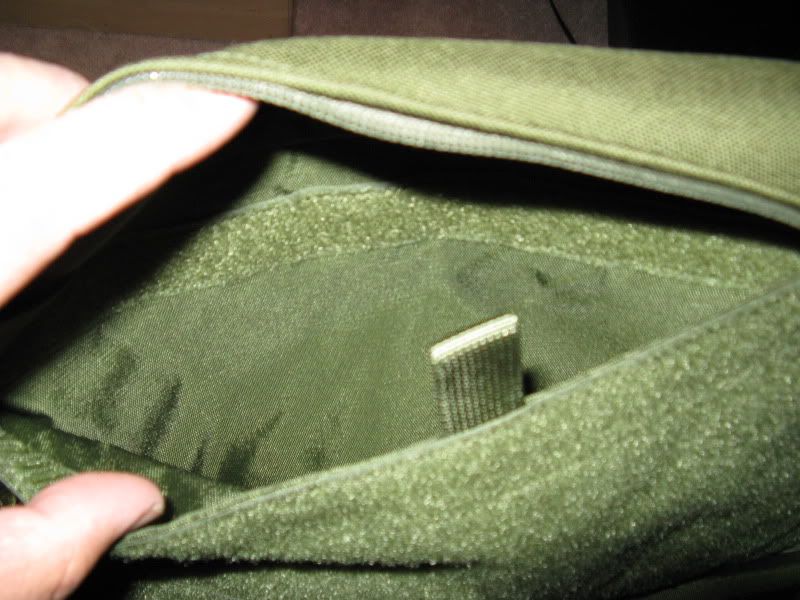 This velcro patch highlights the modularity of the bag.
Pantac has included two inserts with elastic retention and hook velcro. These allow for a near-infinite number of ways to secure objects that fit in the inserts to the pile velcro patch inside (and outside – see below) the main bag compartment.
The upside is you can custom-position these inserts any way you want for items. The downside is these inserts are only useful for items that actually fit their odd sizing. As seen below, a single-stack 1911 is passable, but a double-stack Glock with light is impossible.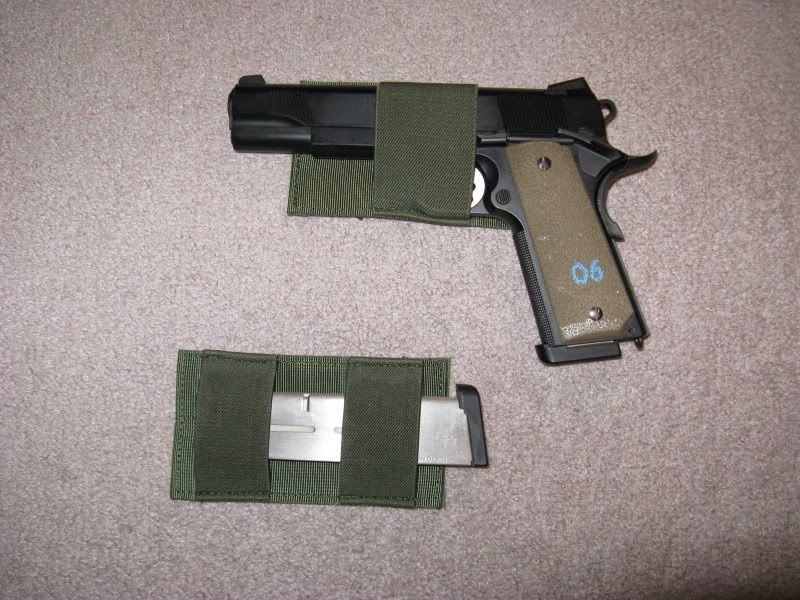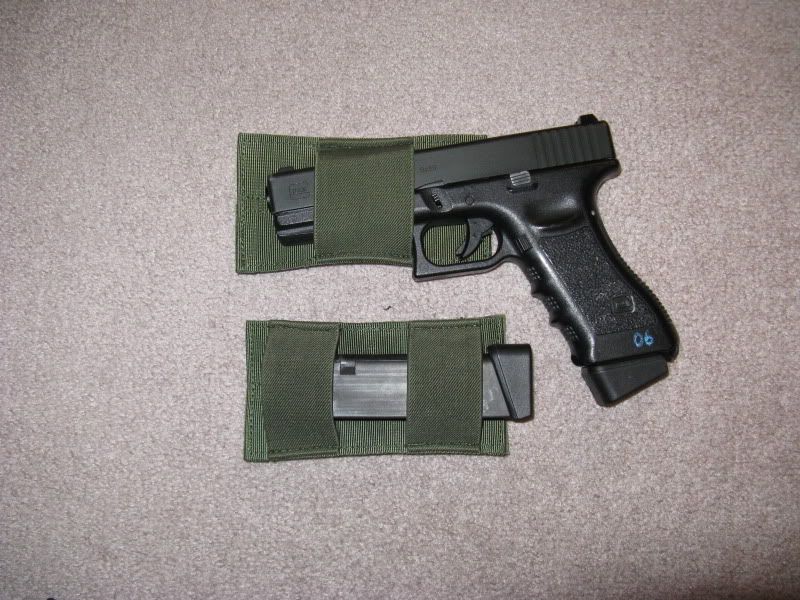 I'm not sure what the Pantac engineers were thinking, but these inserts don't seem to make much sense. One would be better off making their own to fit their particular accessories. If you're creative enough and have the right guns, you can probably get away with what Pantac gives you, like below: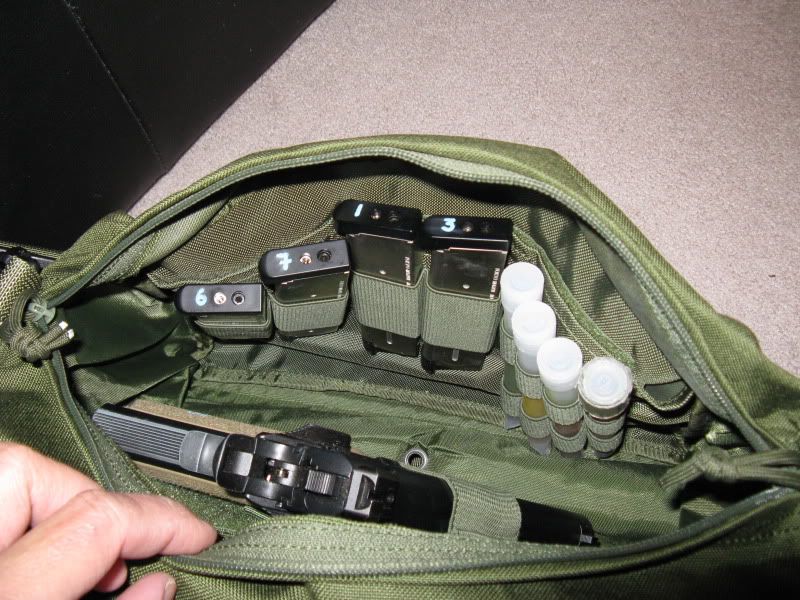 The Main Compartment
As seen above, even with accessories hanging on the elastic and velcro sides,
there is still sufficient space in the main compartment
(bag in picture is fairly collapsed, an illustration to the material's softness).
There's enough space for a full sheaf (500 pages) of paper with space on either side. It can also carry a variety of reading materials of varying size as illustrated below.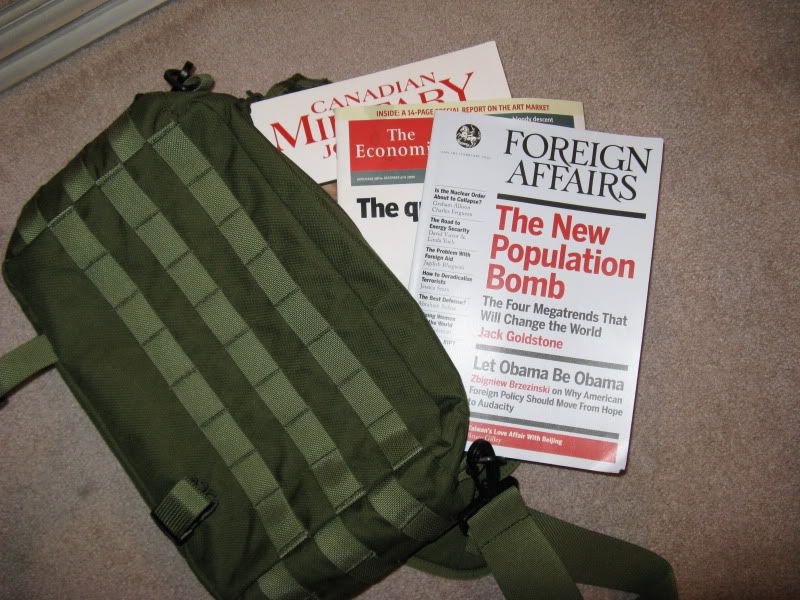 In terms of laptop computers, I wasn't able to fit my 14.1" laptop in the bag – it was just a little too big.
For netbooks and even 13.3" laptops, there should be no problem.
When measuring it's probably a good idea to include whatever padding case or sleeve that you also use as the bag itself is not secure or padded enough to fully protect your electronics.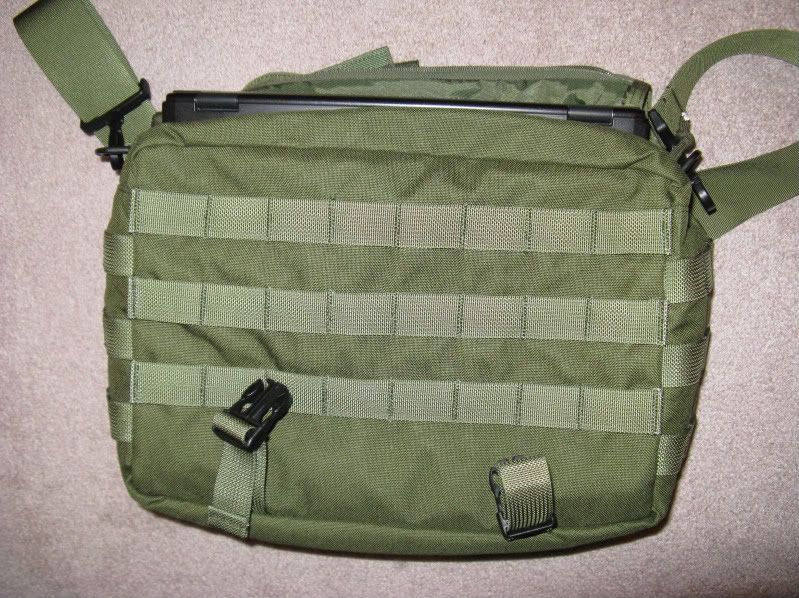 As a messenger bag for urban use, I'm somewhat disappointed that there are no internal dividers to organize the large main compartment. Pantac apparently thought of this afterwards, and has released an additional organizer accessory insert (Type A):
http://www.pantacgear.com/pantac.gea...ctid-1713.html
For tactical use, however, there is a neat little quirk about this bag – the cover flap features a zipper that opens directly over the main compartment, thus allowing you to
access its contents without ever having to unflap the bag.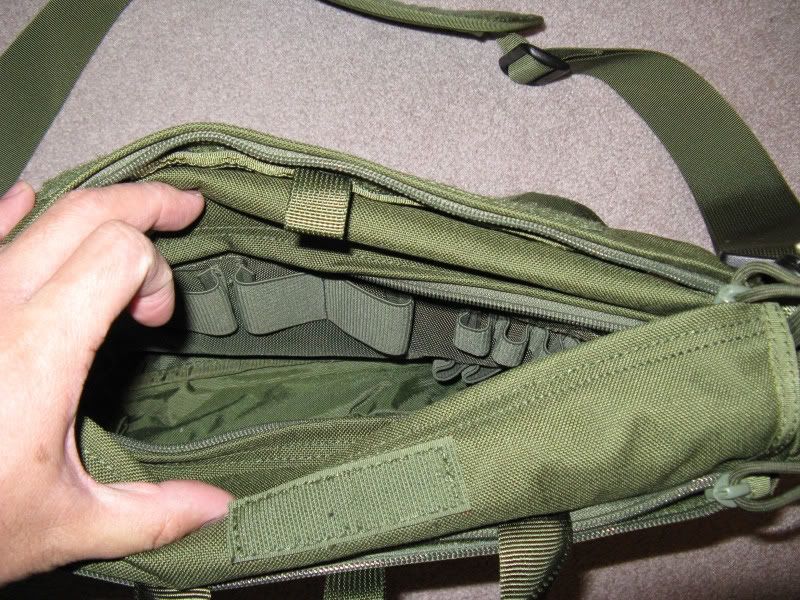 Inside the Outside
On the outboard exterior, there is a 8 x 3 plot of MOLLE. Here is where you can get really tactical – but within limit. The MOLLE pouches you decide to use here still have to fit under the cover flap.
For illustration's sake, I've decided to use the lowest-profile pouch I have in my inventory – the
Blue Force Gear Ten-Speed shingle
, and it works perfectly. Using double-magazine carriers is probably a no-go if you still want the bag to close and stay low profile.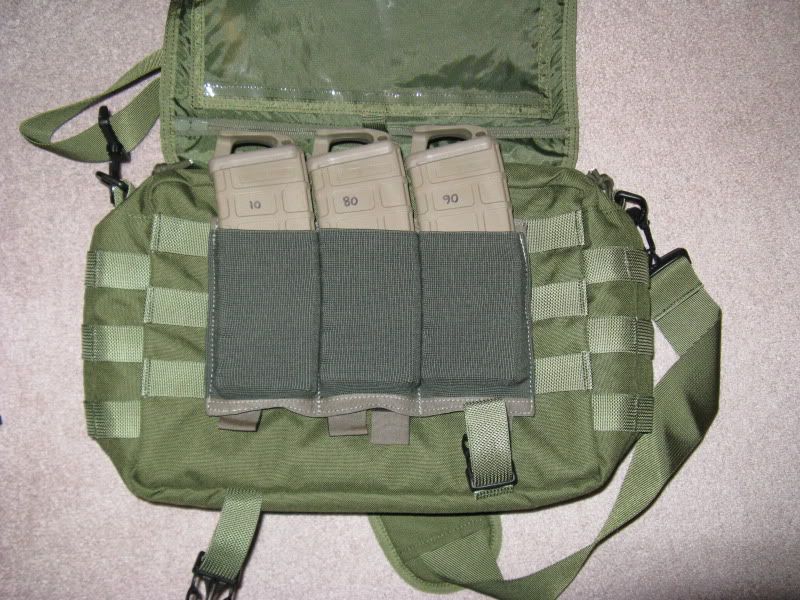 The low profile of the Ten-Speed shingle allows for the bag to retain its non-tactical look.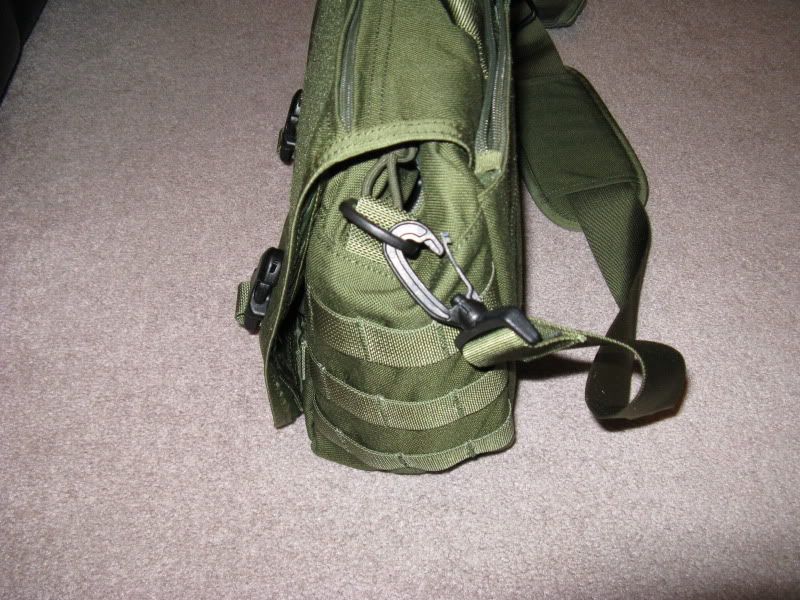 With the cover flap down, however, there is no way to access your MOLLE-mounted accessories. The curvature of the cover flap and position of the zipper doesn't allow for it.
Not unlike my complaint about the main compartment, Pantac has also not given us any organizer accessories to "nerd up" this MOLLE area. Luckily, as an afterthought, they also released a separately purchasable accessory insert (Type B) which is similar to the Type A above but uses the MOLLE interface on the front of the bag:
http://www.pantacgear.com/pantac.gea...ctid-1714.html
The Rest of the Outside
On the reverse exterior, there is a full-length zipper-drawn sleeve compartment with more velcro again on the inside. In the same way that the internal velcro patch can utilize the retention inserts, so too can the user utilize the external sleeve compartment for the same purpose.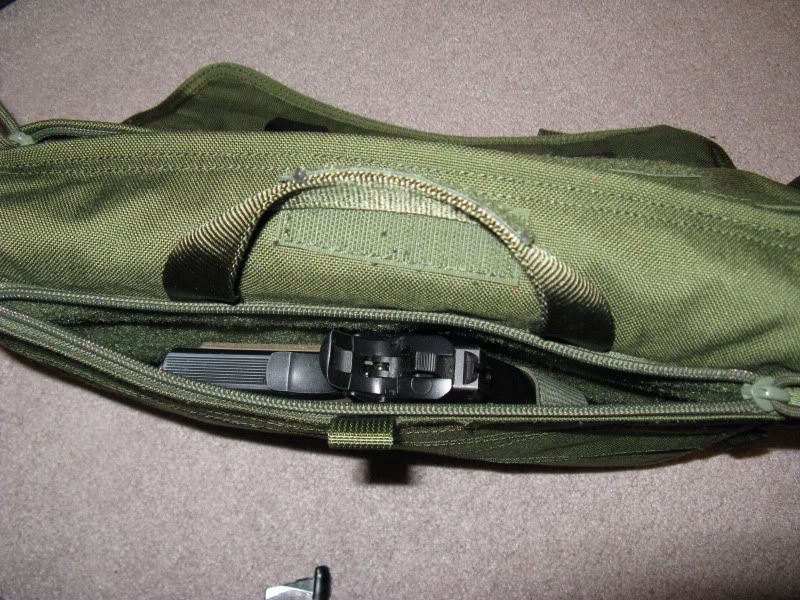 The two sides also feature MOLLE, nominally 4 x 3 but mounting anything 4 across is probably a stretch as the two end columns are not full-length. These are perfect spots for mounting 2- or 3- column Nalgene/canteen pouches though, or a double-magazine pouch for a rifle.
Other Features
The shoulder strap was found wanting. The padding was limited to a small sliding insert that did more sliding than it did padding properly on my shoulder.
However, when using it with a reasonable amount of weight (400 looseleaf pages of articles) and traveling with a jacket, the unpadded straps were sufficiently wide to negate any biting. With less clothing padding and/or a heavier load, the lack of padding may become a problem.
Pantac has come up with a full-length padded shoulder strap for that reason:
http://www.pantacgear.com/pantac.gea...ctid-1622.html
The carry handle (for the odd time you want to carry it by hand) was also found wanting. It is velcroed to the flap cover, but is stitched to the back panel, thus unevenly distributing the weight – imagine a briefcase with its traditional centre-mounted handle mounted flush to the back of the briefcase seam instead. In the larger picture, however, it's unlikely that you would ever carry it like this anyway, so the stowaway velcro bit is actually plus.
Final Verdict:
- A
functional
bag, useful for airsoft enthusiasts to blend into their surroundings
- I wouldn't personally use it for airsoft gaming in any but the most specific (i.e. I must use this bag as part of a sim) situations
- I would use this bag as a
auxiliary carrier
for non-airsoft things, namely a suitably-sized laptop, some reading material, and a change of clothes.
Comments and questions are welcome. Please post here, don't flood my inbox with questions that ostensibly someone else will also want an answer for.