Well, i was fooling around with my chestrig today and figured i'd see if anybody on asc made a review on it. I was disappointed when i found none, so i took it upon myself to write a brief one.
History:
The chicom (chicom stands for Chinese Communist, btw) chest rig is one of the best lightweight chest rig ever produced.
It's so good, that countless countries have been making knock-offs for decades. It has been extensively used by the
vietcong and NVA forces during vietnam, russian troops during a multitude of conflicts (afghanistan, chechnya conflicts,
georgia, etc, etc) and tons of para-military and guerrilla forces all around the globe.
Description:
The chicom is made of canvas-style material and is very durable. It has x3 cells in the middle for x3 ak47 mags or equivalent,
and x4 pouches for four grenades or similar sized gear. It has 3 straps, all of them adjustable so it can fit anybody. The proper
way to wear a chicom, is high up on your chest, as this will allow you to be more maneuverable, and, if the user chooses to,
can wear a belt & yoke style LBV as a second line gear.
Picture from flecktarn.co.uk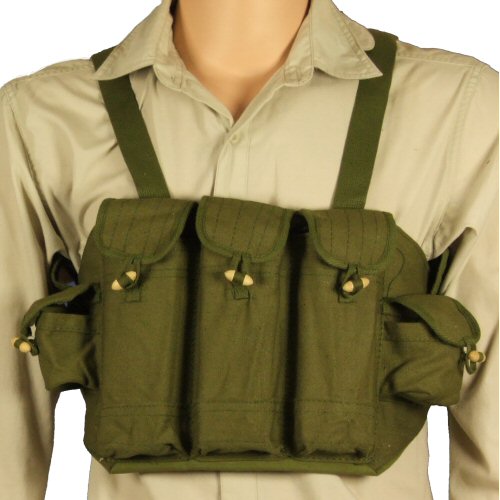 Modifications:
The most common modification of this vest is to soak it in gasoline (or, if you're like most of us, hot water) and fit 2 mags inside
each cell. I managed to be successful in this attempt, and have included pictures. As some of you will notice, my chicom
was actually serviced (i don't think that's tit sweat on the back).
I do not think users will be able to stretch this chicom using ak47 mags, as they are a little bit wider then the ak74 variety.
All in all, this vest can be found online or at surplus stores, priced anywhere from 10 to 30$, depending on the quality and
variation.