Quote:
552 Specs

* Use standard AAA batteries included.
* Mount is all metal and is extremely solid.
* Full metal construction
* 10 levels of Red and Green (NV) dot brightness control
* 65 MOA ring/1 MOA dot reticle
* Power safe feature, automatic power-off in 2 hours
* Fits all standard 1" Weaver / Picatinny rail
* Weight: 330 grams
* Scope Length-6 inches
* Magnification 1x
* Focus Type Fixed
* Field of View (100yards) Unlimited
* Eye Relief (min.) Parallax Free & Unlimited Eye Relief
* Windage Elev Adj 1/4" Click @ 100 yards
* Material Strengthen Aluminum Housing
* Color Black Matte
Fake. It's an LED, not a laser, as well. It will not have true holographic qualities.
Real EOTECHs do not have green reticals. They have an IR retical which is invisible to the naked eye, but visible with NV devices.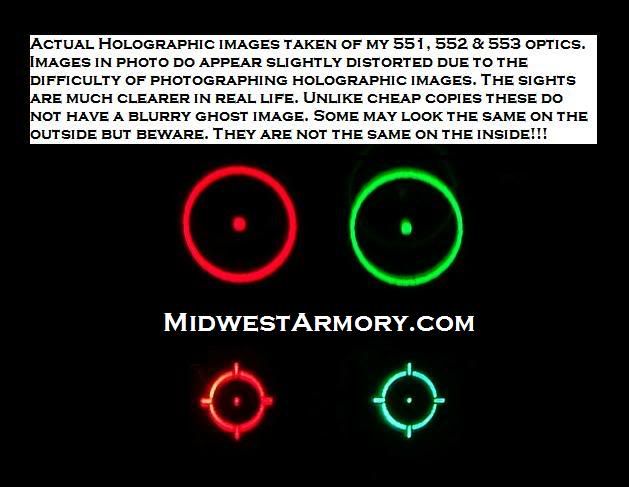 Real EOTECHs are quite easy to photograph, and you can see where the laser beam breaks.
EXAMPLE of a real EOTECH:
Notice how easy it is to see even with a bright background. Also, how it looks to be the same size regardless of how far or close the eye is (within a foot or two from the retical).
__________________
Ár skal rísa, sá er annars vill
fé eða fjör hafa. Sjaldan liggjandi úlfur
lær um getur né sofandi maður sigur.