*Thanks to Photobucket for removing my picture, you can make me stop using your service, but you cannot stop my conviction.
Shortened Review:
for those can't understand my awesome Engrish!
Pros:
*Most widely available ZF41 in the market, if you know who to get.
*Cheaper than ZF41 for centerfire at about 1/6 of the price.
*Scope mount is included.
*Easy to install on to 98k, no modiciation required.
*VIVAarm has design the ZF41 for Tanaka, Marushin, and D-Boys. Although I'm not sure if the same scope can be use on different brand.
*Higher quality than D-Boys
Cons:
*Cheap Paint, Made in China.
*Rust can be found on the Scope mount tab.
*Difficult to zero, needs a flat-head screw driver to adjust.
*Only magnification of 2X, making this scope for Sharpshooter.
*More expensive than the Tanaka ZF41, with inferior quality based on product of origin.
*Yellow eye piece lens for the protective cover
Full Review
Box which it comes in: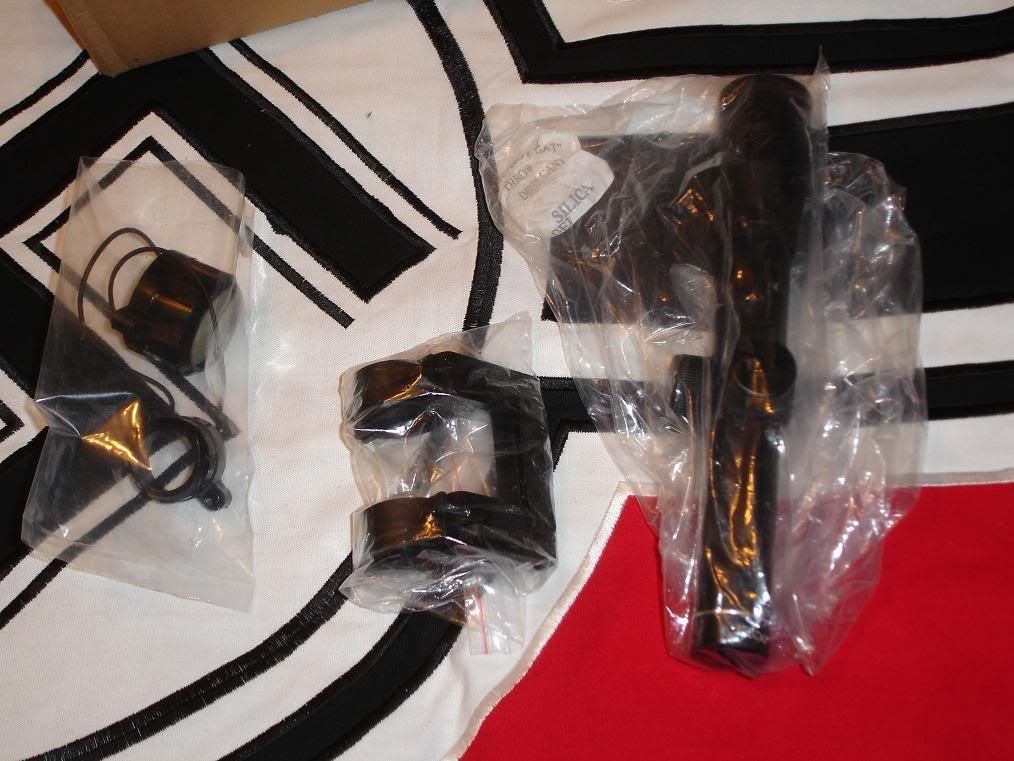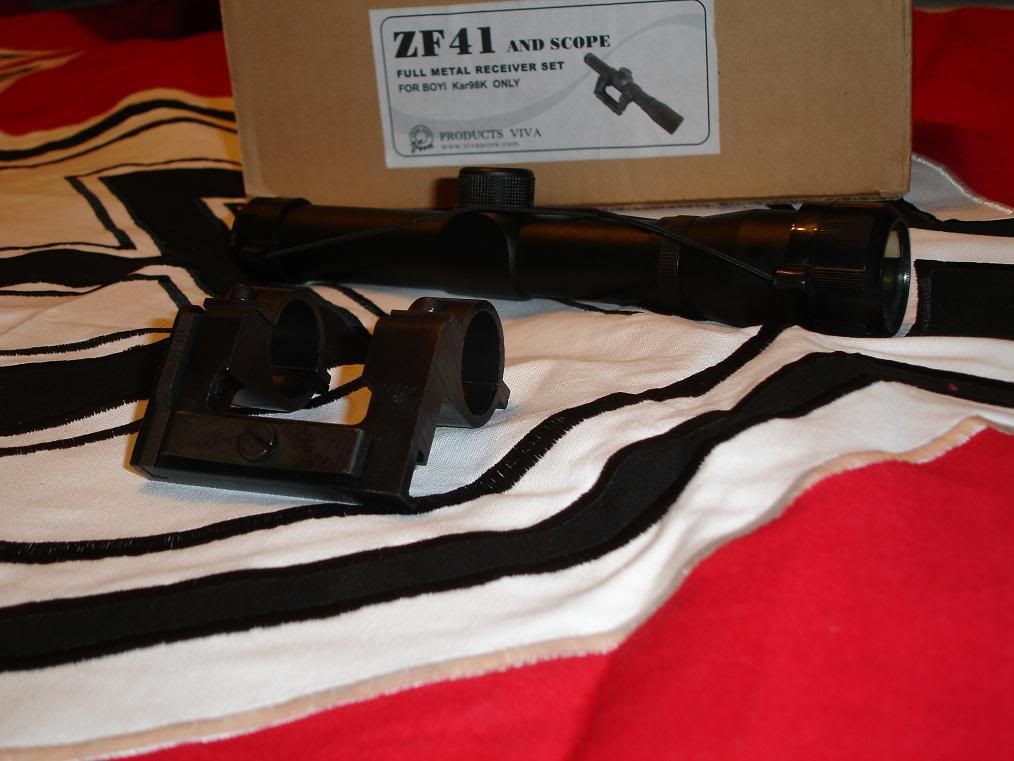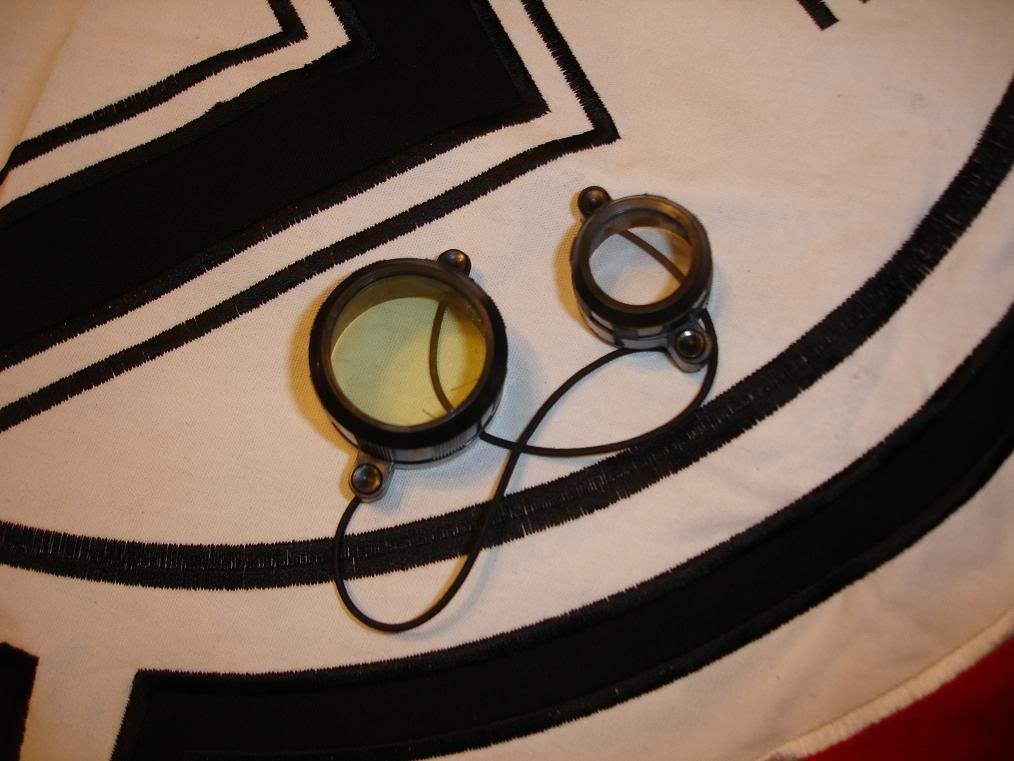 Construction, Durability, Material:
I find the Construction of the scope to be slighter higher grade than the D-Boys. Reason why I say it is because the scope still can be move about 1/2-1/3mm even if you screw on to the max. The scope paint seems to be slightly better than the D-Boys one where they just scrath off, however, I find that when I install the scope in the spot where screws go will scrath off the black paint, not good! The material, I can't say much except the mount is made of Iron, why I know this? Because the mount catch and the tab is slightly rusted if you notice it carefully. Overall I would say that this quality is typical, and slightly higher than most Made in China stuff for airsoft industry. Had there been more choices, this scope would certainly not be my choice due to the material.
Usefullness: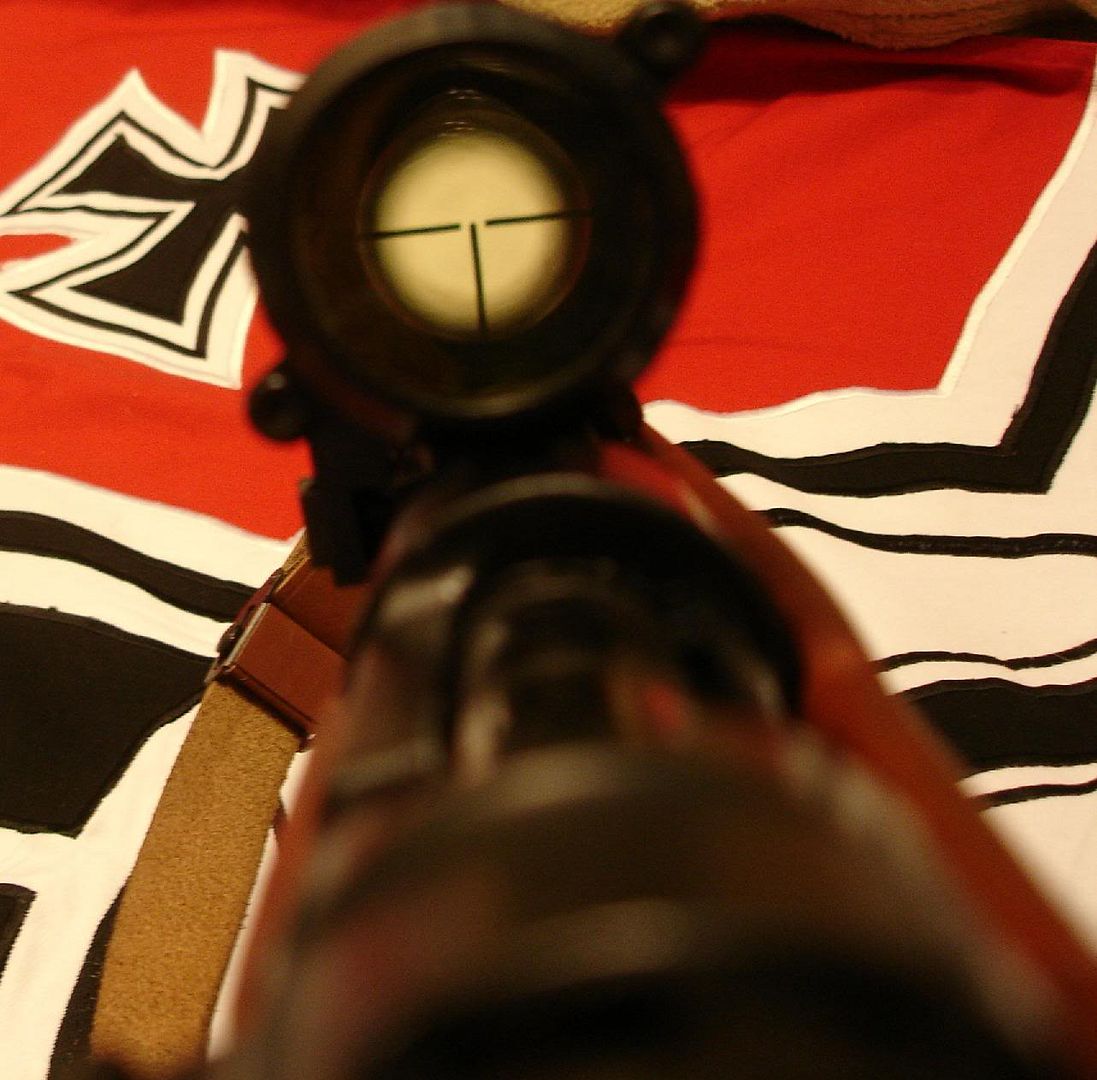 I will say that the scope mount isn't the best, the upper ring to retain the scope does not match perfectly with the lower part, as a result its not a perfect edge. This is not really noticable unless you're looking at it directly. The Mount also has a play of 1/3-1/2mm even with the the mount's screw tightening to the max. Like the Ziess ZF41, the VIVAarm ZF41 elevation and windage adjustment can only be done with the flat head screw driver, what this mean is that if you were to go on a skirmish (unlikely with the shell ejection from D-Boys, you would need to carry a screw driver) I cant really critisize that since the Ziess has this problem which led many German Sniper in WWII perfer the Mosin-Nagant. I'm uncertain about the accuracy from the scope, why? the D-Boys hopup is so crappily that I cant even get a good grouping in the first place. All I can say is that the VIVarm ZF41 can try its best to zero where the Dboys 98k is hitting.
The sight is really easy to use, infact I find it alot easier to aim over the ironsight even for short distance. (feels like its an aimpoint)
Conclusion:
Construction, Material:
3/5 I really don't like the chinese crappy paint and the 1/10 rusted mount tab. Otherwise its pretty good!
Choices:
5/5 Can't really say much, Tanaka ZF41 is harder to find than original WWII ZF41, the mi-spec repro is way too expensive. ZF39 which offers more magnification will require modification to the reciever which ZF41 does not need. So in the end, the VIVarm ZF41 wins as the optic of Airsoft 98k
Price:
4/5 The price of the VIVAarm ZF41 is more expensive than the Tanaka, I would've say its a ripoff base on typical Japanese good have higher quality. However, Tanaka is not available, and ZF41 made for centerfire starting at $600 w/ ITAR risk (Exportation laws from U.S.) there isnt really much choice for optic in 98k. VIVAarm ZF41 wins on this as well.
Final Answer:
I would recommand the VIVAarm ZF41 to:
Dboys 98k owner who want it for looks, since the D-Boys 98k is as accurate as...a slingshot...maybe worse.
Tanaka 98k owners who would not want to:
***Spend $600USD on a mil-spec ZF41 made for Mauser 98k.
***drilling, modifiying, and praying ZF39 wroks with their 98k.
***Search Tanaka ZF41 for a week and found nothing. (that's me)
I would give the VIVAarm ZF41 a
WANT
(you don't need it but its good) for 98k owners. Currently there's isnt a choice, similiar to the fact on Marushin FiveseveN where its not good but its the only 5-7 available.
Overall the rating is
4.0/5.0
FAQ:
Where did you find the sight from?
I found it from an Taiwan online site where a person was selling it.
What does VIVA arms' ZF41 suit for?
According to my seller, there's three version, each for different 98k brand. Marushin, Dboyi, and Tanaka. I'm unsure if all of em are compatabile or not seeing the mount site is a real spec
Is the sight worth purchasing?
Currently there are three realistic, and four total choices:
*Original ZF41
*Reproduction Mil-Spec ZF41
*Tanaka ZF41
*VIVAarms ZF41
The original ZF41 is quite rare (more common than Tanaka ZF41) and its really expensive, ($1000-$2000) and usually people sell it with their Mauser k98k. I would not recommand this since its a historical artifact and its the most expensive.
The Mi-Spec ZF41 is about $350 for the Scope, $150 for the mount, and $50 for the adjustment tool. It is meant for Mauser k98k, if you shoot Mauser it might be worth purchasing, otherwise not recommanded.
The Tanaka ZF41 is about $80 retail, however, due to it being discontinued for a long time, it is nearly impossible to find it. I tried googling over a week without result. Best bet is to get second hand. I would probably choose Tanaka over VIVA arms if it was available
The VIVAarm ZF41 is the newest one where people are having rumours whether it is vapourware or not, based on the looks what I got was a vivarms one. There's NO trademark, the price is slightly more expensive than the Tanaka. This one is the most widely available, in my opinion.

Where can I buy the sight?
PM me and I might be able to hook you up for it, expect the price to be around $135 + shipping.