It's my first time reviewing something so I thought I'd review something easy. Everyone is always recommending
1800nametape.com
so I decided to give them a whirl.
Website
First thing I noticed is that the site is very basic. Looks like basic HTML or maybe Publisher at the most. Still, the site is quite functional. I never ran into any dead links, page errors or long load times, which is great. Domain name aside, the site does offer more than just name tapes: service dress name tags, helmet bands, rank insignias, flags and dog tags are all available for purchase in a variety of materials and are largely customizable. They also have sections for the army, navy, air force, marines and dozens of other sub-sections of the American military.
Order & Delivery
Five Multicam Ball Cap Name Tapes with Velcro (3 inches) with Coyote thread = $3 each
One set of dull silver Dog Tags with five lines of info = $6
My sub-total was $21 and $5 for shipping (first class priority mail), for a total of $26 USD, which came to $32.46CDN after conversion.
The confirmation email you'll get will have "Spur Laundry & Cleaners, Inc. Customer Receipt/Purchase Confirmation" as the subject line, so be on the lookout, just in case it ends up in your junk mail.
My order placed April 27th and I received the small package May 5th. Seven business days including the day I ordered, not too bad.
Name Tapes
The tapes themselves are well made. No cheap Velcro here, it sticks well and didnít budge. The three inches wasn't enough to completely cover across my arm velcro sections, but the alternatives were five or six inches, which would have meant putting them vertically and negating the use of those pockets. I could have gotten them without velcro and sewn them onto my BDU, but then I wouldn't be able to swap them out or play around with them as I'd like to.
Right Sleeve: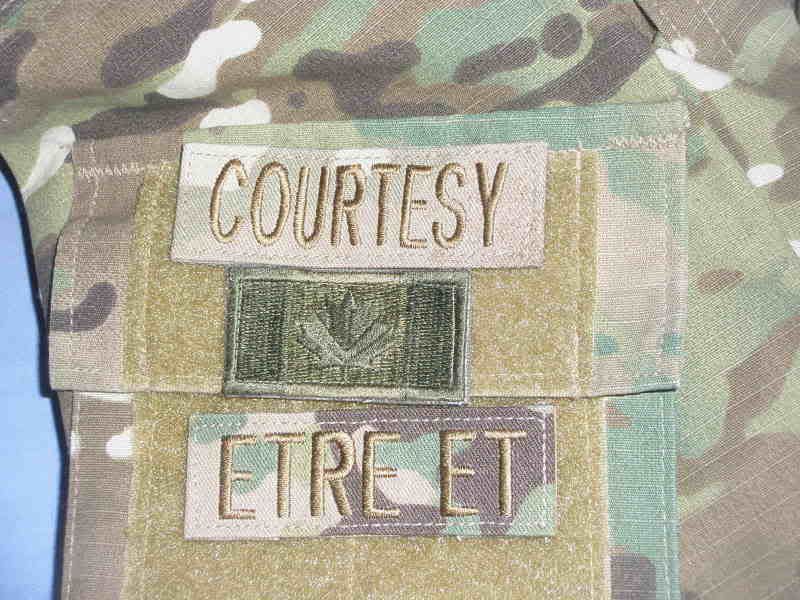 Left Sleeve: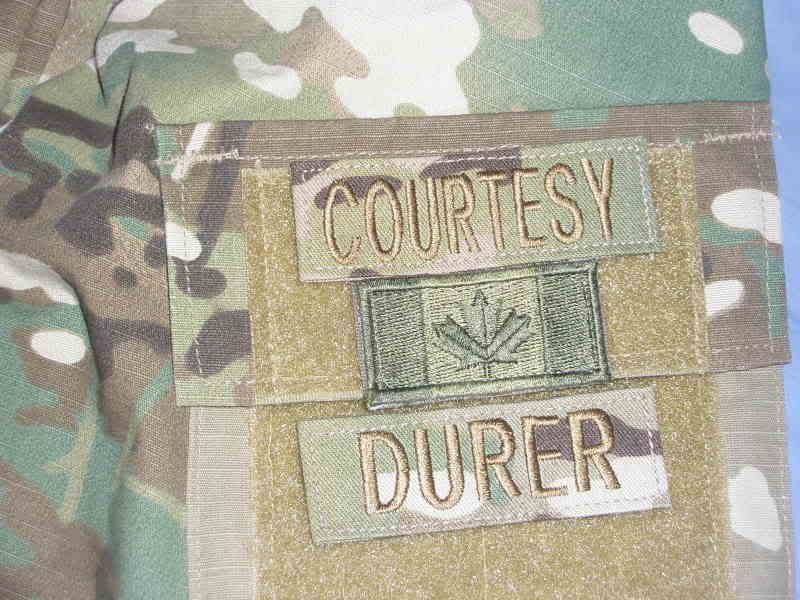 Notice that each tape has a distinct pattern. The "Courtesy" on the left sleeve is almost entirely a light beige or tan colour while the one on the right has some brown and green in it.
Dog Tags
Camera flash on:
Flash off:
As you can see in the picture with the flash, the dog tags reflect a lot of light (even though these are "dull"), so keep them inside your BDU at all times when you're out in the field! I was surprised at how thin the dog tags were (before I put the silencers on), but they seem very sturdy. They did not get bent or warp with moderate pressure, but they will flex with pressure. As seen in the pictures the dog tags come with the larger chain for one tag and the smaller one for the other.
Conclusion
I would definitely order from 1800nametape.com again. For you CADPAT users, there's no name tape for you, but they do have a couple different OD offerings if you look around.
P.S. "Ítre et durer" means "to be and to last" is something I adopted as a personal motto. It is also the unofficial motto of
parkour
.