I have been waiting for someone to make a nice factory USP Tactical for a long time. I was pleasantly surprised when KSC announced they would be adding the Tactical to their new System 7 lineup. As soon as Red Wolf had them up on their site I ordered one . Took about a week for me to receive my new GBB.
What you get. The box is a very simple grey box with a Styrofoam liner.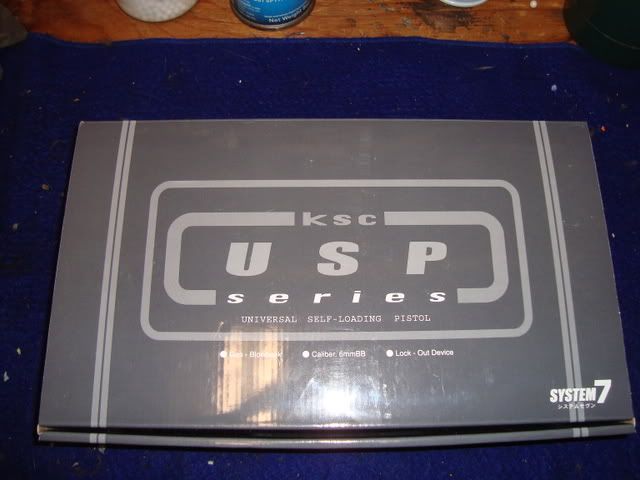 Inside the box you will find the gun, mag, manual, barrel plug, assorted extra paperwork and small bag of unmarked bbs.
The gun itself is very solid with no loose parts. It is mostly plastic but the finish is very close to the real thing. Hopefully aftermarket metal slides and barrels will be available down the road.
The gun has lots of little details that add to the realistic look and feel.
The controls on the KSC are ambidextrous and function exactly like the real steel. The weapon can be placed on safe with the hammer down or with the weapon cocked. The safety is also a decock.
Hows the gun shoot. With G+G .25 bios and propane this is about average.
The gun has a hard sharp recoil and can easily go a mag and half without more propane.
Fitting into a real USP Serpa. This took a little work on the front site channel of the holster. I had already Dremmeled out the channel for my RS Tactical but as it turns out the KSC front site is slightly higher and wider. Be very careful, my KSC actually got jammed into the holster before I Dremmeled it.
More to follow