I had some time this evening to go through some products I've acquired over the past months from Huang. Great service as always, highly recommend him. However, these reviews are in no way comprehensive and are just quick run down on my thoughts. If I have time I will conduct a more comprehensive review, post detailed videos or pictures, in the meantime feel free to ask me any questions, and I'll get back with you as soon as I can.
Tactical M4 Drop-leg Magazine Carrier
http://www.dragonredairsoft.com/airs...roductID=24660
This replica kydex magazine pouch holder will work for airsoft, but for real-steel, the magazines can only be inserted in one direction, with the catridges facing up. The kydex shroud is compatiable with Safariland pouches, such as the 774-215-23 (AR15 Pouches). The downside is that the hex screws that hold the replica kydex pouches have rusted, and strip very easily.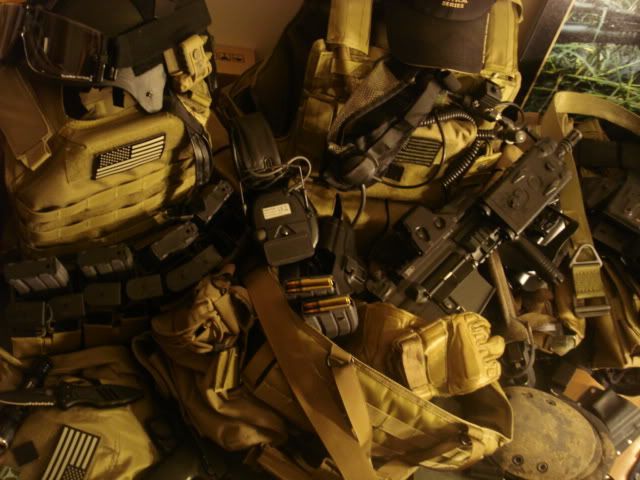 (774-215-23 Safariland pouches fit, seen on the far right corner, sorry, forgot to take a close up shot)
3.5-10*40 M1 Illuminated Scope(Full trades)
http://www.dragonredairsoft.com/airs...roductID=26414
This optic performs amazingly considering it was a replica, and I had originally was going to mount it on an airsoft M16 built. On initial inspection the optic has functional illuminated reticule with 11 brightness settings, and seem to have a positive working windage and elevation adjustments. Moreover moving from 3.5x-10x presented no problems. But took it out to the range to see it's performance with .223/5.56, and I was shocked when I was able to achieve 1-2 MOA grouping (at 100 yards) consistently. Note you will have to get a sturdy mount, they do provide 1" rings, but are useless on a 30mm body.
Replica LaRue Mounts
I have nearly all the replica LaRue mounts, from the 30mm cantilever and non-cantilever, EOTech riser, Micro-T1 riser, ACOG QD, and the SPR mounts. I hope to be able to perform a side by side comparison of the real-LaRue compared with the replica. But honestly speaking, the best replica I've seen is the Micro-T1 Riser, very hard to tell the difference, parkerized finish, opposed to this jet/flashy black finish, and even has the LaRue trades on the bottom of the mount. The mount that is full of "fail" is the replica 3x Magnifier swing mount, doesn't sit square and flush with a MIL-1913 rail. The EOTech riser does not have the correct height and the T1 riser do not have the correct height to co-witness with slights, just a few millimeters off, so take that into consideration if you ever think about using it for real-steel purposes opposed to airsofting. Otherall for airsoft they are great replicas, but I do not recommend them for real-steel use as I wouldn't trust my life with it.
(EOTech & replica HWS will mount on to replica LaRue riser, however loose co-witness, as mount is off by height tolerances.)
Replica ARM Mounts
I also got the other two 30mm ARM mount replicas to review, I personally think they are more solid of a build than the LaRue replicas, but again I hope to perform a detailed review later.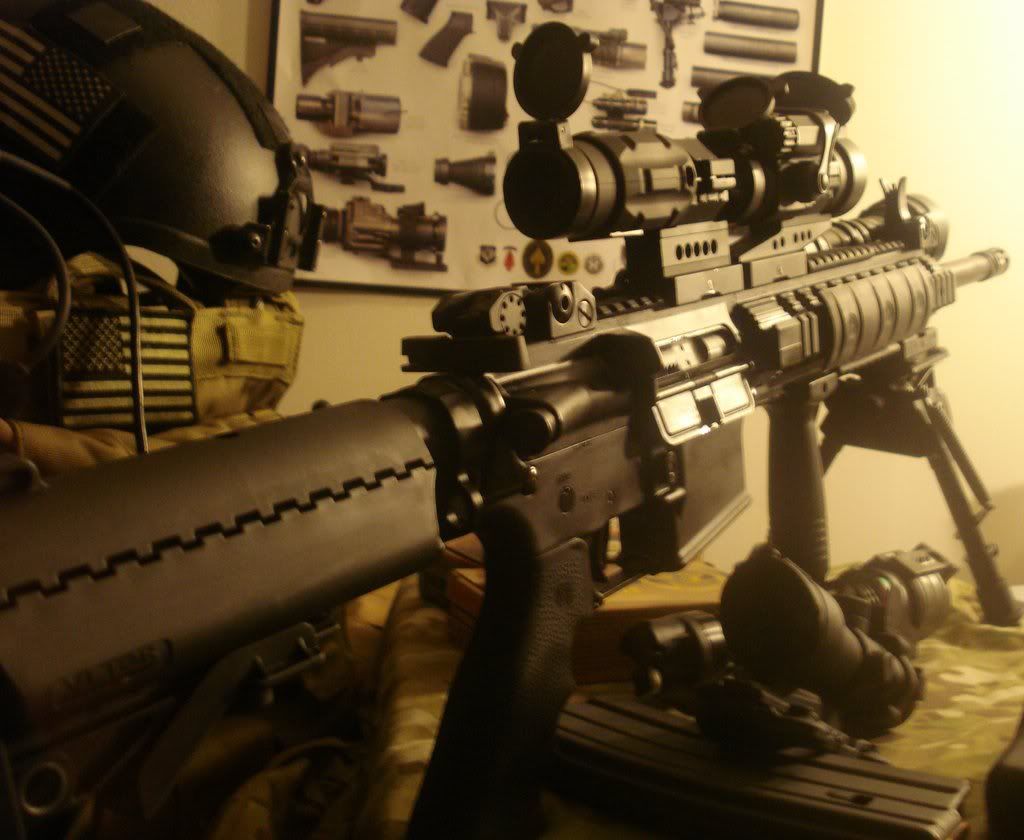 (Replica ARMs mount are more robust than the replica LaRue mounts, more suitable for plinking, real-steel wise, return to zero, but wouldn't go into sandbox or A-stan with one.)
ACOG Scopes
I also have a variety of ACOGs, the Green (AR15 Tested), the Black w/ Arms Lever, and an EBaybanned verison. So I would be able to compare the three 4X scopes, and how they faired at real-steel testing, overall build quality, and etc. In short the green is the best peforming, although the Arms throw mount could be improved, the Dragon Red Airsoft and Ebaybanned ones are similiar, but the Dragon Red Airsoft one has a superior mount, and higher quality doctor RDS.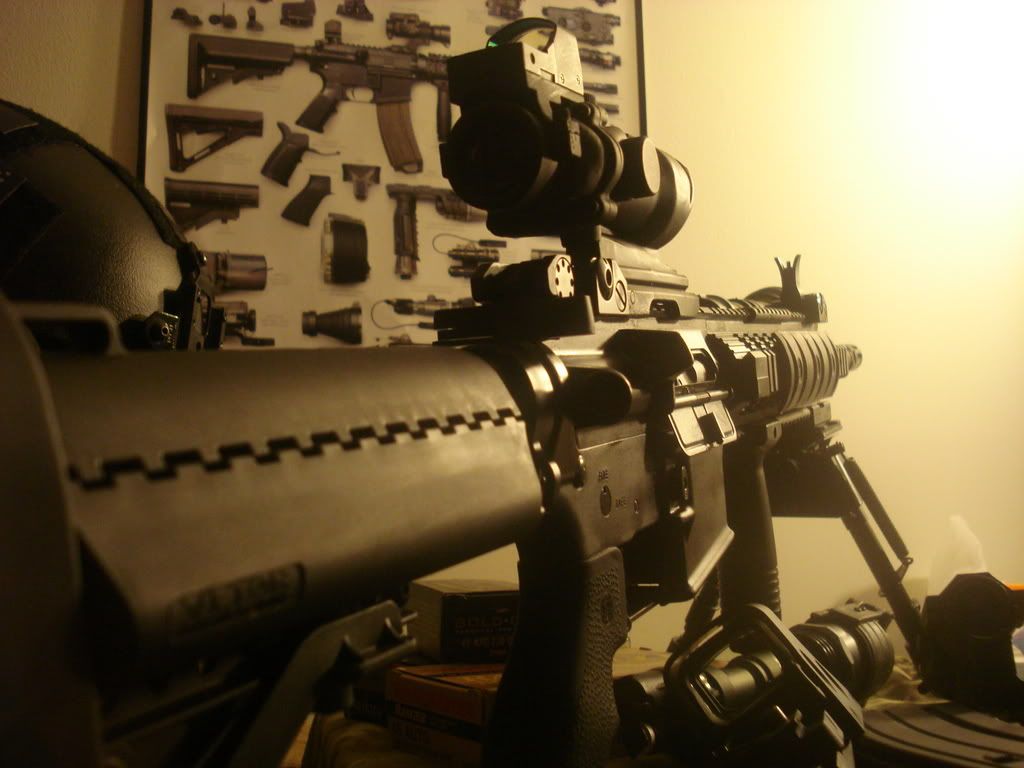 Full Trades M962XM07 Tactical Flashlight, LED Version
http://www.dragonredairsoft.com/airs...roductID=25378
I haven't performed a run-time test, or lumen test on it yet. But the body construction is outstanding, though the clickly/remote pressure switch end is suspect. There are proper o-ring placements on the body and end, but not on the lens/led area, which means it probably will not be water-resistant. The Arms throw lever is solid on airsoft 20 mm rails, but wobble slightly on MIL-1913 rail. Again I hope to have a more detailed review, when I get the time.
Ranger Hoodie & PCU
I've used it a number of times, and it has worked wonderfully in cold weather. But again no time to do a detailed review.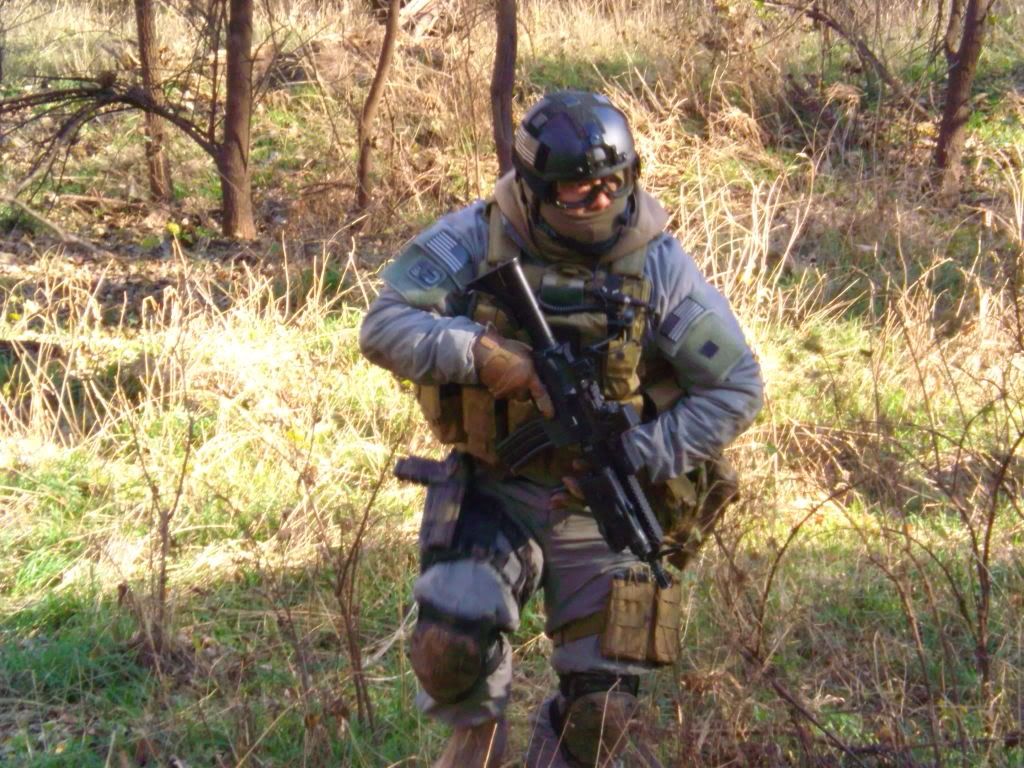 (Holds Up to Skirmishing)
End Notes:
Not included in this review is the replica Aimpoint Micro T1 and ML2 which I also tested on my AR. In short though, the T1 and ML2 did hold zero, but I run them on my 22 LR converison majority of the time, and switch to my EOTech for .223. I do this for two reasons, first two different zeros, and knowing the optic can handle the recoil.