So I picked up a UTG shorty shotgun. I always thought UTG made crap, but then learned that the shorty shotgun they make is a TM clone and can use the same shells.
I have not gamed the thing yet or had a chance to check the FPS on it. Online it says that the UTG shotgun will do 290-300 fps, I know that my TM will only do 250 fps. Will update after I actually check.
Holding the UTG shotty it feels pretty solid. Without looking close, most would mistake this for a TM.
TM on the top, UTG on the bottom. Excuse the orange tip :P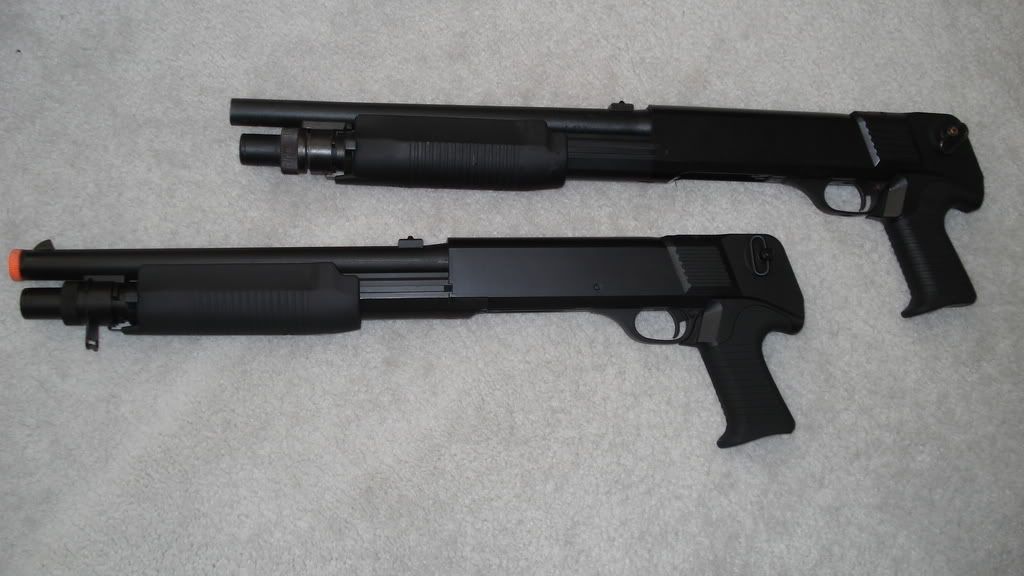 There are a few details that I noticed were different. First the ejection port. On the TM the is a metal plate, while the UTG is just one solid piece of plastic body. The metal plate is only cosmetic anyways so it's not a huge deal. The other difference is that the shell door seems more flimsy than on the TM. Seeing as how this almost always breaks off anyways, I guess it doesn't matter.
Pic of the body. Top is the TM metal cover and bottom the solid plastic. Note that my TM shotty is very well used and looks a bit beaten up :P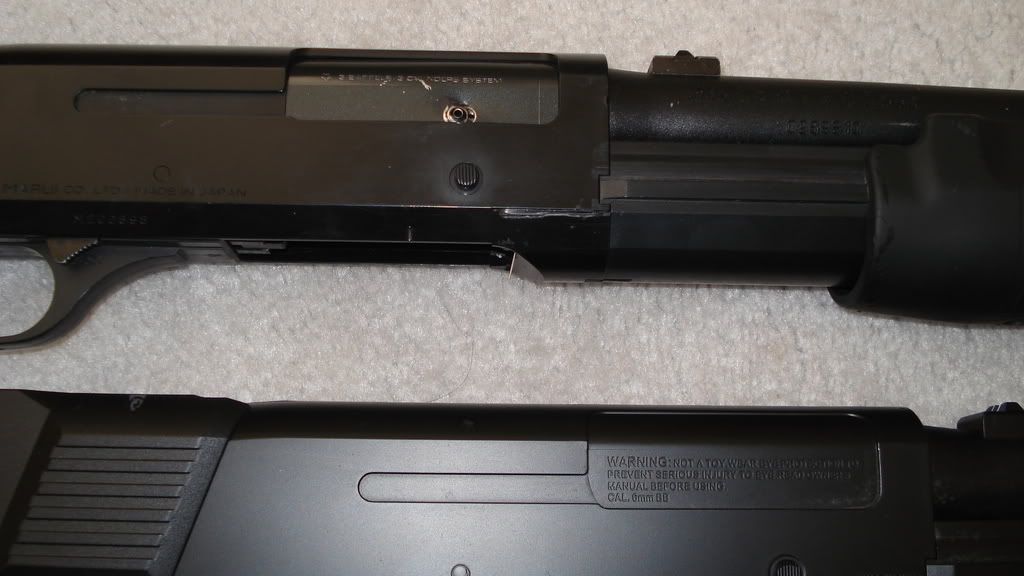 Last is the shells. The UTG came with 2 while the TM only comes with 1. I did a little reading online and the UTG shells need a bit of lube right out of the box as they are apparently very dry inside. Price wise tho you can buy 6 UTG shells for $14 USD compared to $25 for 3 TM shells. The UTG shells have a much more shiny look to them, because of the sticker they used, while the TM shells are solid flat red with the letters printed on.
The UTG shells also come in 3 three colors red, green and black when you buy a pack and you can't choose so you get 2 of each.
So while I have not gotten to use the shotty yet, so far I am impressed. The UTG cost less than half the price of a TM shotty and comes with a extra shell, speed loader and crappy sling. I have no idea on durabitily tho. My TM shotty has seen 2 years of hard use and I only needed to replace the nozzle once. The UTG is untested and I have no idea how sturdy the internals are.
I do like the lower price point and how shells are also much cheaper. The ability to use TM or UTG shells on either is also a nice.
Will update again after I chrony and game the new one.