This is my first review, so give me a break. I'll try my best to bring out the gun's pro's and con's.
Anyways, this is the first 130$+ airsoft gun. (The same company makes the Aftermath (In unison with SS) Kraken.
To start it off, i'll show you everything the package comes with.
(The adjustable stock did not come with the gun. The Fixed-position stock did.)
Items that come with the gun.
- 8.4v 1100 mAH battery.
- Charger.
- Metal low-cap magazine.
- Quick loader.
- Barrel cleaner.
- Manual. (granted.)
Quick review of the gun.
- Plastic receiver.
- Plastic gearbox.
- Plastic handguard.
- Plastic ABS stock.
- Plastic M203 launcher.
- Metal Magazine (advertised as 60 rnds but can only hold 45. Recommend buying a box of 6. This gun can use CA/TM mag's.)
- Metal and removable carry handle with wind age and elevation adjustment.
- Metal barrel.
- Metal selector switch. (Very sturdy and doesn't budge.)
- Metal Mag release button
- Metal charging handle.
- Metal Dust cover.
- Metal trigger.
Photo of the gun.
(Note, i spray painted the gun a few days after the purchase.)
The stock stock is a hard ABS plastic fixed-position stock. At first glance it doesn't look too sturdy, but when i knocked on it, and felt it i quickly realized it was pretty sturdy. The stock can be used to store any 8.44 mini battery in. In order for this to be accessed, you need to push down on a button in the middle of the but plate, and open up the slider. (Simple enough.)
General idea of where the slider is.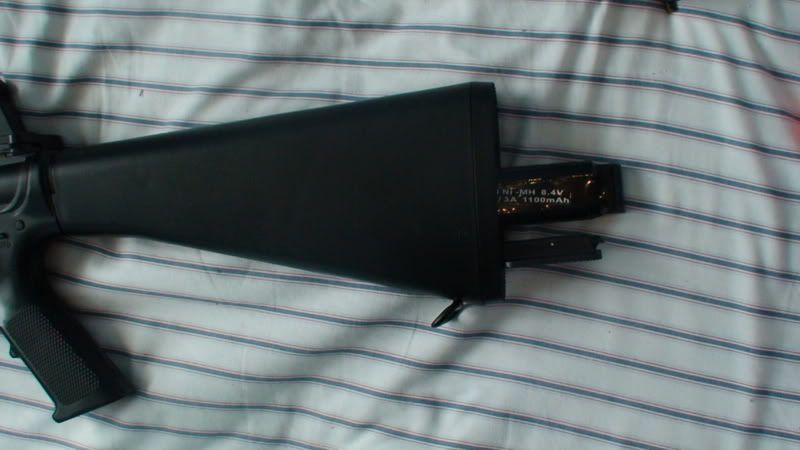 The 203.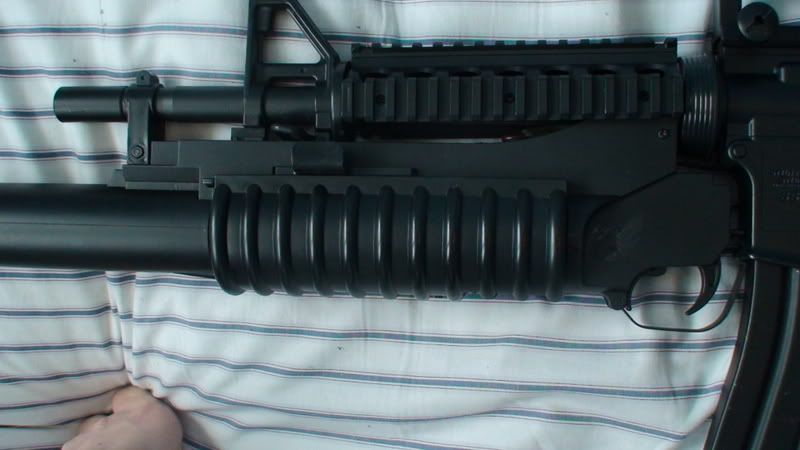 The 203 this AEG comes with isn't at all what I expected. All though it is mounted fairly well and securely,
it is spring operated and only shoots a smog 230 FPS. No, this doesn't shoot multiple BB's at a time. Just one. The body is plastic, as well as the slider. The only metal parts on this 203 are the mounting brackets, screws to screw the brackets to the barrel, and the barrel the BB's come from. (This 203 is basically a gender-less pistol.) Despite all this, it boasts a very nice realistic look. But that's about it.
The sights.
Not much to say about these, but the rear sight does not line up with the front sight at all. I'd recommend just getting a reflex red dot sight.
Performance.
The gun performs quite well considering it's price tag. The advertised FPS is 310, and my neighbor chronoed it in at 297 average with .12 (This gun jams waaayyy too much with .20. I recommend not using .20 in this gun.) I have hit pop-cans 35 yards away even with the horrible iron sights. I have put 20 000 BB's through this gun and so far no faults, but it does take a while to set your hop-up to work with your iron sights.
Hop-up
The Hop-up is what I expected. A reliable, and accurate hop-up system. (Standard forward for less and backwards for more spin.) You pull the charging handle just like any other TM clone which reveals the hop-up. It's compatible with TM. (Duh.)
Pro's
- Fairly durable.
- Does not need to be upgraded if you play indoors with a max FPS of 350 FPS.
- Works great out of the box.
- Pistol grip is very comfortable.
- Moderate ROF.
- Good price.
- The RIS system is all metal.
- Detachable hand rail.
- Good Hop-up.
- Weight feels realistic.
- CQB'able' with a collapsible stock.
- TM compatible.
Con's
- Majority is plastic.
- Iron sights are poor.
- Magazine isn't the best.
- 203 is useless. (Use for cosmetics)
- Plastic internals.
- Bad trigger lag time.
Conclusion
In conclusion although this isn't a TM, CA or JG AEG, this gun fends for itself when put up against it's famous counter-parts. Although it lacks metal parts, the plastic is a rigid ABS plastic. All in all, the price for this gun is about right. It's a perfect entry gun for the newbie, but there are lots of better guns out on the market for seasoned/vets of the sport. 8/10
Any questions? Please PM me. Anyways... thanks for reading my first review.