I ordered this slide through Airsoft GI so I could get the 5% discount, so the slide came to $190.00 plus 2 day air shipping. They screwed up the shipping and sent it ground, which had I wanted ground would have been free. Still waiting on a resolution on that. But really that has nothing to do with the actual product.
The slide set came in a simple brown box.
In the box was the slide, suppressor adapter, barrel and new recoil spring.
The slide I selected was the stainless steel. I did this because I wanted a gun that would stand out. The finish on the slide is actually nicer then on most R/S guns. The only issue I see with this is finger prints on it. I can see myself constantly wiping the gun down. The extractor is actually a separate piece on the slide and is a matte black finish.
Installation took about 5 minutes. I'm not the most mechanically inclined person and I was able to do it with only a small Phillips head screwdriver. The inner barrel popped right out of the factory outer barrel, then slid nicely into the new one. Removing the inner workings of the slide only required taking out one screw and pulling out the rear sight. Once that was done all that needed to be done was reverse the procedure with the new slide. The front sight is held in place with another screw, so changing them out was easy. A note on the TM Glock sights: the gun comes with standard sights and night sights. I have opted to put on the night sights.
I decided to give the gun a test with the original recoil spring. I reassembled the gun and gassed up a mag. The gun functioned well, giving me about 40 shots per mag without bb's. It did however have a slow return to battery time. I changed out the spring for the one provided by Avalon. This corrected the issue and the gun performed perfectly. With bb's the gun fired a full mag and then on average another 15 shots.
Some random shots of the gun.
With R/S cousin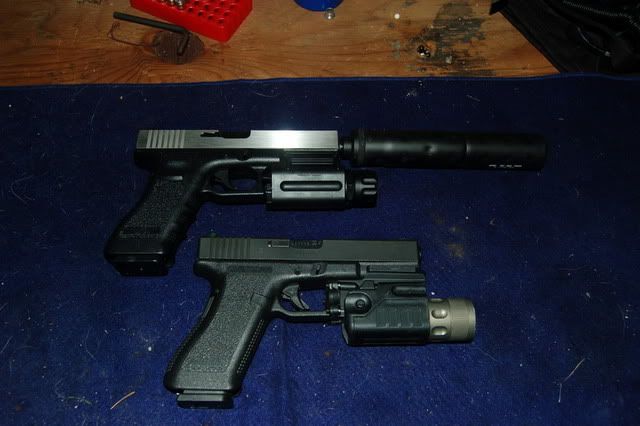 Overall I think this really adds to the look of the gun. It seems to function as good as the factory slide plus you get that great metal clank sound when you fire it. Is it worth the $200, considering the gun and 2 spare mags cost less. Other companies make cheaper alternatives but is their quality on par with Avalon's? I guess that's the $200.00 question.