Ok let me start by saying I am totally out of ammo. I mean I have no BB's left at all in the house. Thats never happened to me before. Anyway lets get started with this review.
Part I
Gun was ordered from Redwolf 2 weeks ago. Shipped price comes to about $1500.00 with all items pictured. In the package was the reciever, barrel assembly, standard ammobox adapter, 1300 round auto winding box mag, wooden packing crate and small belt on inert rounds. Gun was secured in crate with wood pieces screwed into crate(screws were stripped, took some time to get it out). Crate was also filled with packing peanuts, my mortal enemy. Flash hider was painted with paint that wiped right off.
This gun is heavy, about what my CA M249 Para weighs with all the extras. You would not want to be running around the woods all day with this thing, unless you are really hardcore. It is all metal except the pistol grip, cheekrest, butt plate and the handle on the carry handle arm. Big differance from VFC MK43, VFC carry handle is all plastic and breaks if you use it.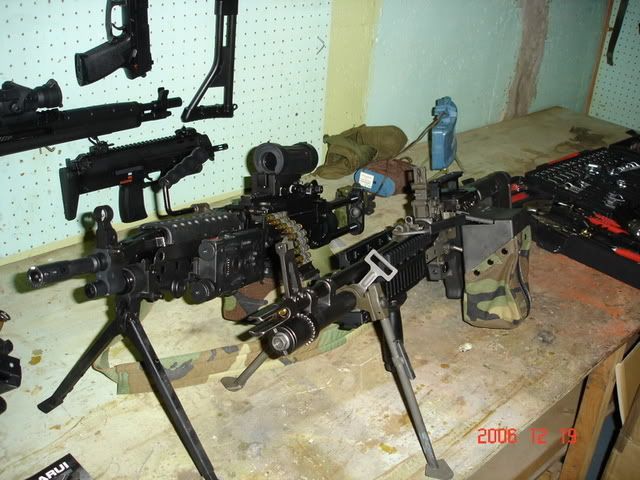 The finish on the gun is perfect. Gun has a parkerized finish on most parts, which gives it a very realistic feel. Trade marks on the top of the reciever are the best I have ever seen on a airsoft gun.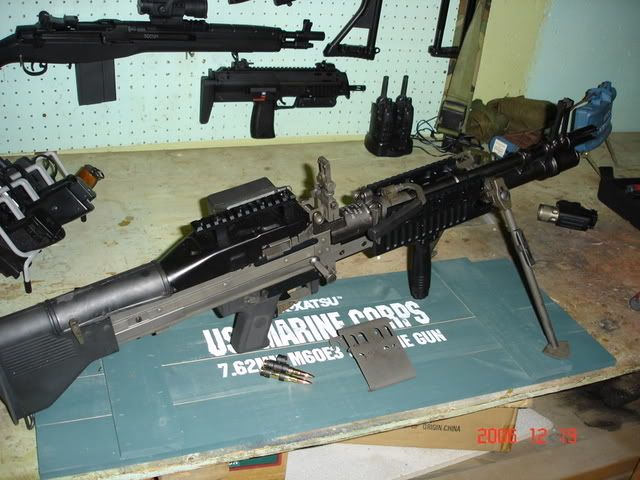 Trades
Hop-up is adjusted by removing the barrel. Unlike the SAW you can remove the barrel with out losing any BB's.
Battery compartment is located in the buttstock and is accessed by removing the buttplate. This gun can fit up to at least a 12V large without problems. This is another big differance from the VFC. The VFC can only take a small stick battery in the gas tube. I guess it can be motified to take a large in the ammobox.
Gun has a very nice ladder type rear sight. Looks very realistic and is all metal.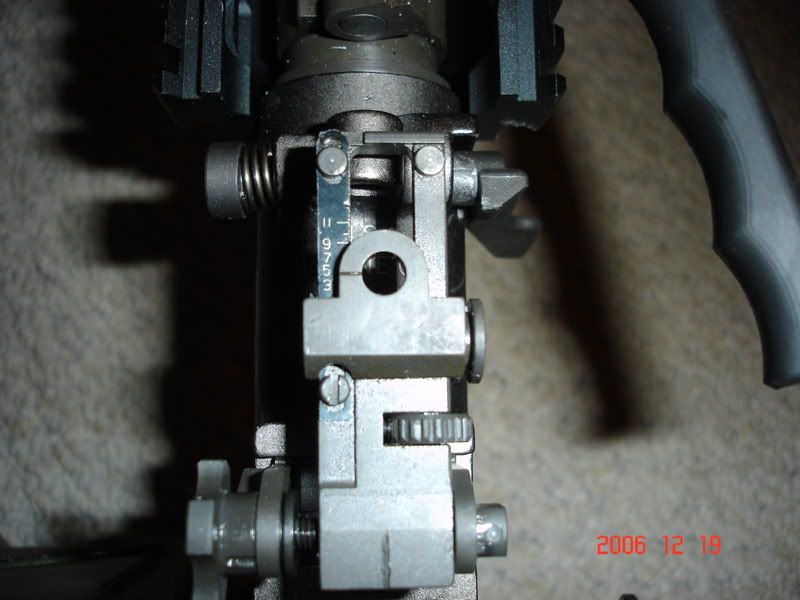 Gun also comes standard with a nice sight rail that does not interfere with iron sights.
More to follow