Thanks to Baby Jesus, I have just acquired the CA 25. This is Classic Armyís rendition of the SR 25 semi-auto sniper rifle. Please forgive the following photos, but I'm not so photographically inclined.
The gun itself is about the size of an M-16, so you can imagine the box was quite big. CA have spiced up their box design and strayed from the normal black boxes and used a green/black box with a picture of a soldier carrying the gun.
Upon opening the box, I was greeted with the usual array of things; the gun, barrel cleaning rod, 3 rail covers, hi-cap mag, manual and silencer. Notably missing was a loading rod (not really required for a hi-cap) and any BBs. It would have also been nice to have the catalogue to see what they have coming up.
The gun itself is large and fairly heavy. The manual quotes 3.7 kg. I think they are understating it though. Metal parts are everywhere they should be, especially the receiver and RAS. The gun feels solid, without a hint of barrel wobble. I have no doubt that it could be used Sosa style if need be (not so much in airsoft). One of the first things I noticed visually were the trades on the gun. In one word, HIDEOUS. It is truly a shame that they couldnít get this right. Instead of anything even remotely ĎStonerí, it says ďClassic Army CA-25 Sniper Rifle 7.62mmĒ Perhaps the only redeeming quality is the unique (so it appears since every picture Iíve seen of the gun has a different one) serial number, but thatís of little comfort.
Other than this, the gun is stunning. The fire selector show two settings; safe and semi. It has a front flip up sight, and a removable rear sight (which I took off right away). The stock is also solid and fitted perfectly, taking a large battery. The outer barrel is not threaded, so any accessories, such as a velocity reducer, or threaded silencer, cannot be used.
The RAS is fully metal, and seems to take any accessory I have tried. It has the ĎArmaLiteí trades and feels rock solid.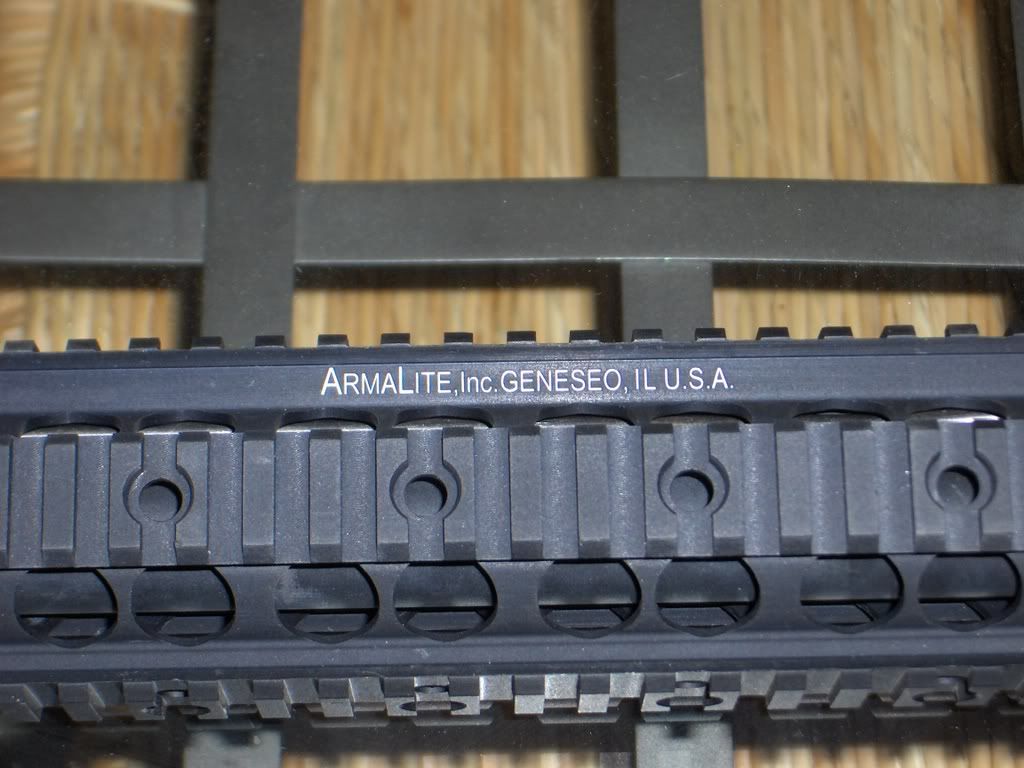 The silencer included is metal, and is of a QD (quick detach) model.
I have had some experience with QDs, and this one is unique. Since it doesnít mount on a flash hider, it slides over about 10 cm of the outer barrel and clips on to a special attachment.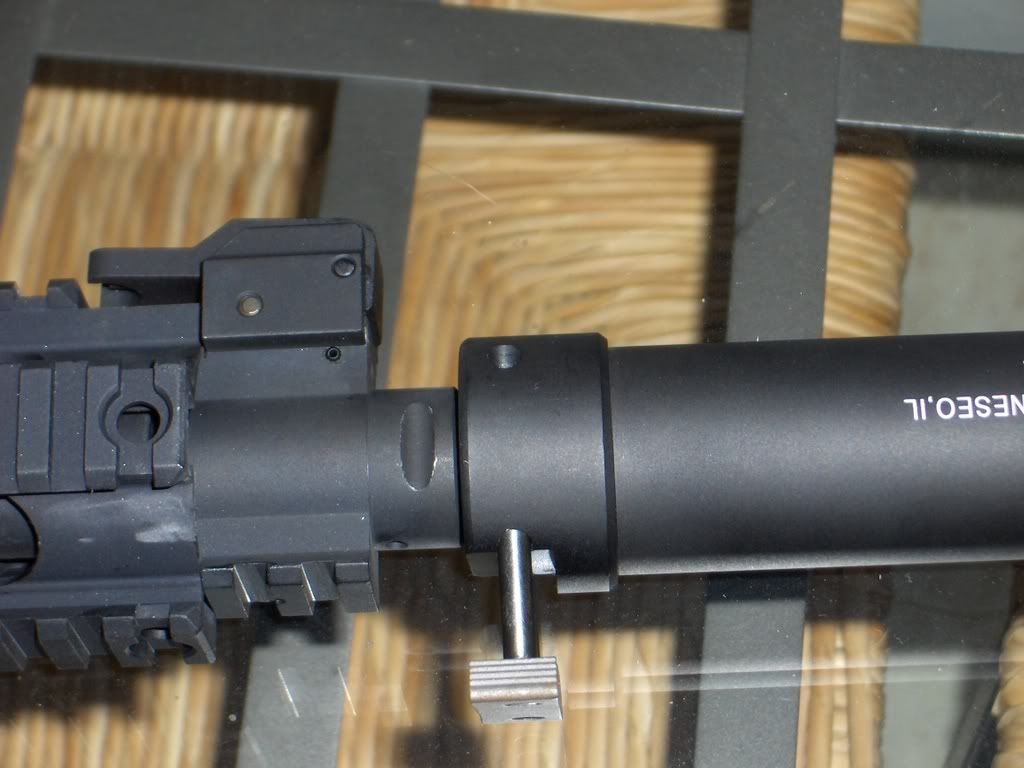 Two rods are then slid down into place preventing the silencer from sliding or rotating. I find this design to be more secure and faster than the traditional flash hider design. How well does it work? Well it is actually more than cosmetic. Without the silencer, each shot emits quite a loud crack. The silencer actually eliminates the crack and youíre left with the mechbox noises. Very nice.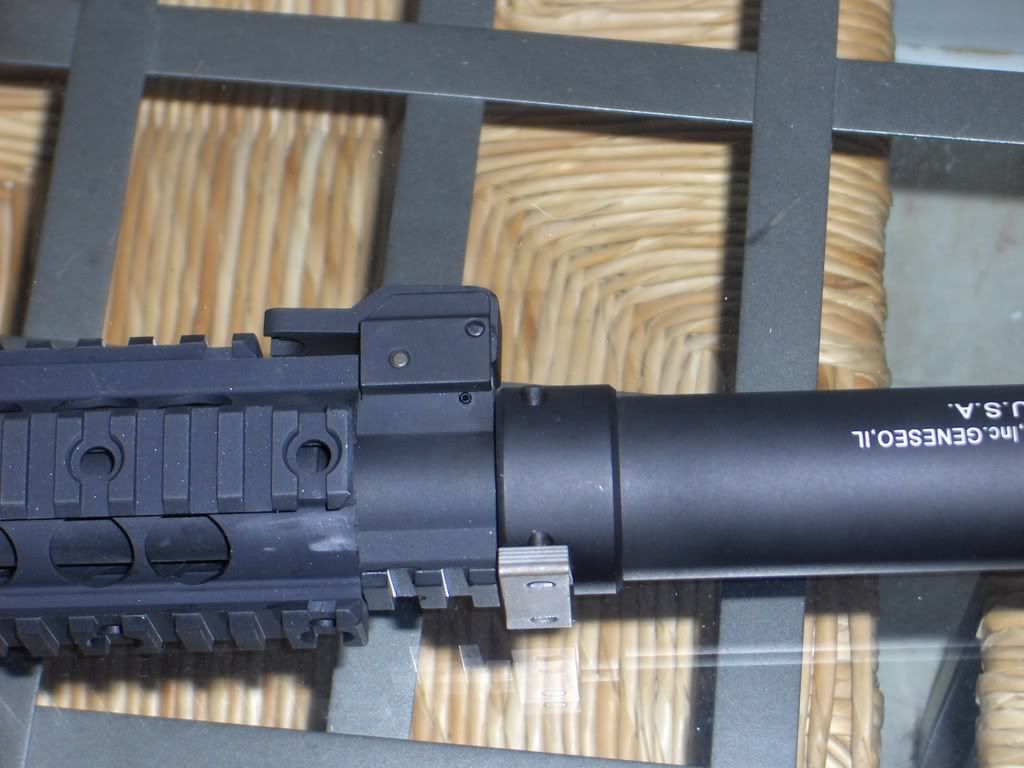 The cleaning rod is wellÖ a cleaning rod. Super.
The mag included is a metal CA hi-cap version holding 470 rounds. Manual winding is required after about 20 shots which pretty much simulates using realcaps. But letís be honest, for milsim, winding just sucks. Sure, itís an opinion, but Iíve never liked hi-caps. Also on the negative side is the fact that no other company makes stock mags (real/lo/mid/hi) that fit. Basically, youíre stuck with it, but rumor has it that G&Ps can be modified to fit. The mag functions flawlessly. Never a misfeed. And inserting and removing the mag is effortless.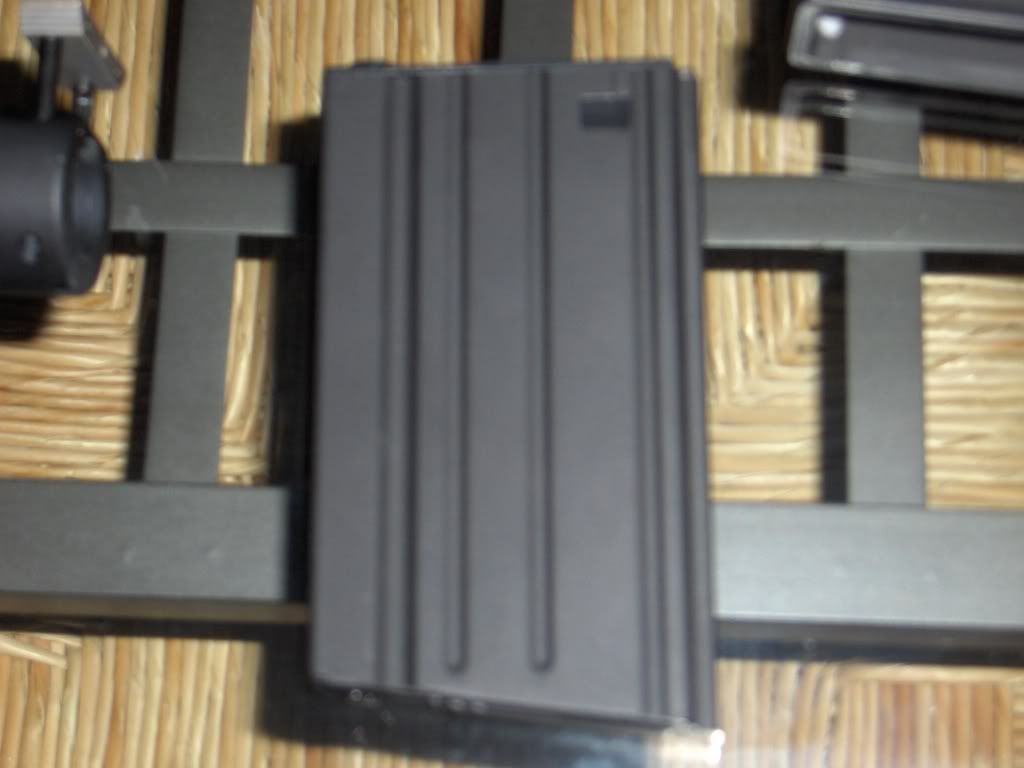 The gun fired about 200 rounds perfectly during testing using an 8.4V 3600 mAh battery. My testing space wasnít large enough (less than 100 feet) to find any lack of precision, nor able to test the hopup. Even though an adjustment wasnít necessary, hopup adjustments are similar to all CA Armalites. The chamber is held shut with a magnet that has to be manually opened.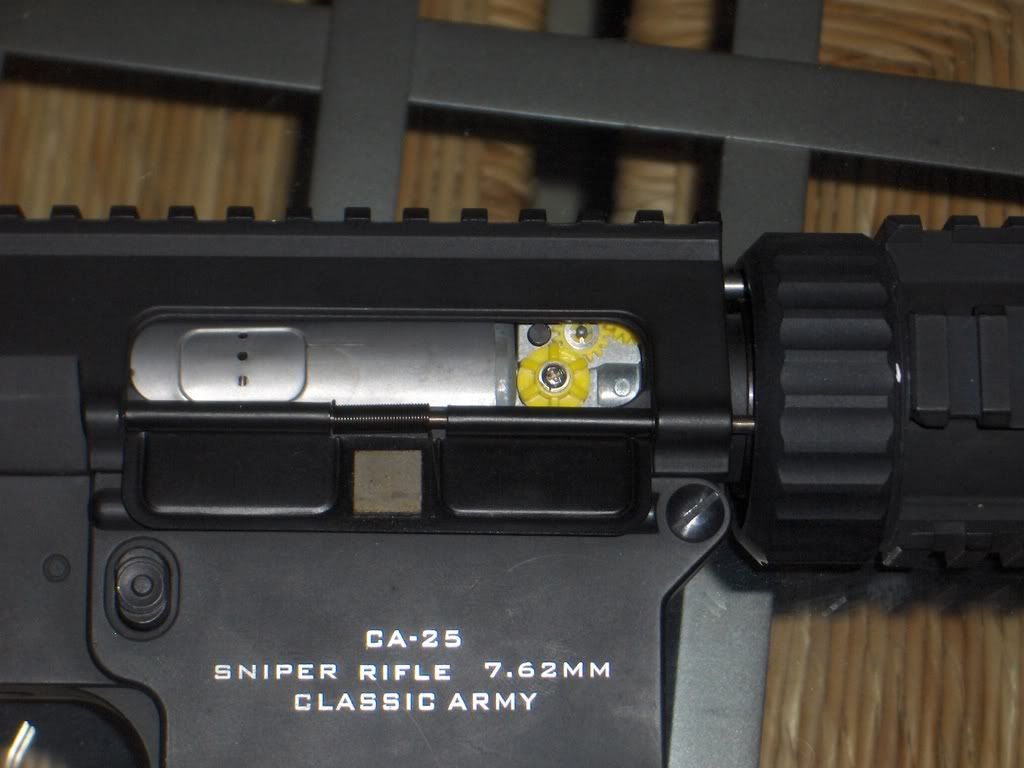 Now comes the question of velocity. CAís website has the gun pegged at about 330 fps, just as any stock CA. After consulting an ASC member who had one of the first batches of the CA 25, that velocity was confirmed. Increasing the velocity was difficult due to fitting a spring in the longer than usual mechbox. However upon inspection of the manual, I noticed that the velocity quoted was 380-410 fps and a large 9.6V battery was recommended. This would confirm some rumors that CA had pre-upgraded the latest batch of CA 25s. Being the poor man that I am, I enlisted the help of the several cans of Coke and several Excel .20g BBs and used the poor manís chrony (I will follow up with actual chrony tests after I get one). My first shot went cleanly through both sides of the can. Grabbing a new can, I then shot through the middle of the bottom quite easily. Then I followed it up with a shot through the bottom side portion of another can. The only thing that it would not penetrate was the top. There are different interpretations for these results, but they seem to conclude that the gun fires anywhere between 400 and 450 fps. Not too shabby for a stock gun.
With this velocity, it fits right in with the sniper platform. Trigger pull / shot response was perfect. No noticeable lag. Also it should be noted that there is no Full Auto setting marked on the receiver, but it does exist to clear the occasional mechbox problem. More force is required to move it to the usual full auto position, but it does exist. Rate of fire on full auto SEEMS slower than many of my stock guns, but then again, I wasnít using the recommended 9.6V to move that upgraded spring. Not to mention, that isnít really my intention for the gun.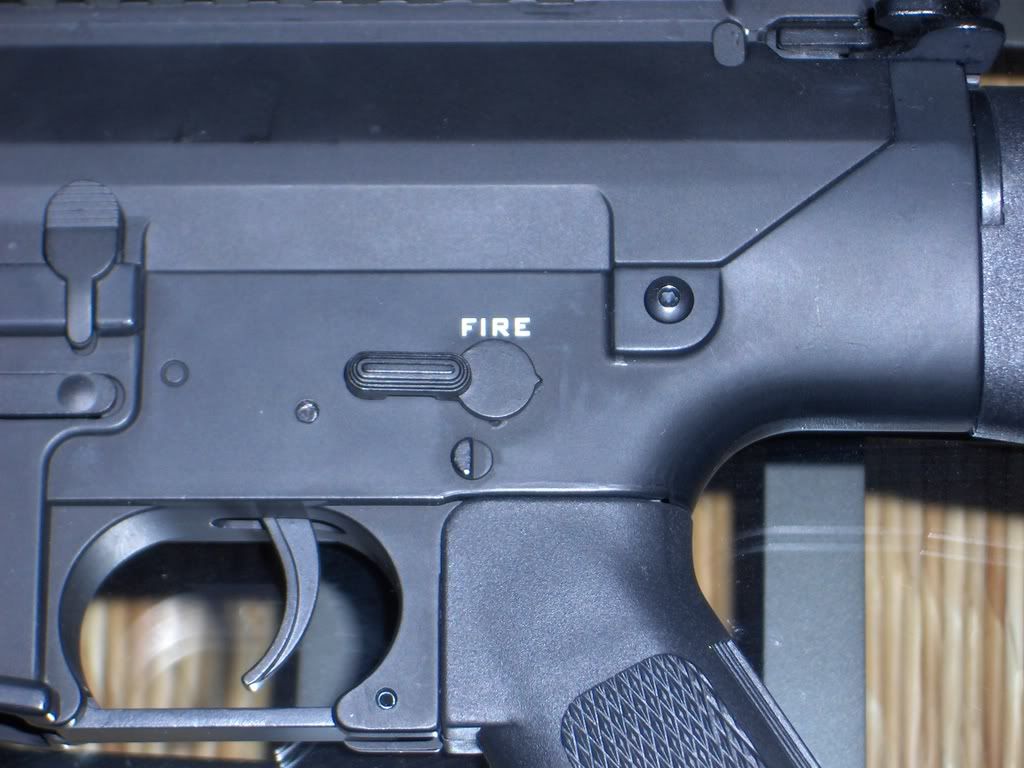 As time progresses, I will update the durability of the gun, the hopup (once it sees the field) and its long range precision (greater than 100 ft) and if the need arises, the internals (if / when I have to dismantle it)
For an overall comparison, I use my previous experience with several Armalites (TM M4, CA M15 CQB, TM M4 upgraded to 400 w/ 510 mm tightbore), TM AUG and TM P90. Aesthetically speaking, it puts the TM M4s to shame, but due to the trades, not quite what the CA CQB is. The feel is perfect for a big gun. Heavier than anything Iíve ever owned, and definitely more solid. Throw a scope and bipod on, and playing for a day will give you a workout. As for shooting, it shoots like an upgraded gun; hard and fast. Hopup wasnít needed within 100 ft, unlike any of my other guns, and precision was on par (5 inch groups) with my best gun, my M4 upgrade).
No need for pros and cons. What I will say is that if I had to change anything about the gun, it would be the awful trades, and make a bloody low/real cap. Other than that, the whole gun is one big PRO.