Classic Army M15A4 Tactical Carbine
Reviewed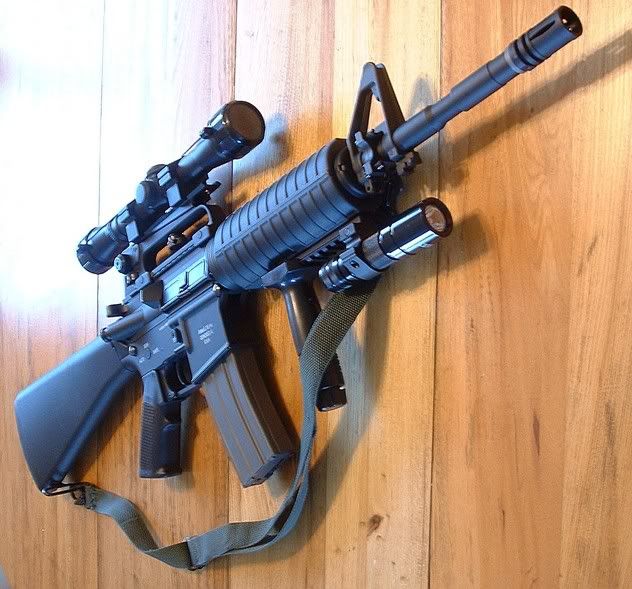 Having owned a Tokyo Marui M4a1 for a couple of years now, I've always wanted something more. Though I never experienced the infamous
barrel wobble with my TM, I always played airsoft "carefully" when it came to my AEG. Sure I had a lot of great games with the TM, had my share of
memorable firefights and such but there was always that fear of dropping my gun and breaking it etc. That little fear , whether it be the fear of barrel
wobble, plastic tabs breaking etc always took something out of my game. I'd like to describe it as though I were going through a mine field whilst carrying
a fragile baby at times...and that is just no way to play war. I knew that one day I would either upgrade to a metal body or buy a full metal gun.
Doing some research on upgrading my gun I found that first it was going to be time consuming. Then if I wasn't competent enough to do the upgrade I would have to send it to a gun doctor. That would lead to more costs. A full metal body , and a one piece barrel would'nt be the only upgrade I'd have planned once I open her up either. Might as well juice her up a bit to get a decent fps increase. All this would add up to some serious coin and when I bought the TM it cost me $600 so it's hard for me to justify the added costs.
So my quest was on for a full metal aeg. There were several choices including ICS , G&P , & CA. Not unlike many I have to work hard for my money so cost has always been a factor for me. Classic army has always been an affordable choice compared to the other full metal makers but their reputation for their internals has always been mediocre at best. ( the reason I bought a TM as my first gun ) However through their trials and tribulations and after each new version they put out Classic army was out to improve their aeg. After carefully researching various online reviews, most of which were very positive. I decided to buy a CA M15A4 tactical carbine (full stock).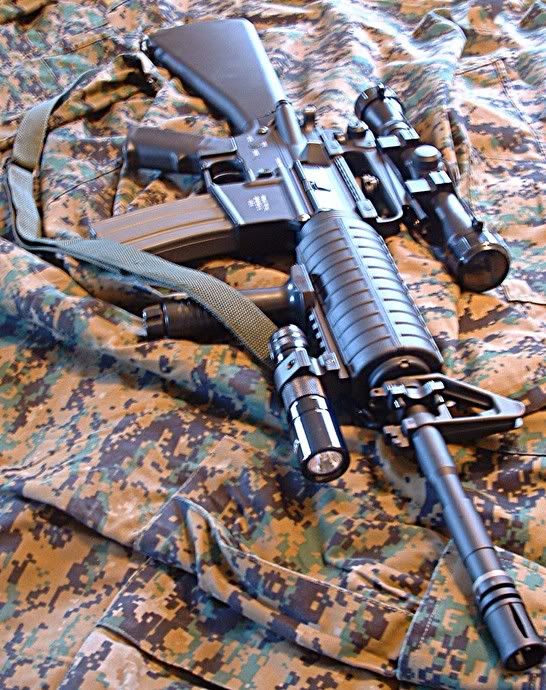 The gun doesn't come with much, a manual, CA catalogue, sight adjustment tool, 300 round hi-cap mag (grey) and a cleaning rod. It didnt come with a barrel plug though or that cute little bag of bb's...
My first impressions on the gun were how good it looked in the box. (all reviews say this) The finish looked uniform throughout. The laser etched Armalite logo and the "unique" gun serial numbers are a very nice touch.
That said, if they could have put the "Classic Army " name simply in black so as not to stand out so much would have been aesthictally nicer though it's not hard to fix that. The charging handle doesn't release the dust cover as the TM version does. The dust cover is held by a magnet instead.
Now in all the reviews I've read about this gun they all say how solid it feels when you pick it up. All I can say is that when I picked up the gun it feels
TIGHT and SOLID. I mean you could throw this gun to me like they do in the movies you know the scenes where the base is under attack and soldiers
are scrambling out of the barracks or something and a guy is standing at the door throwing rifles at each soldier as they race out the door. You could
do that with this gun, of course if you did that to me I might drop it ( bad eye hand coordination sometimes) but I doubt any serious damage would occur.
The gun is built like a rock. It is nicely balanced throughout was pleasantly surprised how much I liked the solid stock. (since my old one was the retractable)
Shouldering the gun felt great it sure didnt feel like I was holding a toy.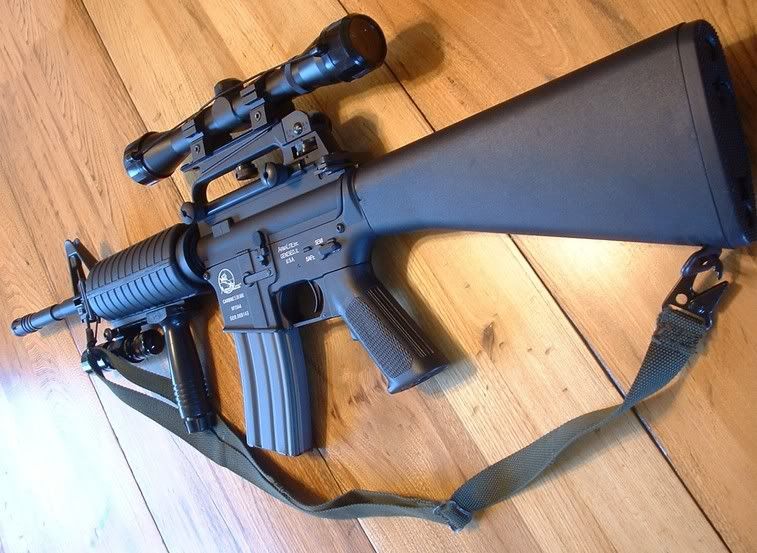 Game day: Inserting the high cap mag into the magwell was a little tight at first but after a few more times of inserting the mag she was pretty smooth with the nice metal click sound. I tried other branded mags including the TM standard and the 30 round Star mags both of which fit with no issues at all.
A note about the Star mags , they worked remarkably well with the CA. Every bb loaded up which I never got with the TM. ( the last 4 or 5 bbs
would never load when I used it on the TM they would always drop out of the mag when I reloaded)
Now at some point midway through the day I experienced a little trouble with the mag release. However this was a brief occurance and after the one incident it didn't happen again. Playing with it was all I would have hoped it too be. I was confident that the gun in my hands was not a fragile one. The hop up was a little finicky at first. But once a fellow airsofter set it up in the heat of battle she was good to go. Actually I got the most kills
in any one day of airsofting that I can recall. I stopped counting after 10. At any rate my mind was on the game not on how careful I was with my aeg.
I used my 8.4 nimh 1100mah mini battery without any issues and it lasted the whole day. Firing the CA M15A4 tactial carbine was pure joy. Whether it
was at full auto or semi she performed flawlessly. It shoots a little louder than my TM M4A1 which I don't mind. The extra distance and 330 fps out of the box is also a nice quality. One thing I did find that though I'm the type of guy who likes to play with standard mid cap mags, as the day progressed I found myself relying more on the simplicity of using the 300 round hi-cap included with the gun. The only thing I did'nt like was the rattling of bbs as I ran etc. But I must fight this urge to use only the hi cap !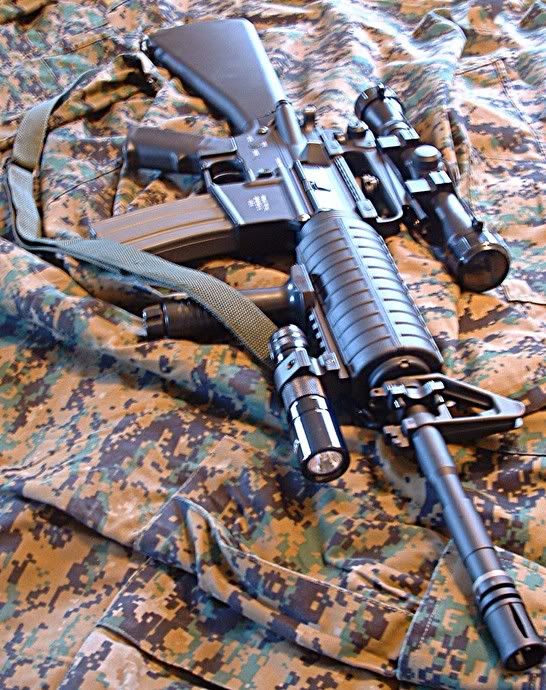 To wrap it up I found this aeg to be a very reliable gun. It's a sturdy performer with reinforced and upgraded internals right out of the box. She is a full metal baby and is made for some serious aggressive airsofting. Cosmetic upgrades are the usual norm for the M4 so you can customize your gun to suit your needs with aftermarket parts. She has the looks and feel that I like in a gun. After one day of airsofting with it , it's hard to imagine how I played with anything else. Time will only tell how durable and reliable it really is. But if first impressions are anything she will be able to take it all.
I did'nt bother trying to take her down though from all the other reviews I've read it's a pretty simple matter. I will deal with this when I have to. ( I never had to open up my TM ) I'm very happy with my CA M15A4 and Im sure you will be too. In my opinion Classic Army has left their shoddy past behind and jumped to the front of the line.
losttourist
Pics of it's final configuration