Review: Hurricane Eotech 551 Replica Sight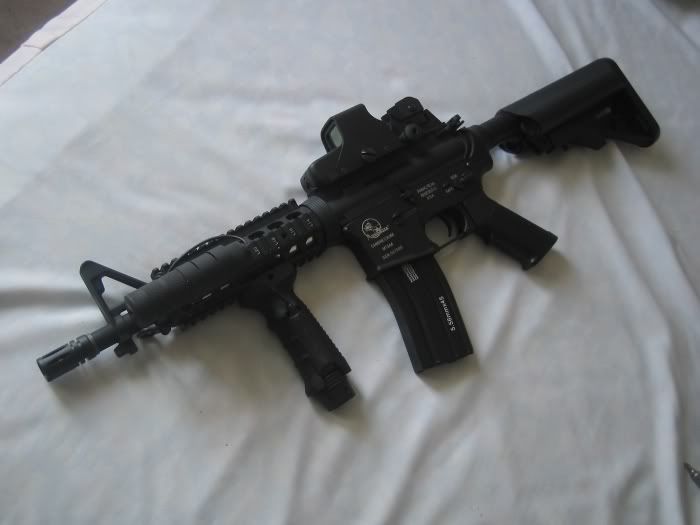 I was able to score a sample of Hurricane's Eotech replica from their first production run. Hurricane makes very limited runs of their parts, and it was already out of stock within a couple weeks at the few Asian online retailers that even had them listed. Props to the staff at Airsoft Global for tracking one down. :cheers:
Don't let the box fool you, this isn't a real holosight, there's no holographic technology inside.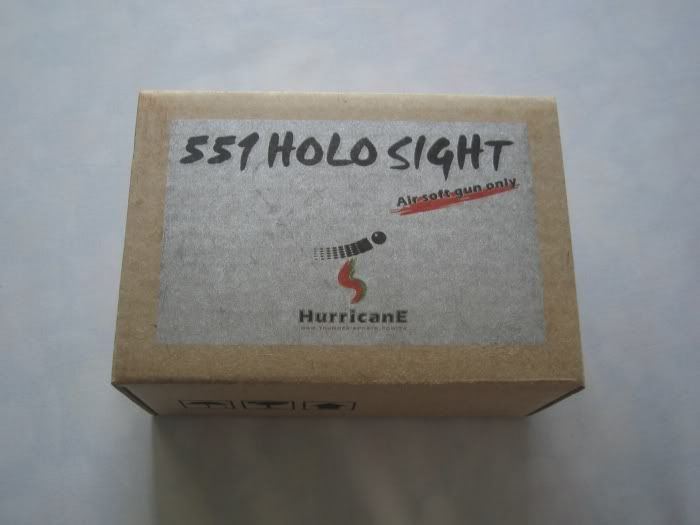 Like with all of Hurricane's products, it is well packaged in the typical Hurricane packaging. Brown cardboard box, with a solid block of hard foam cutout perfectly for the item and it's included accessories.
Intructions and batteries included! The unit uses 4X LR44 Batteries. 8 batteries are included in total. 4 come pre-installed, 4 extra are included in the box.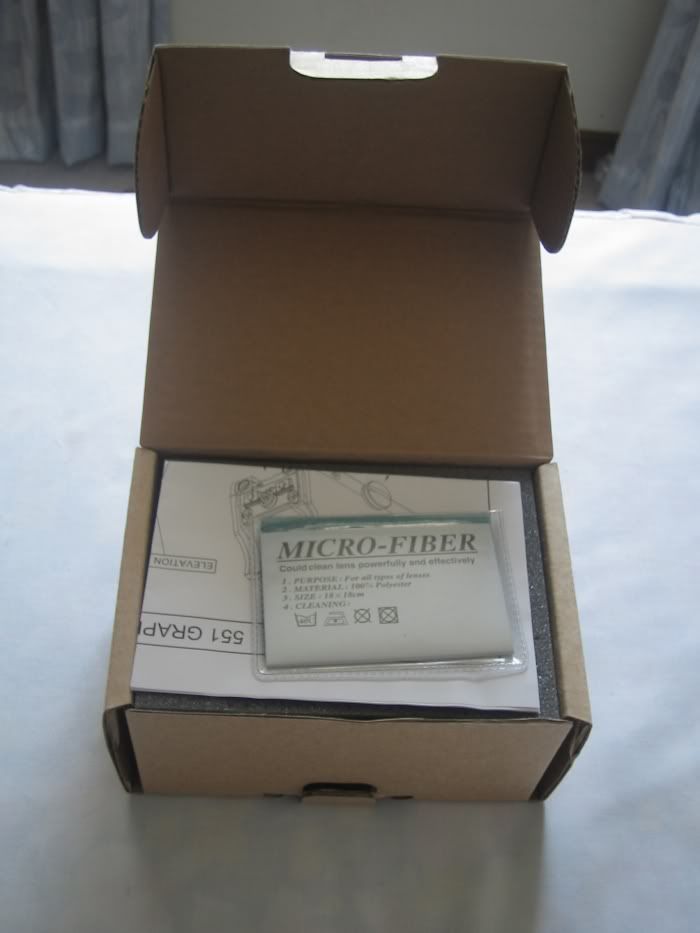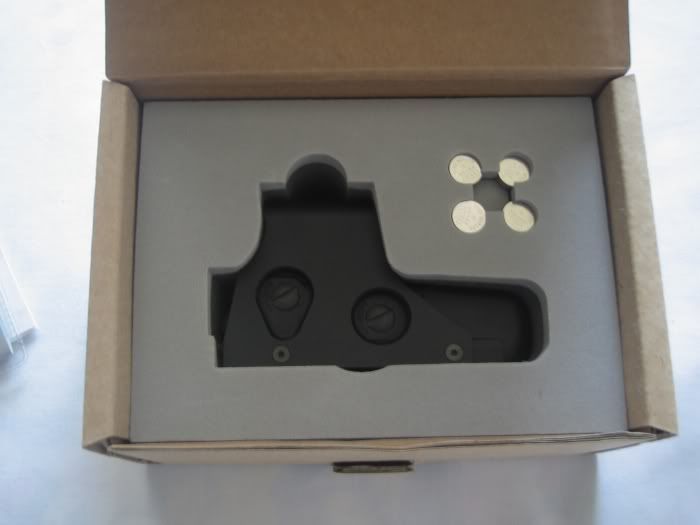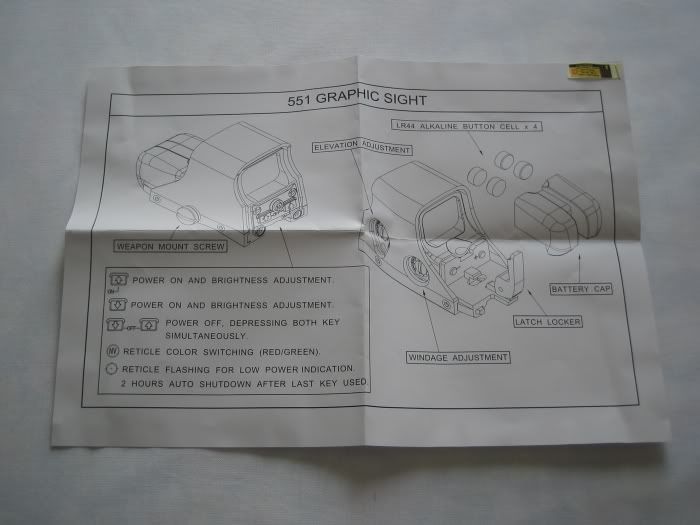 Also included is a microfiber cloth, for cleaning the lense. I thought this was a nice touch. I guess for the price it should probably come with 2 or 3 of them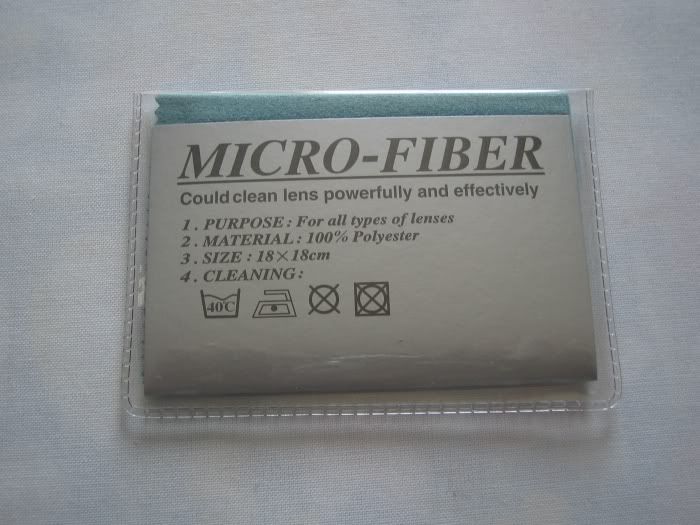 There are no funky engrish trademarks on this product, it is very clean and feels solid. The construction is similar to the aircraft aluminum used in Hurricane's HK416 Free Floating RAS section. The lense is UV tempered,and Hurricane claims the unit is water proof, although I'm not too eager to test this right now

The auto shut off feature is a nice bonus. I've forgotten to turn off my sights many times and batteries can get expensive when you're replacing 2, 3 or 4 batteries at a time. :smack:
Multiple angle shots of the unit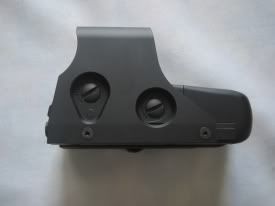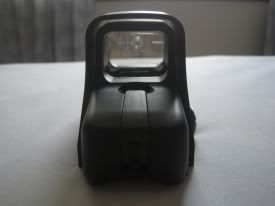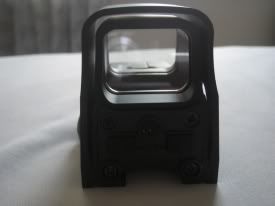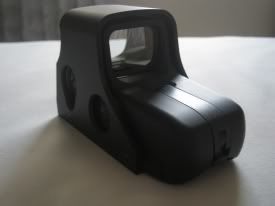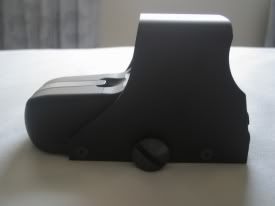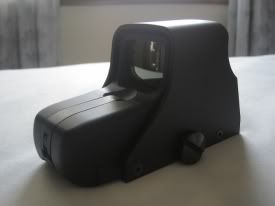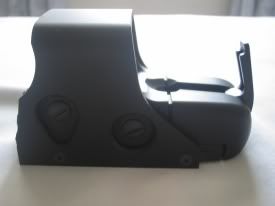 Changing the batteries is easy enough, the lever flips up, and the battery housing slides right off. Batteries sit inside the housing on springs. Simple and effective. No tools required!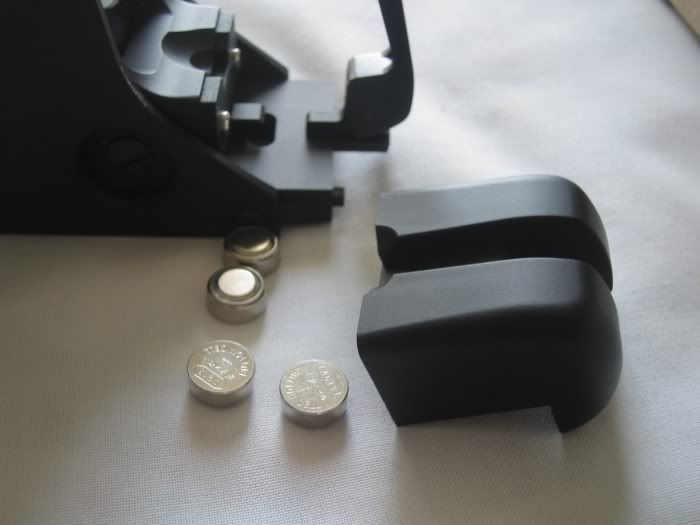 The unit has both red and green illumination with 20 brightness settings. Lots of fine tuning of the brightness. I wasn't able to get a clear shot of the reticle however it is a circle with 4 fine directional pointers on the outside of the circle. Small dot in the center of the circle.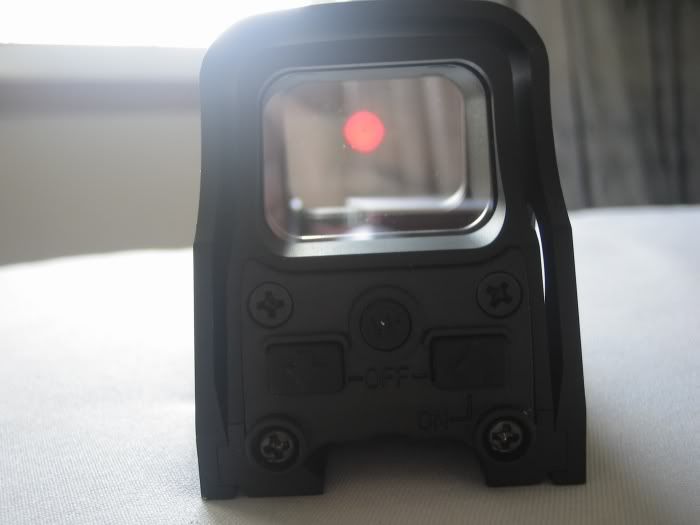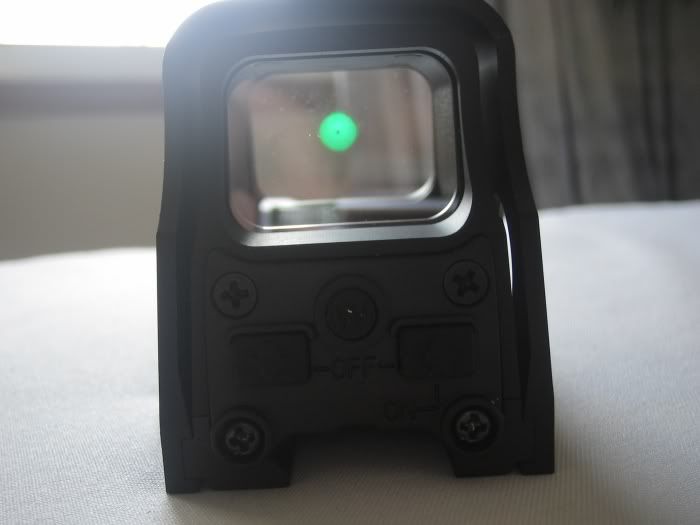 NOTE: the reticle will appear larger the further away you are from the unit. I don't know if this was by design or if it's a flaw in the lense. Initial product photos floating on various retailer websites depicts the reticle as being very large, which is true when your face is about 2 or 3 feet from the unit. However with your cheek on the stock of the gun (which is where it should be when you're shooting/targetting) the reticle size is perfect. :-D
Windage and elevation adjustment were a breeze. I had it "zeroed" in within a few turns of the knobs. I find with the larger lense and the fact it being closer to your face than a reflex sight makes targetting easier.
Mounting is also a breeze. The unit drops right into the rail and the quick attach knob secures it in place. No tool required! Quick and easy.
The attachment rail on some sights require it be slid on from the rear, which requires removal of the rear sight and can be a pain in the ass.
Pics of it on my CA M15A4 CQB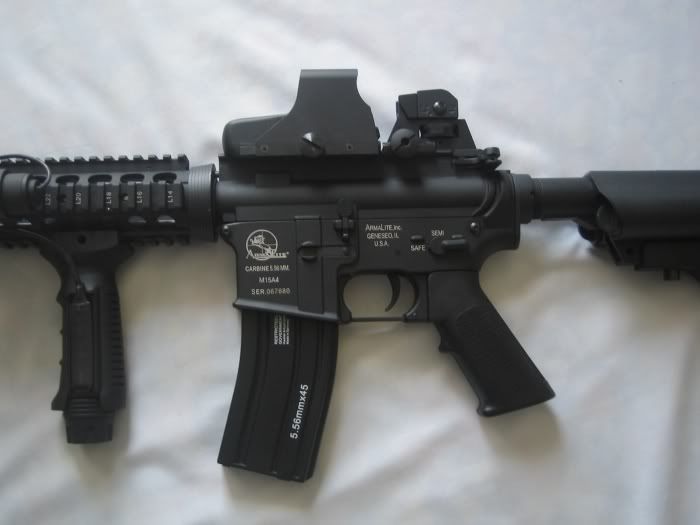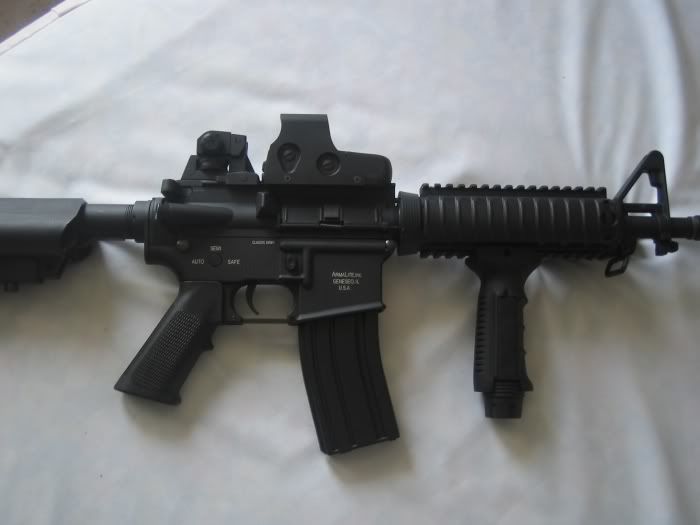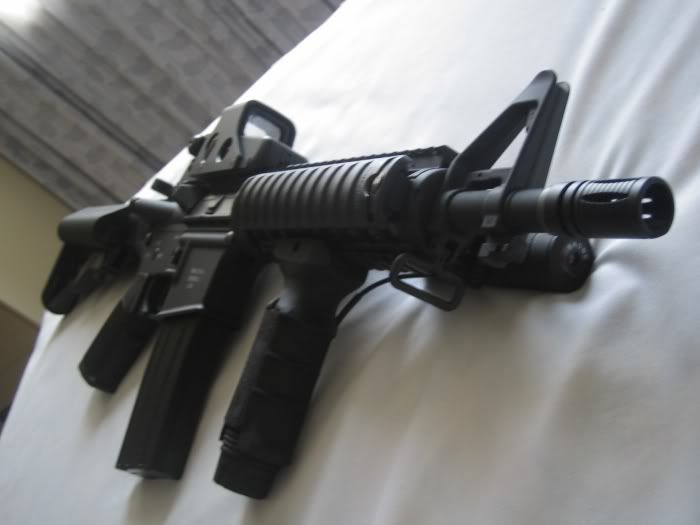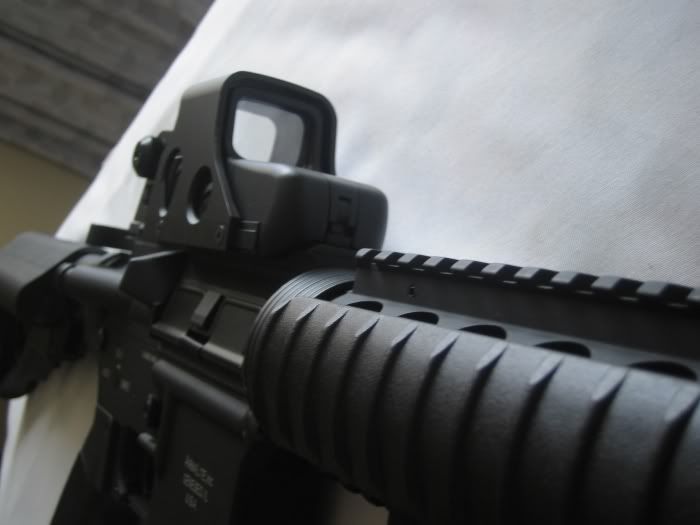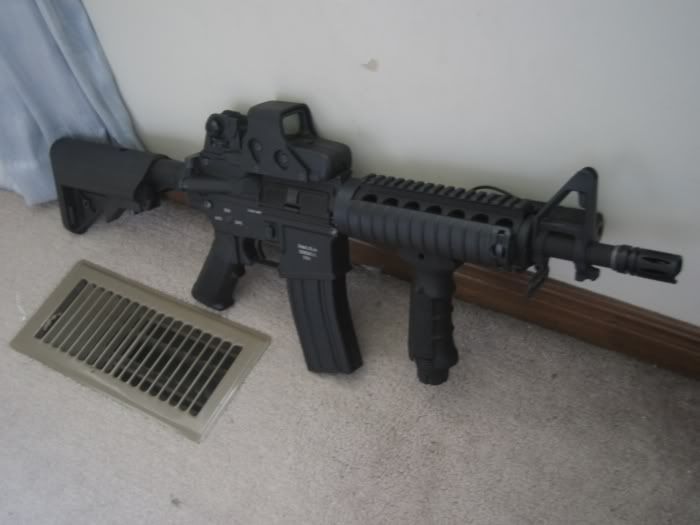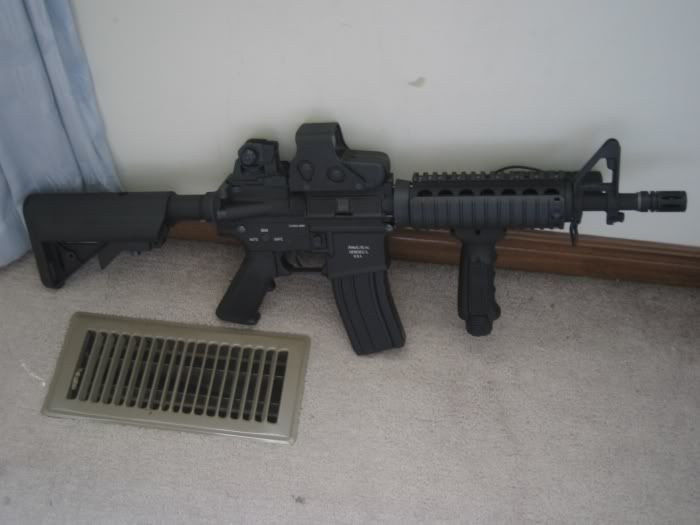 This replica, although not 100% externally identical to the real Eotech holosight, it does come close. I see this product appealing to:
* The casual airsofter who is more of a collector and wants an eotech without paying the eotech price
* The airsofter who doens't mind paying more for a quality RDS with some extra bells and whistles
The Elcan replicas by Samurai and TGS are about the same price, btw. So the price really isn't that bad if you look at it from that standpoint. The 551 replica is more of a CQB solution and the elcan replicas with their magnification abilties are more for short-medium range outdoor use.
If you're looking for an affordable holosight with actual holosight abilities, Bushnell offers one at about $50+$75 more than the Hurricane replica. However it has Bushnell trademarks plastered all over the unit, and it doesn't look like an Eotech 551. I guess it comes down to whether you want the holographic technology.
Conclusion:
Yeah it's very pricy :sad: , Hurricane put some work into this product and it shows. While King Arms, Guarder, G&P, etc. continue to release products that are already available, Hurricane continues to release new items no one else has like the HK416 conversion kit, Noveske flash hider, or HK417 style battery buttstock among others. Maybe the price will come down in a few months, but it's currently the only Eotech replica available.
So if you want one, you're going to have to pay dearly for it.
....
...
..
.