In the Cory Rusk thread, I read that he worked for Securicor (now G4S). I offered to help anybody having issues with him to contact me since I manage G4S's building. I got a grand total of 1 (yup, just one) PM, and that didn't really go anywhere.

At the time (in April), one of their senior managers was concerned with what I had told him, and he was eager to get more information, which NOBODY wanted to give me/him.

So, IF he still works for G4S, and IF somebody actually want to do something, PM me!!!
__________________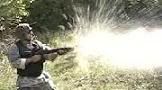 M
en
A
gainst
S
paghetti
S
quash