Hey guys I just saw this and thought I should share it here incase anyone felt an urge to support our troops and to honor Sgt. Doiron's memory. All proceeds go to the V-42 Foundation (kinda like the Canadian version of the SEAL future fund...I think)
To support the campaign and purchase a shirt visit the following link:
www.booster.com/till-valhalla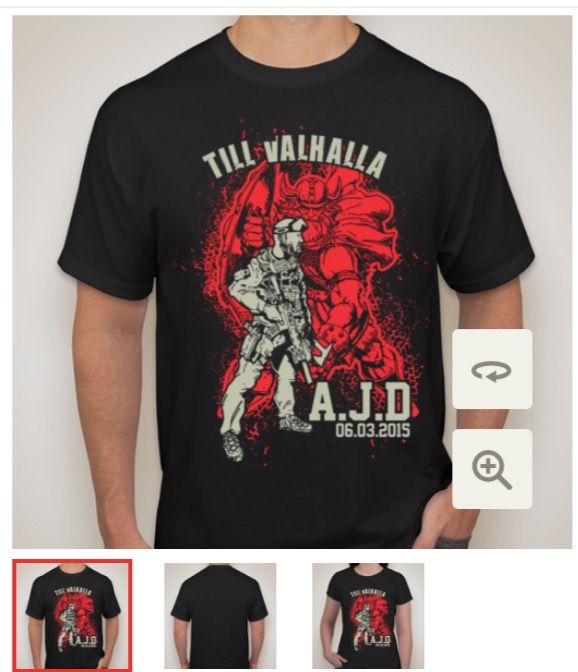 Taken from thier Facebook page:
"Buy this original T-shirt and show your support for Sgt. Andrew Joseph Doiron and silent professionals like him around the globe. Ask someone who is not Canadian what they think of when they think of Canada; chances are they will tell you things like "hockey", or Justin Bieber or some other media celebrity....president JFK once said, "A Nation reveals itself not only by the men it produces, but also by the men it honors, the men it remembers."
If you feel the same as we do, that heroes should be our men (and women) in uniform not Hollywood celebrities then you know why this T-shirt campaign is so close to our hearts. Certainly, there should not be a single Canadian who does not know the name Andrew J. Doiron.....wear this shirt in his honor and tell his story.
To purchase this limited edition Graphic Tee, or to make a donation to please visit the link below:
www.booster.com/till-valhalla
NOTE: While we (STDG) are a non-profit organization, we do use a 3rd party company called Booster.com, they charge a certain amount per shirt which is intended to cover the cost of the shirts, the labor and all other operational costs plus their fee. The remainder of the proceeds will be donated to the V42 Foundation (
www.v-42foundation.com
) the charity of Andrews' parents choosing. Please note that STDG does not receive any monetary gain as a result of these sales.
Please like and share this post and help us get the word out there!
Thank you for your continued support!
Sincerely,
SPEAR Admin"
www.booster.com/till-valhalla