Socom Gear Oasis by KJW - NBB for real cold weather, heavy DA only trigger. Stock
MGC P7M13 - Real classic. Not what you expect and no way would you game it. Stock
Tanio Koba USP Tactical - Classicish, range OK always worry if it'll break. Stock
Tanaka USP - Old school, not very good, underwhelming on all counts. Stock
KSC USP Compact- Very nice, safety doesn't work decocker does (normal) system 7/modern. Zeke metal slide
TM P226 - ILlusion FMK build. Nice but hard on gas. 2nd level fav. Too much changed to list
Marushin 6mm FN Five seveN - Curiousity and not a gaming gun. last part of a P90 setup. Stock
HK3/TM G34. WIP. steel Guarder slide only cycles in warm weather. Non-stock
WE/TM G17 Guns modify slide. Runs like a champ. Non-stock
Socom Gear/WE Timberwolf. Runs like a champ. Detonater slide, GM trigger, + more.
KSC G19 - Meh range, Upgrade from plastic KSC to metal KSC slide kit Stock otherwise.
Socom Gear/WE Wilson Tactical 1911 - Very reliable but average range. Finish scuffs up if you rub on metal like another gun, crispest trigger of the bunch. Stock
TM 1911 ILlusion built Hurricane kit. Current daily diver. 3rd owner and it shows hard use but it's still a tack diver. Too much to list.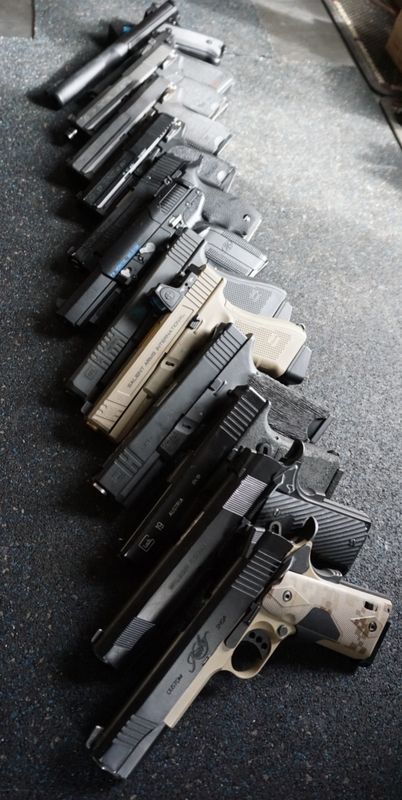 So you can be like me and buy them all or you can try some stuff out first. You will get a lot of advice from folks who have never owned or used a particular model but have to preach the gospel someone else told them.
I do like pistols.