As stated this is a review for the Action ACOG Replica Scope.
It is available from the
eHobbyAsia
E-Bay Store.
It retails for $49.99 US + $15.00 US for Shipping*
This product is actually shipped straight in from Hong Kong and only takes ~ 9 days.
And now to the good stuff.
The box is well, I guess, typical of this type of accessory. Flashy cheesy sort of fair.
Though there is a good deal of med density foam inside to protect the scope during shipping. That's a good thing.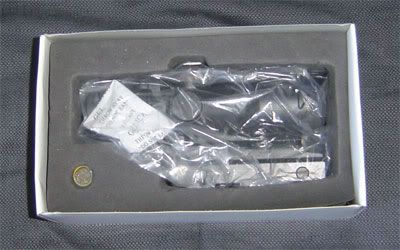 Also as you can see it has been packed in a plastic bag with Silica Gel to prevent any moisture problems. The LR44+ coin battery pack you see on the bottom left is a spare. There is already one pack in the scope. More on that later.
The scope itself looks awsome. The finish is smooth and blemish free. It looks and feels solid. It is all metal except for the red dot brightness knob, which is plastic, and the eye ring which is rubbery armor type stuff.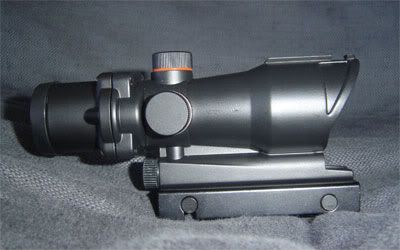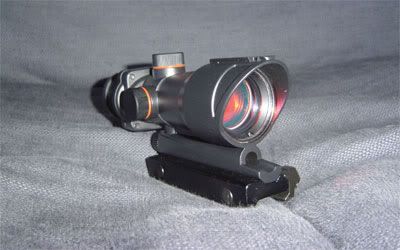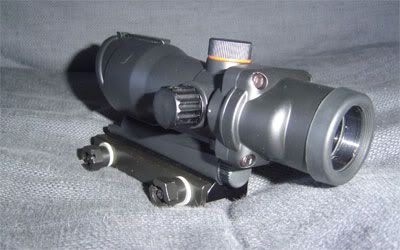 All of the knobs, battery cover and W/E covers are sealed with o-rings to prevent water intrusion. It also has full windage and elevation adjustments as well as 8 brightness settigns for the red dot.
[font=Arial]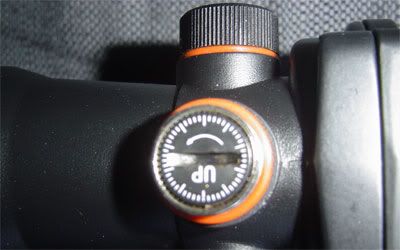 The red dot is powered by 2 LR44+ coin cells that are shrinked wraped to gether to form a battery pack. A spare battery pack is also included in the package. The battery can be accessed under the rear of the scope where it meets the base. It occupies the spot where the "back up" or "emergency" iron sight tunnel would be, but that is not much of a problem in airsoft as the game is not "lethal".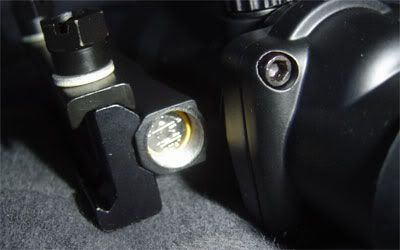 The optics themselves are very clear. No scratches or distortion that I can see. The front lense is ruby coated to lower glare. The cross hair is a modified cross. It has two smaller lines below it for range estimation. The cross it self is pretty clear as long as you don't have your eye right up to the scope. It more of a reflex design and is most clear that way especially when you have both eyes open as your are looking "through" the cross and no at it. If you try and focus on the cross it get's blurry, but that may also be my glasses messing with me.
Overall I am very happy with the scope and the price is awsome for what I got. It may not be as good as the more expensive replicas and obviously not as good as the real one, but the quality is there and it is a very worthwhile investment.
I highly recomened this product.
----------------------------------------
------------------------------------------------------
The Fine Print
*Since it is imported there will be tax/duty on this. I only had to pay $11.14 CDN. This included PST, GST and a $5.00 handling fee from Canada Post.