Are you worry about not getting any stuff, or getting bad stuff?

For the first concern, I haven't brought anything from them yet, so I suggest you google their names to look for reviews/complains about them, on any airsoft related forums. Generally those Chinese websites are fine (may take very long time for them to arrive though), but still, search for it before you buy.

About the second concern, typerically you get what you paid for... For something as simple as the helmet, they should function fine, but expect some not so good finishing/cosmetic on some place. For the red dot, some of the replica red dot may have a blurry crosshair, in different extent, but some are fine. Also, you will have some parallax issue (even real steel red dots have some parallax issue), but for a replica red dot you may get a very bad one, or one that is just fine.
__________________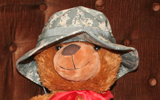 ---
Last edited by ccyg8774; February 18th, 2013 at

01:50

..