Into
AEG:
G&G FNC (GR76) MAX
Origion:
Tiawan
Gearbox:
Modified V2 (similar to SCAR H)
Magazine Capacity
450rnd High Cap
Length
760-1010mm
Muzzle Velocity:
470fps
Accuracy:
175+ feet, comparable with most snipers rifles
Battery:
Mini 9.6v, 1400mah
Website:
http://www.guay2.com/web/our_product/GF76_L.php?lang=en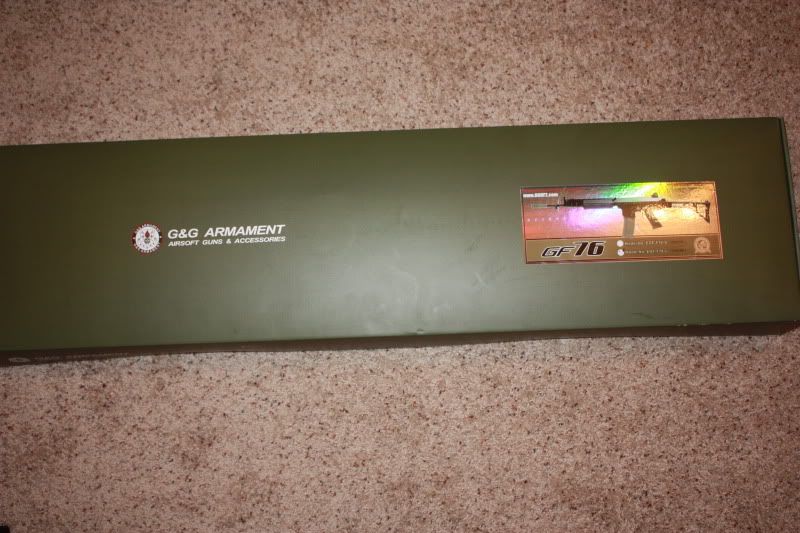 Reveiw
First Impression
Just picking up the box this gun is contained in the only thing that comes to mind is "wow, is this gun heavy!" In the box with this gun is the standard G&G fare, High cap, wall charger, battery, safety glasses, cleaning rod, and 1000 sample BBs.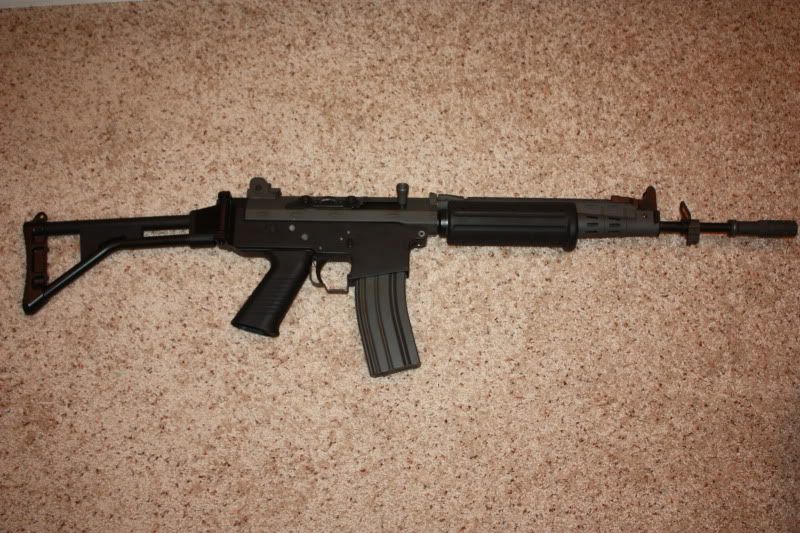 At a full 101cm this gun is long, and built like a tank. With full metal construction the only plastic parts are the pistol grip and the hand grip section of the foregrip. Has a fold up rifle greneade sight, and two position adjustable gas tube same as the real firearm.
Comparison to TM M14
This rifle is solid, easily comparable to a PTW in terms of solid and heavy duty construction (in some parts I would say it even beats the PTW). The pistol grip is a very sturdy M249 SAW deisgin that is extremely comfortable to hold. The Stock is of folding design, and is extemely sturdy, with little to no wobble at open and closed locations.
This rifle has sling attachment points at the barrel just in front of the front sight, this mount rotates on the barrel which is extremely nice, also has points at the back of the receiver and rear of stock.
Operation
The selector on this rifle is nice, despite not being very ergonomic for selecting the 3-bust and automatic positions, but has a very smooth operation with a good stop when it hits the firing position. Unfortunatly the 3-burst location is only for looks, function is full auto on both 3-burst and Automatic locations.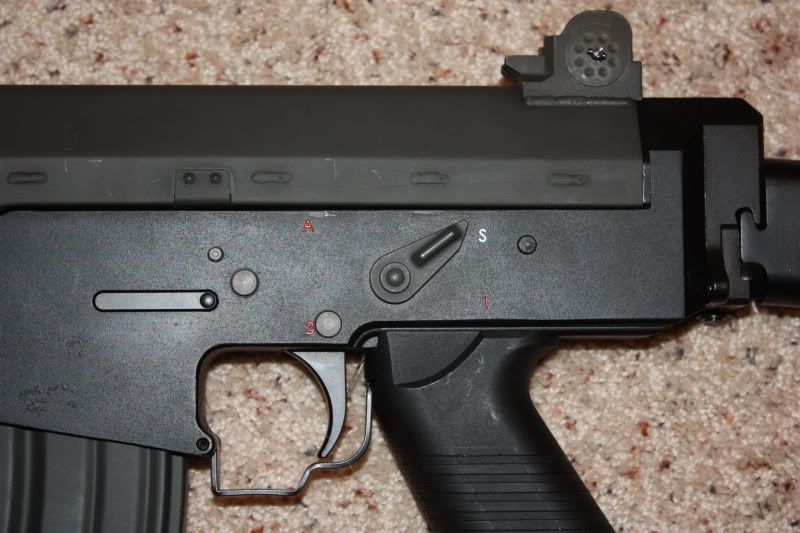 Features a full bolt pull with correct spring loaded dust cover, releasing the bolt I was super happy with the satisfying *snap* of the bolt slamming forward. Unlike the Star/ARES FNC which has had problems with the charging handle breaking off, the charging handle is solid, and will not break anytime soon.
The Battery is installed under the foregrip, fair amount of space, easily fits a 9.6v mini with room to spare. The stock battery has no troubles turning over the M140 spring with a reasonable rate of fire despite only being a 9.6v 1400mah.
Firing
With this rifle accuracy at what I was able to test was exceptional. At about 60 feet it was easily capable of hitting 10 shots into 4in with the very nice iron sights, unlike the picture from G&G my FNC did not include the rail for the receiver.
Internals
For the sake of gaming, I downgraded the spring with the M100 spring G&G includes with the MAX series guns, this brought the FPS down to 342fps with .20g BBs. The MAX series mechbox is heavily reinforced, well built mechbox, shimming was fairly good, but required a little extra. The Gears are machined steel and very well built (think tank). Hop up is a two piece hop-up deisign, but provides very good seal. Includes a 6.04mm Tightbore inner barrel.
Overall I was impressed with the internals on this gun. Takedown was not terrible, fairly easy to seperate the upper and lower, and to remove the mechbox. My only complaint in the take down was with routing the wires from the mechbox to the foregrip, the passage was very small with edges that catch on the wiring.
Gaming
As I have just received this gun I will update this section once I have gamed this gun.
Accesories and Upgrades
Internals are compatable with most V2 parts with exception of the nozzle, which accepts a SCAR H nozzle.
With this rifle a rail is available for the upper receiver, but I prefer the looks of this rifle without it. I would recommend a sling with this rifle as it is bloody heavy. This rifle is compatable with most M4 Mag brands, have tried King Arms, works good.
Conclusion
Overall this gun is extremely well built, solid both internal and external, I recommend this gun to any Belgian fan, or HEAT fan, or just any airsofter who likes something completely different.
I give this gun 10/10 thumbs up.