TAD Gear Repro Review Thread: The BUG OUT ANORAK
Ever wonder about the quality of Chinese (or otherwise) copies of various tactical gear and equipment ? Well I am learning quickly that while a copy is rarely ever as good as the real thing some of them can actually be considered a good value for your dollar while some leave you with a feeling a bit 'jipped'. But how much can one really complain when the price of the knock-offs are about a 3rd of the cost of the real thing?
In this sequel to my TAD Repro review thread I will be reviewing a Chinese made reproduction of Tad Gears' now discontinued hardshell the 'bug out anorak'. This particular one is made by ELEMENT.
The real TAD Gear Bug out anorak.
The TAD Gear Bug Out Anorak is constructed out of TADs durable, all-season, light weight "Storm Shield LITE", which is a 3 layer, waterproof/windproof/breathable ripstop nylon shell fabric. Like the EDGE fabric of the Combat Anorak, the Storm Shield LITE version has all the benefits of a waterproof-breathable textile, but is made in a lighter weight modified ripstop pattern. It's probably one of the lightest 3-layer hardshell fabrics I've come across. It is designed to be "durable enough for fast summit assaults to summer thunderheads" and protect the wearer from the elements, but with reduced weight, bulk, and packs down to a compact and portable size. The Bug Out Anorak is also available only in M.E. Green for now. The fabric isn't a solid green colour; there's a pleasing subdued crosshatch pattern to it, with the horizontal lines fainter than the vertical ones.
Overall Features
The Combat and Bug Out Anoraks share the same features except for the material; the other main difference is that the Combat Anorak has a traditional length bias Alpine cut and is about 2.5" longer than the Bug Out Anorak (which has a modern length bias Alpine cut) in the front and back, and about 3" longer than the Predator so it's more of a traditional length anorak. This is so it covers the loins better when sitting down and much of the seat.
Part II
Product Review: TAD Gear Bug Out Anorak replica
Cost: $55CDN
Shipping: $10 CDN
i) Initial Impressions:
Received this China-made replica of TAD Gear's Bug Out Anorak (different from the combat anorak version) in the mail today (funny thing, it took longer to receive this from Quebec than it took to receive my soft Shell jacket from China).
The package was very, very compact, as you can see in the photo below it can be compressed into a very small piece. A feature that was a big selling point for me about the Bug Out Anorak.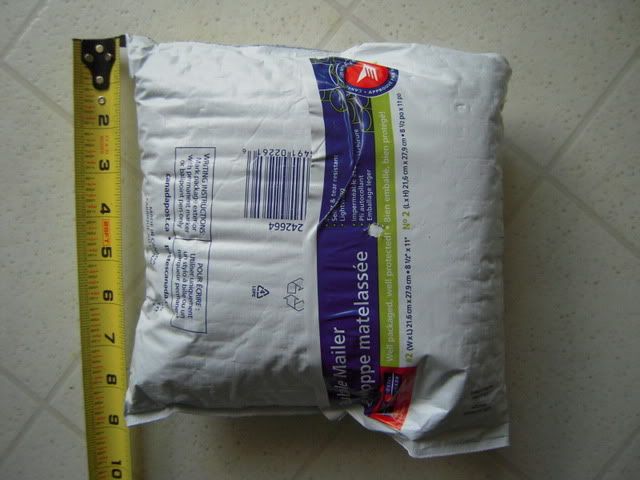 ii) At a glance:
My impressions of the jacket at the onset were that firstly the color was a shade or two darker than I had expected, and the material it was made of seemed very 'cheap'. The material did have the same waffle pattern found in the material used in TAD gear's Anorak. I noticed quite a few excess threads, and the zippers, while they all seemed to function smoothly also looked cheap.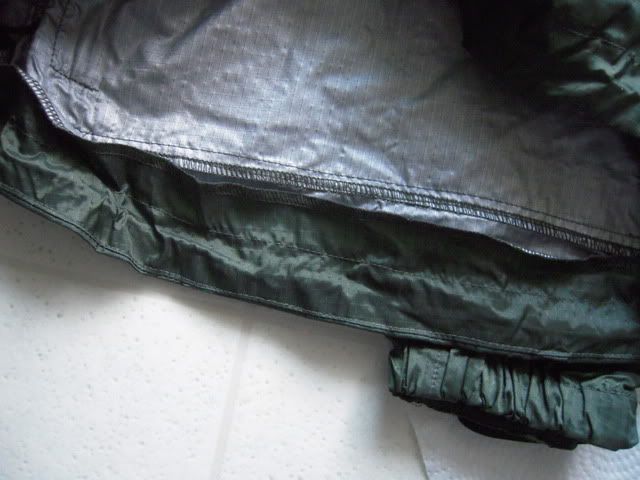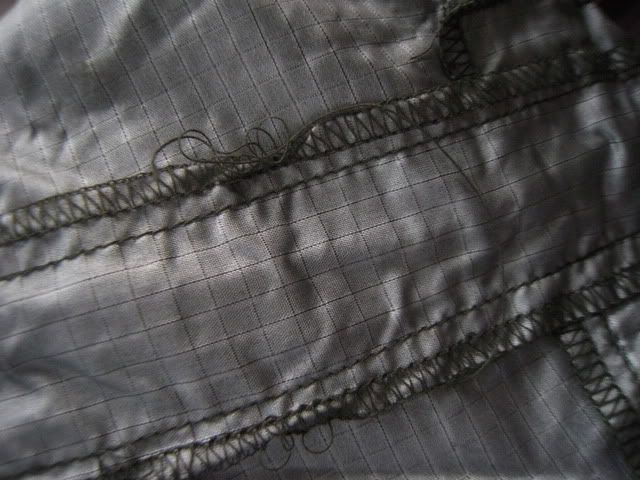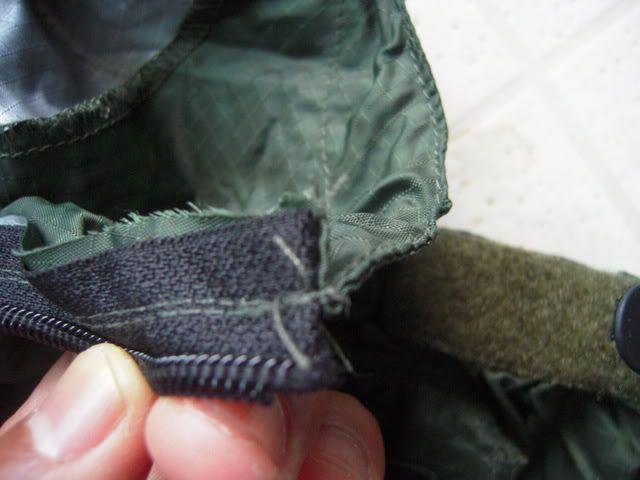 iii) Fit and sizing:
This Anorak is labeled as a size medium but fits like a small, I was hoping to have been able to throw this over my Soft Shell jacket but I think this would make for a very tight fit. But should fit fine over top of some issued BDU's or even the CF issued fleece.
Hood Rolled down: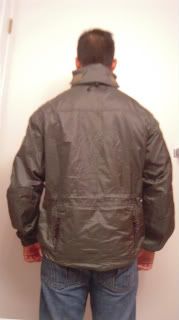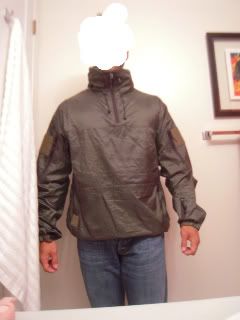 Hood Out: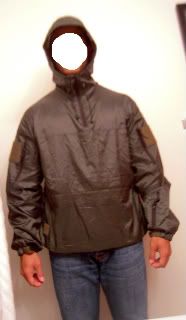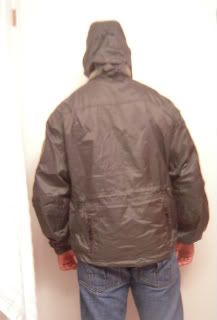 Over All fitment was fine, please see my measurements below for a sizing reference.
I am 5.7" and 160lbs
My dimensions for actual sizing reference:
Torso hieght (from collar bone to pant line): 19"
Chest/Back (measured all the way around): 41.5"
Shoulder width (from deltoid to deltoid): 21"
Upper Arm circumference: 16"
Abdomen (measured at belly button height): 33"
The soft-shell fit comfortably, all the zippers have the 'YKK' stamp and all work smoothly.

iiii) Esthetics
(how closely does this knock off mimic the original?)
Color:
The color is a few shades darker than the real thing, and is more of a forest green than TAD's M.E. Green which is somewhere between OD and a grayish green. It can be noted however that TAD's Bug Out Anorak is actually a darker shade of green than the green Stealth Hoodie.
The material bears the same waffle pattern of the real thing however on the real TAD gear the vertical lines are darker than the horizontal ones that is not captured here. The inner material appears to also capture the look of the original but is has a bit more of a gray tint.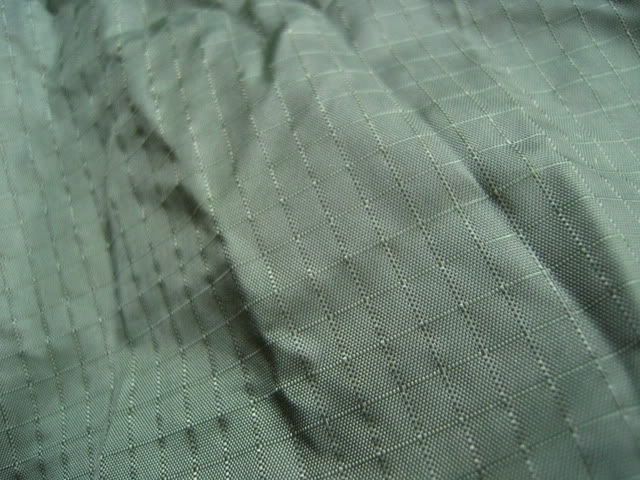 The pockets, are all there: the front kangaroo pockets, the ID pocket on the forearms etc. I did not find any pockets to have been omitted from this replica.
(see below for reffrence - note this is a picture of the real thing)
[IMG]
http://www.militarymorons.com/gear/img/anorak12.jpg
[/IMG]
The Velcro loops on the arms (
typically used for IFF or morale patches
) are a weird tint of green almost like yellow/green – and sort of sticks out. Also the Velcro patches that are part of the hood storage are square-shaped instead of rectangular. Also the 2 Velcro loop squares that should be located on the inside of the hood are missing making it so that there is nothing for the hood retention flap to be secured to when the hood is deployed. The hood on this repro has the nylon pullstring at the back but is missing the 2 velcro swatches meant for ranger eyes (cat eyes).
[IMG]
http://www.militarymorons.com/gear/img/anorak25.jpg
[/IMG]
(above - the real thing)
This replica does well in replicating TAD's Die cut Tuff Grip Velcro adjustable cuff tabs.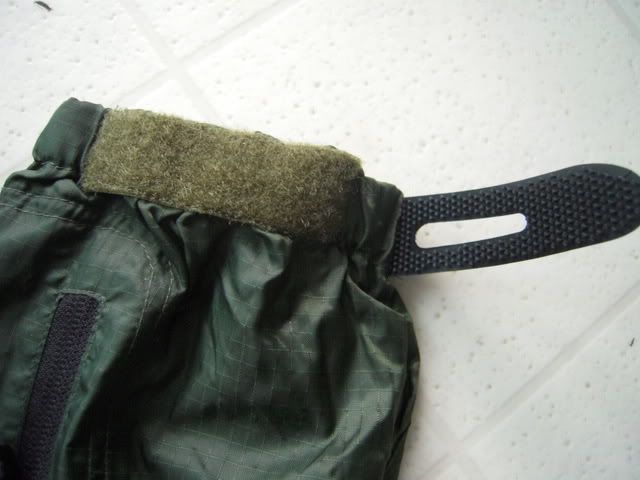 The Zippers, while they all seem to function smoothly are pretty 'cheap' looking and have black string pull tab extensions at the ends instead of the nice, neat rubberized ones that the real TAD offers.
(note the zipper extensions on the real TAD BOA are a different than all the rest, and it is those rear ones that this replica tries to imitate)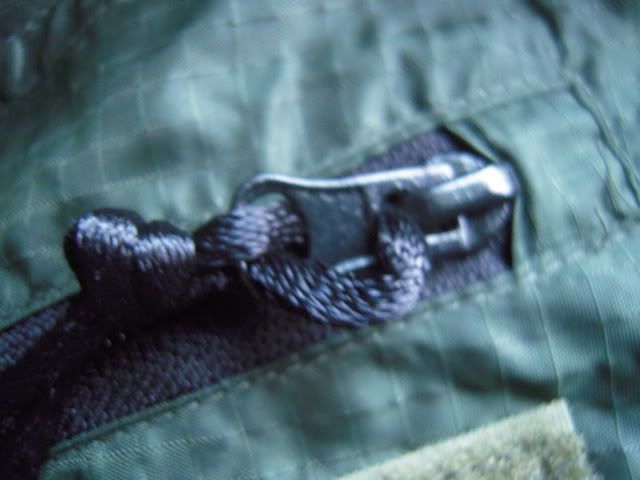 v) Function:
This jacket lacks the pass through holes for headphones etc, located on the inside of the upper arm pockets.
The material appears to be made of some type of single layer of thin vinyl material which seems to be able to withstand a downpour.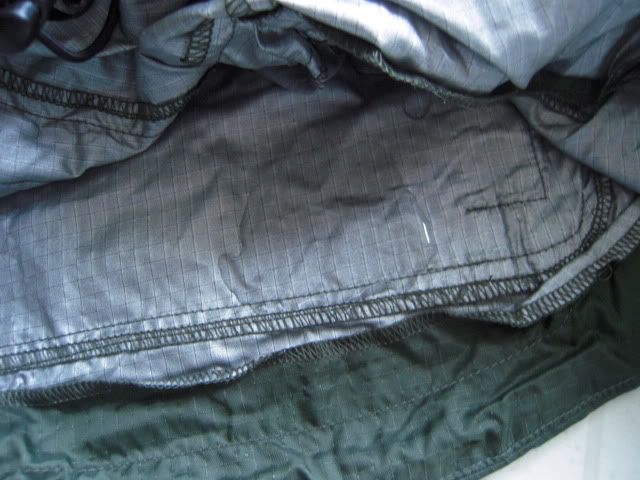 vi) Weather/Climate testing:
Water proof test:
For this test the water was placed on a section of the jacket that had a seam, and a zipper. I did not do this on my test on the 'Stealth Replica' because the Stealth Hoodie is not meant to be a water proof shell. As before a paper towel is placed directly on the other side of the shell.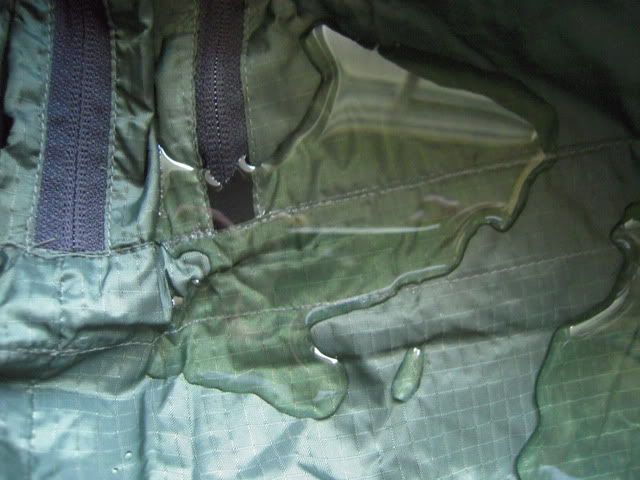 The results were as follows:

Time Elapsed:
Status of paper towel
1 min dry
2 mins dry
4mins zipper is damp
7 mins first sign of water on paper towel
9 mins paper towel is completely wet under the zipper area
Result:
FAIL – the seams and zipper are not taped therefore is not water proof.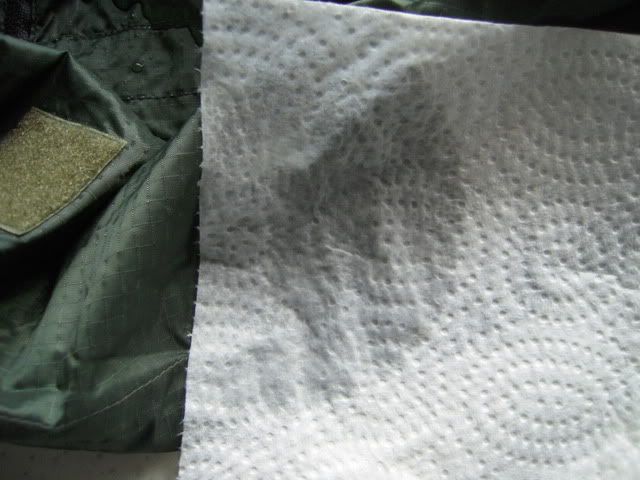 2) Temperature:
Heat test 60 degrees F (moderate activity), 4mph wind (est)
CF issued T shirt under CF issued thermal undershirt worn underneath jacket – started sweating profusely after 5 minutes, when pit vents alone were opened not very much difference was noted. Sweat is trapped underneath this jacket with no way out. This replica is definitely NOT 'breathable' as the real TAD BOA is.

3) Temperature:
Cold Testing 40 Degrees F (moderate activity) 20mph wind (est)
CF issued T shirt worn underneath jacket – while the jacket did keep the wind out I found myself still feeling uncomfortably chilly. I would suggest considering appropriate under layer when wearing this jacket under colder conditions. This jacket is very thin and will only serve as a windbreaker at the most.
Conclusion (*) 1/5
Esthetically speaking, the Element replica of the TAD Gear Bug Out Anorak falls short of even looking like a quality raincoat much less a copy of TAD Gear's Anorak. The color comes close but is still a 'tad' (pun intended) bit off, however it does manage to maintain TAD's waffle pattern. Only at arms length will this jacket 'look' like the real thing. Functionally, as this jacket is meant as a lightweight, compact hard-shell it fails as Element did not ensure a proper inner seal against leaks from the many zippers and seams. It does however stowaway into a very compact manner for space saving and the material used in actually water proof so one could consider 'taping the seams and zippers themselves. This clone is a very sloppy look-alike and Elements' lack of attention to detail is very disappointing.
In conclusion, this jacket is proof that all replica products are not created equal and I would not recommend purchasing this replica for any practical use, other than maybe as a 'tacticool' windbreaker or as a rather expensive part of a Halloween costume. That said I will give this product a 1.5 stars out of 5.
If you enjoyed this you may want to read my review on the TAD Gear Stealth Repro by ALLWIN.
click
here