Thanks to…
ACMgear.com for their excelent preorder and comunication services through the whole preorder and shipping process altough for some motives out of the control of any of us like the Shangai Expo and issues with the shipping companies and customs departments I had to wait for it much more tan I would have wanted… thanks to the helful salesmen in their live support service for solving all my doubts and explaining sincerily why my order wasn´t shipping, which is something most shops dont do and simply ask you to wait, lie, or simply dont answer your emails .
Box contents
Cardboard box fullfils its job, keep the pistol protected without any possibility to move while travelling thanks to several foam pieces. Pretty efective, but compared to the hard plastic box bundled with the Bell 1911… well, you cant have everything, right?
Let's go to yhe important things, what's inside the box? There, we will find the pistol and one mag(of course) but you get some spare parts and a hop rubber, not to mention the omnipresent manual and allmighty ultralowquality BBs which never fail to ge tinto the closest bin.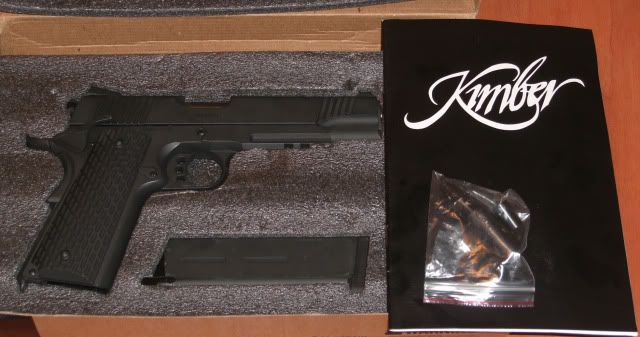 First Impressions
First impressions are very good, after toying with it for a bit you realizeit has a nice weight, slide goes back pretty strongly, grips have a ruberized feel which makes the gun easier to grip and hold even with naked hands, which is one of those Little details making something worth the Money and wait so as the realistic markings around the whole pistol like "kimber", "warrior", "Wilson Combat" in the magazine…
Everything Works nice and smooth, I can even do some dryshooting out of the box, which leads me to believe the magazine has Little to no leakings. As I said, the magazine shows "Wilson Combat" markings and the same ruberized feel as the grips. Dont like the "army Works" markings in the magazine, but those are something I won't be seeing often.
Other fact that came to my mind is that its quite greased OOTB, dont know if its good or bad, but while the gun performs as it does now, I don't really care.
Compatibility
My first test was installing an "Action" brand recoil kit compatible with Tokyo Marui, which includes recoil spring, hammer spring and recoil spring guide, everything was installed with no modifications needed. This was done just to test how compatible the pistol was with TM aftermarket pistols and won't stay installed as the pistol already features a strong recoil spring and could not see any difference between the stock and Action springs.
After this, I started to interchange parts between this kimber and a Bell 1911 I gave as a gift to my father for his Birthday, just to see how compatible it was with other clone parts.
The Kimber slide can be fitted into the 1911 body with no modification, but the 1911 slide cant be fitted into the Kimber body because the rails which guide the slide are too wide for it to slide at all, Im sure it could be filled and modified to fit, but I won't be doing this.
Both pistols Grips are easily interchangeable so as the magazines. Bell Magazine fits, work and feed perfectly into the Kimber and Army Magazine works exactly the same into the Bell.
Shooting tests
First things first, the pistol shoots around 300FPS with green gas, 0.20g Biobal BBs, hop at médium, stock hop rubber and clean inner barrel. Range is pretty good and BBs describe a nice flat trajectory. Unfortunatly precisión is just average, so you won't be getting many headshots at 30m… but you will hit easily a human torso target, which I think its aceptable for a budget gun like this which can be used as side arm for specialized roles or primary in CQB games.
The good.
For the retail Price, this is a very good full metal pistol which in the worst case scenario can be used as an excelent conversión kit for any TM system 1911 pistol
As oposed to most of the GBB in the market, this one comes fitted with a strong recoil spring, comparable to an Element 150% recoil spring, making the recoil stronguer and krispier, leaving the shooter a pleasant sensation during and after shooting it.
As I commented at the beguining of this review, grips have a rubberized feel, which improves the gripo ver the gun even with naked or sewaty hands.
This new version features several improvements over the preproduction model sold some time ago, like the Hex screws requested by customers and improved magazines.
The bad
My only gripe about this pisto lis that altough it can be fitted into a serpa (mine is ACM), I need to force it tinto the holster and to unholster it, nothing is going to break, and with some filing it can make things easier, but its not comfortable and fast to draw in "combat" situations.
The Ugly
Some parts wobble, nothing serious, but a bit annoying (I really hate wobble), like the right safety, back sight (you can tight it with a screw driver), slide and magazine once inserted.
Unfortunatly the magazine well is a bit too wide or the magazine is too narrow, so if you shot one handed, the magazine will fall, easily fixed with some tape to keep it in place.
Trigger screeches a bit when pressed, but you will notice this only when fiddling at home with the pistol, never in "the heat of battle". Nothing dramatic,I'm just so picky.
Sights have no dot painted, they have a Little hole in both sights, you just need some paint, but details are details…
Conclusions
Its not a TM or WA, of course not the best pistol Money can buy, BUT I think its the pistol with the best Price/performance ratio. Full metal, atractive, exclusive, features a rail to mount accesories, 100% TM compatible… everything with the nice ACM Price tag, of course, you need to fix a couple of details before field it, but it's the same with almost every pistol on the market.
100% recommended.
More pics
Pistols used in the review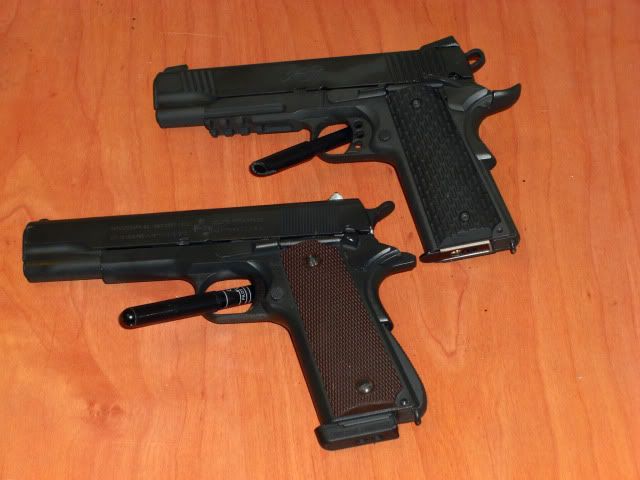 A couple of quick examples of what you can do mixing them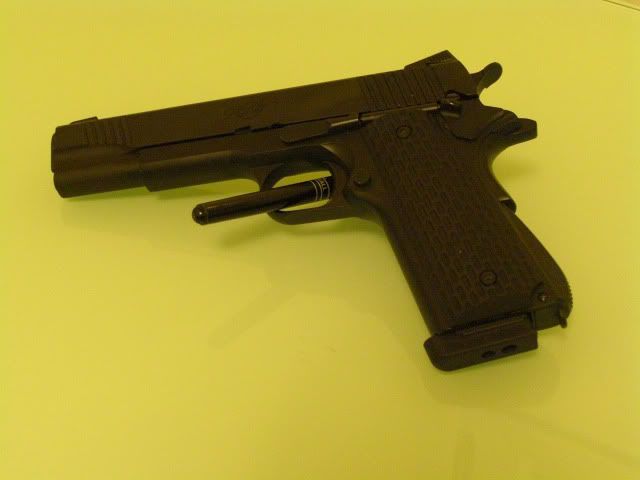 Updates
: Swannie_2006 from arnies fórums told me his Kimber has the ironsights dots painted in green. Thanks Swannie