This is a very simple review of Duarcoat's Magpul Flat Dark Earth.
Duracoat is available directly from the Manufacturer
HERE
.
What you'll need
Duracoat and hardener
Duracoat Reducer
Airbrush
Air source.
Good ventilation
Be sure to clean all parts and follow the manufacturers instructions to the letter if you want this product to work.

This is the starting point. I have placed a Tango Down Pistol Grip next to a Magpul PTS PMAG for colour comparison. As you can see the TD grip is much yellower than the Magazine. I have had to manipulate the picture slightly to compensate for un-calibrated monitors.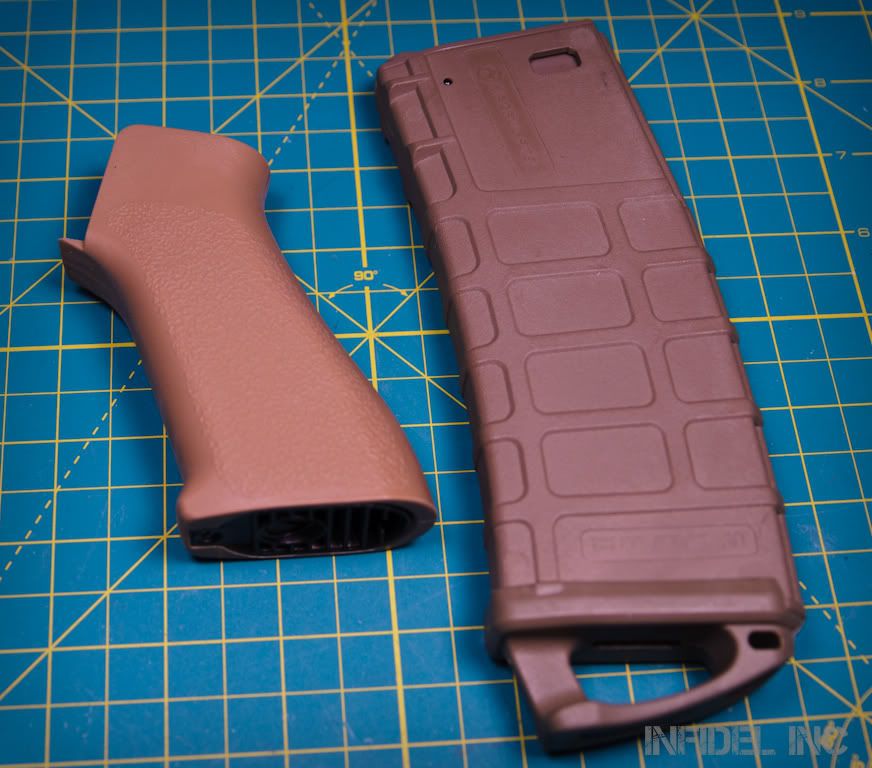 Here you can see the painted grip again next to the same PMAG. This is about 2 hours after painting and is dry to the touch. As you can see it is closer in colour to the PMAG but is not a dead on match.
Overall:
I like this product for its ease of use and colours available. I found the product very easy to use. I thinned it down about 5% with the reducer to get a nice even spray with no spatters. It is quite powerful smelling so spray in a well ventilated area and wear a mask.
Colour Match:
It was not as close as I had hoped as it does dry quite a bit lighter than in the bottle. That said you can mix in darker Duracoat if you wish to alter the colour. For me though it's close enough and should match the rest of the Magpul accessories on my gun well enough.
Durability:
I have no idea at this point. If the manufacturers claims hold true this will last quite a long time. I will update this review after having used this for awhile.