Ok, well before throwing me tomatoes about the topic of my review, I must say that I was very sceptism about Chinese ''Marui clones''. I have owned many AEGs before from different companies (mostly Marui, G&P).My new team has an Armalite basis for weapons and since was owning 2 Augs, it was impossible to share mags with my buddies. So i've sold my Augs and I was hesitating of buying a heavily priced weapon now since i'm going for my CF boot camp in september.
I started to read the AEG selling thread when this thing appears to me. Well, I was in fact curious to see what this Jing Gong have to give at a 300$ price shipped (!!!) sold to me by Karnage. So I've read the different reviews before buying it and here it's my experience with this AEG. I will develop has time goes by maybe until next year or more (if it last). It will probably be my backup for next year as I want a PTW ( like almost everybody! lol) or an ICS I do not have piled cash enough.
Ok the package arrived to me yesterday.
First Look:
Well, the packaging is really minimalist, no colors on the box. The presentation is well made, all is there and can be viewed at first sight. The molded foams are only at the ends of the gun instead of being a full molded foam all along the box like other replicas packaging. It must be an U.S. model because of the orange painted flash hider and the 120V battery charger. No manuals come with this AEG.
[IMG]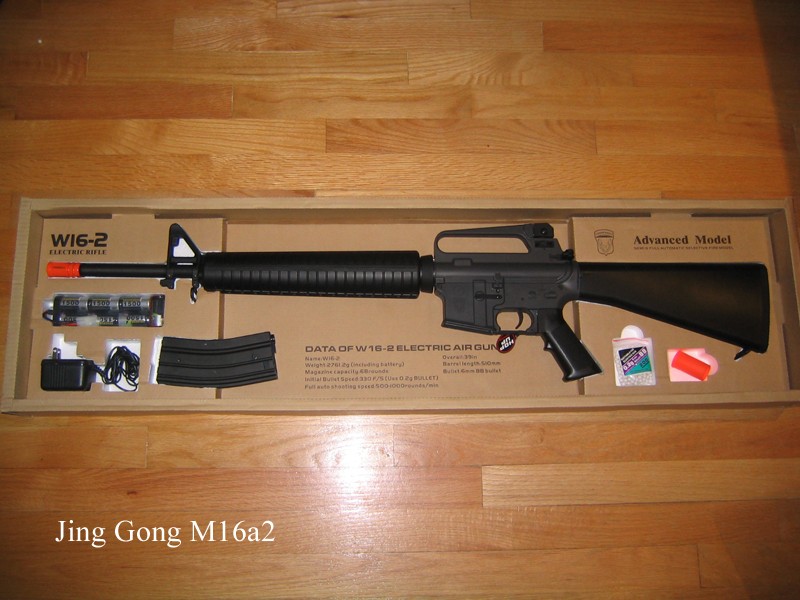 [/IMG]
Karnage's pic
The package includes:
- The M16
- 300 bb metal hi-cap
- A 8.4V 1500 mah Nimh battery
- Battery Charger
- A plastic barrel condom
- 200 bbs .20g
Closer look:
Well taking this M16 in my hands and it's feeling very solid and sturdy. The plastic parts seems equal quality and solid as the Marui one that was on my previously owned MArui M4 RIS. The hi-cap went in flawlessly. I've remarqued some little finishing imperfections. First, there was some light marks in the paintson the metal outer barrel. Second, 2 drops of glue on the upper receiver just behind the carry handle and third, a very tiny wobble in the front end (As my M4 also) but not very noticeable.
First shots:
Well I've spend out these 200 rounds and I must say that the grouping is not so good at all. The hop up seem to be ok but it seems that a lot of grease came out of the nozzle, ruining the grouping for now. The distance that bbs travels is very fair, more than I expected. I've do not have chronied yet but it says that it shots 330 fps with .20g bbs. Maybe some more bbs shot and .25g bbs will reduce the grouping. Will see in action and I will chrony it... Exept that, the gun is comporting very vell. The switch semi to auto makes a nice little click and do it's job as it should. The mag was feeding very well. Don't be surprised by the sound of the gun, it's loud compares to my AUGs but I like it! TATATATATATA ! lol!
First game
Chrono: 340 to 350fps w/.020g
In general the gun has been comporting well except the bb dispersion. From close range, no problems but longer range makes shots difficult. A change is needed

First Upgrade:
I replaced the hop-up bucking to a brand new guarder one. I replaced the inner barrel for a CA m16 stock one that was lying around. I've retighten the outer-barrel that was wobbling a bit and was surprised to see that it was not like a TM in the construction. Forget about the 3 pieces barrel that loosen quite too much with TM ones. It's a 2 pieces barrel (or one piece,call it like you want) only a ring needs to be tighten and now it's rock solid.
I've ordered some King Arms OD mids-caps that fits perfectly. I've also added a Guarder front grip and rail. A TM Rail to go at the end of the outer barrel. Painted the stock and the handguard OD and changed that orange tip for a used from one of my team buddies.
Results: Much better accuracy and a lot of kills in my last game!!! The gun is perfect the way it is now and have a very good range and accuracy. Don't think I will change anything more from now.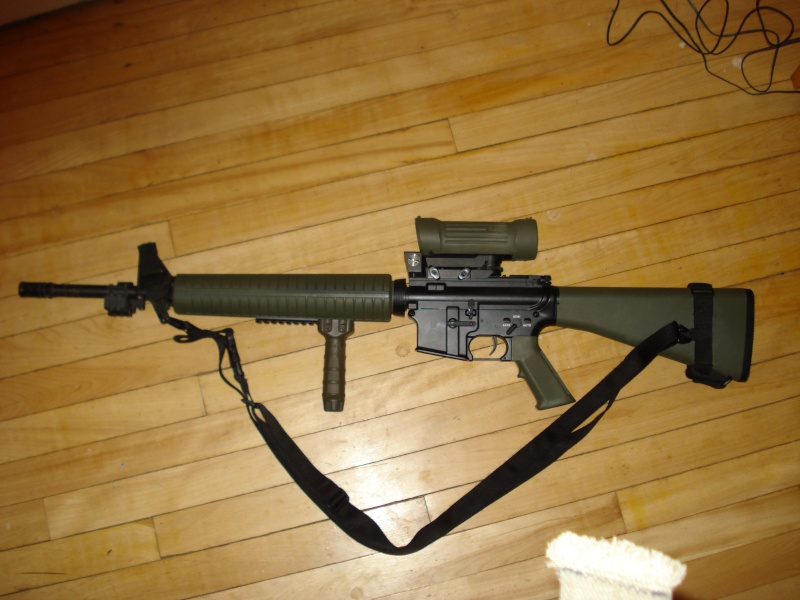 Final results
16/07/09 Two years almost have gone now since this review has started. I still have it as a primary weapon but there's not many JG left on this gun now so I will end the review. I've changed many parts not because it was broken but I just wan't to have a little extra edge on this gun. Please note that the King arms Mid caps do not fit well with the D-boys metal body and may require some mods to feed well.
What I can say is that JG M16 are true out of the box value and are a great base for any upgrades. I will recommend these M16 as a main weapon and as a reliable backup as well.
Now the gun is almost like a real C7A2
I even fit real steel parts on it without much modifications. Pics and description to come