Scar part I
At first I really did not care for the SCAR's looks but my office partner bought a CA SCAR and it has slowly grown on me. I picked this up basically to check it out and see what all the hype was about.
The US version of this rifle is missing the FN trade marks. Because of this I decided to go with Redwolf and get an overseas model with the trades.
What do you get in the box. Well for starters the gun comes in a very nice fitted hard case. In the case you find the gun, 1 300 rd magazine, manual, CQB inner barrel, CQB barrel adapter, and a VFC member card that has the weapons individual serial number embossed on it. Does not really serve a purpose besides identifying your gun, but still neat.
The card
Build quality on the gun is top notch. The upper receiver and barrel assembly are metal, with most other parts being plastic. A lot of thought went into designing this gun. For example breaking the gun down is quite easy.
The gas regulator knob doubles as a take down tool.
To remove the barrel the assembly there are a total of 6 star screws and one push pin that need to be taken care of. The 6 screws are capture screws and do not fall out when loosened. On top of that they are spring loaded to keep the screws out of your way.
The screws and body push pin.
The lower receiver pivots away from the upper and the barrel assembly pulls clear.
The stock can now slide off of the upper and the bolt can be removed.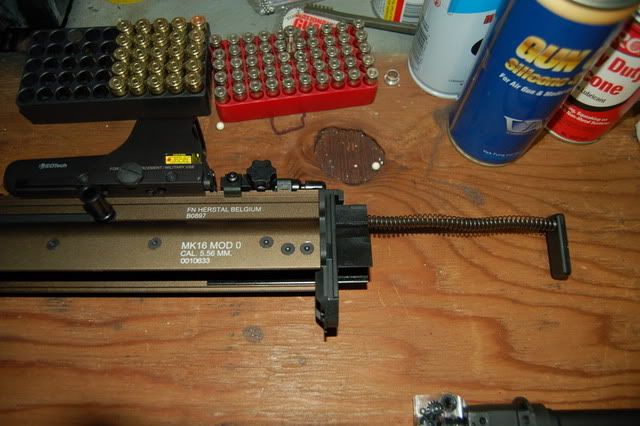 Weapon fully disassembled.
The battery compartment is located in the stock. Its a very tight fit for a mini but is long enough to accommodate a 9.6. The wiring is a bit sloppy and could have been slightly shorter. The fuse is a standard car fuse.