Hey guys,
Thought I'd share my project with you. Im building x2 M2's for the LMAG community.
Update! after Photobucket destroyed the internet. i have to re-upload all the images.
ive decided to do more of a photo dump as finding the correct files to go where is ridiculous
everything begins from stock or sheet metal
after much cutting, grinding and noise (if you're a neighbor Im sorry..)
after welding up all pieces
Update dec 26th
Happy New Years!
with all the extra days off, progress has been great.
right side of the receiver, with a working charging handle.
heat shield not welded yet, need to set up the internals before setting that up
yup thats an office chair i found off the street. will be using it as a basis for the tripod and truck mounts in the future
picked up some hpa tanks during a boxing day sale. now if only i could get my hands on some hpa engines...
and her twin sister in the making aswell
next up is some detail into the feed lips, wooden handles and barrel heat handles
14th jan 2017
small update, busy working 6 days a week and playing airsoft on the 7th
been slowly touching up parts with the grinder. iron sights in the works and handles fab'd up. they begin as couch legs before making the a 50 minute transformation
its been a puzzle getting everything to fit nicely. theres nuts and bolts that the mechbox housing has to fit. hop up to hold and bb tube feeder
working with aluminum is a nice change
taking a break this week from the field to put an extra day into the 50's. 5months to the big game day... still much to do!
23rd jan 2017
turned alot of heads sunday morning haha
it shoots, not very well, but not bad for first day.
it had issues with feeding. just needs a better coupling from poly to spring tube
will have to wire the boxmag to the motor in the near future
other problems seems that it shoots short. the 650mm barrel and stock a&k hopup chamber dont like each other.
will look into a bullgear hop up and maybe a bore up kit to help push those bbs out that long barrel
march 4th update
hit the field again, fixed the feeding issues and chrono'd. wasnt shooting so hot, but after some TLC they arent currently shooting around 380fps @19 rps .25
taking a break from the build. i started the cases, truck mount and tripods
its getting rather tight on space..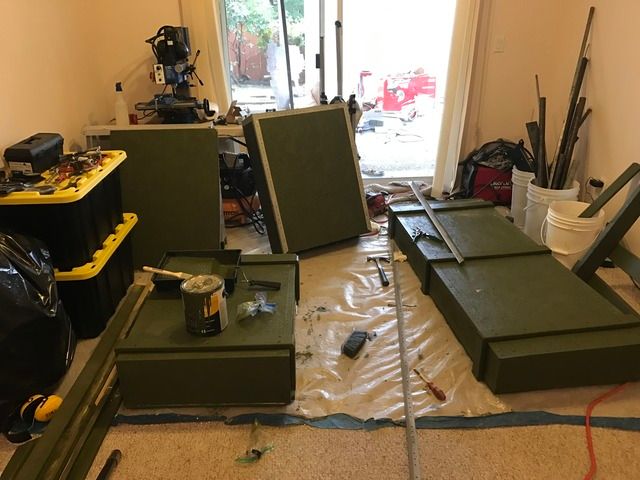 im not really following the standard tripod. i have telescoping feet and plans for a shield
April 17th Update:
Guns and tripods are away for sandblasting and powder coating, should be back soon for the finishing touches
rough in for the shields are done.
they are modular in design, different panels can be removed or added depending on truck mount or tripods.
the UV lights came in for the tracer units...im very excited for that
3rd May:
guns back from powder coating. Slick Coatings & Solutions ltd. based out in surrey, did a wonderful job.
slowly assembling everything back together, bluing all the bolts and touching everything up. endless...
13th may 2017
still having feeding issues, back to the drawing board. looking into a 3d printed bb feed tube.
other than that were 95% done. small additions have been added since field day. all the pins have been chained. too easily lost.
takes a 4 man team to set up
here is a short video of those Wolverine Inferno's Firing
https://www.facebook.com/pg/PantherA...=page_internal
Nov 6 2017 update.
have been busy, took a break from the builds and updates since it was so discouraging that photobucket crashed.
Wolverine
has sponsored the build. sending me two Hpa Inferno's. what a wonderful piece of kit. they definitely give the M2 the performance and realism I was looking for.
being able to adjust the fps for range and slowing down the rof, as a real HMG would fire at.
Since then Ive bought a Wolverine Bolt, x2 Smps and a fusion engine...
I had Scheduled the unveiling on the big game day for OP Odessa. unfortunately the OP was cancelled.
since then, Ive been tweaking things here and there. field testing and making modifications as the game styles change with the M2 in play.
3 man team for carrying all the tripod parts
Nov 12th OP Bridgehead
had both .50s out on airsoft side of panther paintball field. it was a rainy day. had enough time to finish up "rover 1" I must say its alot easier to maneuver around, giving it a more offensive capability.