Just received this today from AirsoftParts.ca for $115 + shipping.
My first three thoughts when I took it out of the packaging were:
1. Geez this is tiny.
2. Ooh this thing is shiny.
3. Holy shit this thing looks solid.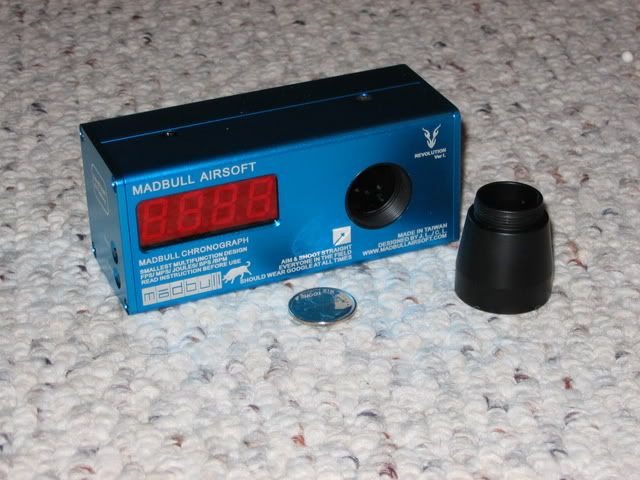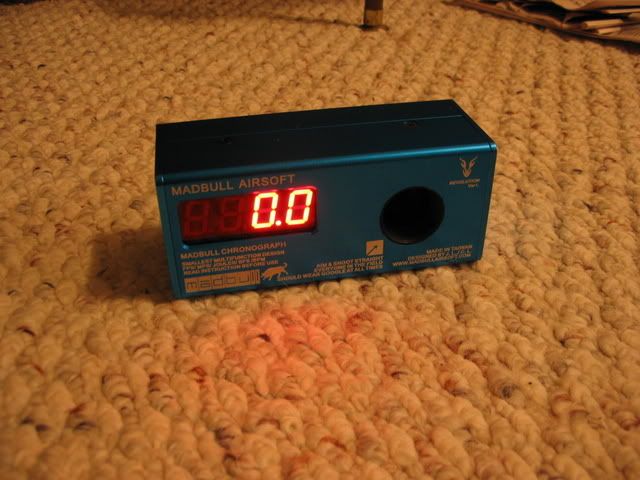 I've included a quarter for scale. Small!
The thing is pretty nice looking. The pictures don't really do it justice.
It's constructed entirely of aircraft aluminum, and I feel like I could throw this thing across my yard and it would still work fine.
It has FPS, MPS, BBPS, and Joule ratings for 20g, .23g .25g, .30g, .33g, .43g, and .89g. That's pretty sweet. It has that black hood that threads onto the front for more precise aiming of your weapon, or spacing I suppose, either works.
It's powered by a single 9V battery. You unscrew 4 screws from the side plate nearest the display and connect the battery. Easy. The only problem was that it came with a shitty battery, so I had to go out and buy one for it to work correctly. Not Jugglez's fault though.
Now for the tests! At my last game in the spring, my AUG chronied at ~400 FPS.
Shot 1: 402.2
Shot 2: 399.4
Shot 3: 412.6
Shot 4: 409.7
Shot 5: 404.0
Average: 405.58
I'd say that's fairly accurate!
Next up is a stock P90. So it should be close to 270-280 FPS, right?
Shot 1: 264.9
Shot 2: 274.4
Shot 3: 273.1
Shot 4: 269.8
Shot 5: 278.8
Average: 272.2
Seems to be in order.
In conclusion, this looks to be a nice little piece of equipment that will get much use, since I build/repair some guns, and there's 3 other airsoft friends in Saskatoon that will use it as well. If I'm going to a game, I won't hesitate to toss this in my bag and take it along. It's small enough to be really convenient and not take up much space, and sturdy enough to be tossed around.