Join Date: May 2008
Location: Wichita, KS - US
Quote:
Too True. The Masada originally started as an M4. They stripped back what the didn't like, and kept what the did. Also taking a few insights from the Scar. They wanted it lighter, and more reliable. I think what F'ed it up must have been all the crap they didn't need. Like the ability to change out rounds. Stick with power, weight, and reliability first. Basically improve on what you have. Down the road you can go for the novelty stuff. It's funny, because they kept it so under wraps like some sort of super secret weapon, when the info finally was released it was like cool. But is it better all around then what you have? ...No? Oh well at least I can switch to non NATO rounds. Because that's important!
I was excited, an 5.56 gas piston system designed from the ground up, not this retrofit system business, and probably would have picked up one myself if it wasn't for the price. I remember reading Magpul wanted it to be low cost, around $1300 USD, but prices are above $2k I wished Magpul didn't sell the rights, to Bushmaster, now Remington, and did things in house, especially considering how superb their Q/C and Q/A processes are. I like that they took the fire controls group from an M4/M16, made it ambidextrous, with a QD barrel to exchange calibers, but when I picked one up to check out at a gunshow, was disappointed, weight being the driver. It felt like a toy, fire controls like on an airsoft gun, and most of all surprised at how heavy it was, especially since it's a polymer gun. QD barrel was nice, but you'll have to rezero it defeating the reason why it's QD in the first place, to easily be able to swamp out different lengths at a moments notice for whatever mission, but if you got to redial in your optic for it, then, why?
Quote:
Originally Posted by
Brian McIlmoyle

same old same old..

nothing in the offing is "better enough" to warrant dropping the M4/M16, and frankly I can't see anything doing so for the foreseeable future.

Marginal increases in performance or reliability aside, all alternatives are little more than an M4 in a fancy dress.
The Marines already have their new gas piston 556 rifles, not 100% on the process of how, but essentially the Marines wanted new M4s, circumvent the procurement mess, they somehow were able to replaced their M249s for HK416s, but called them M27 IARs?!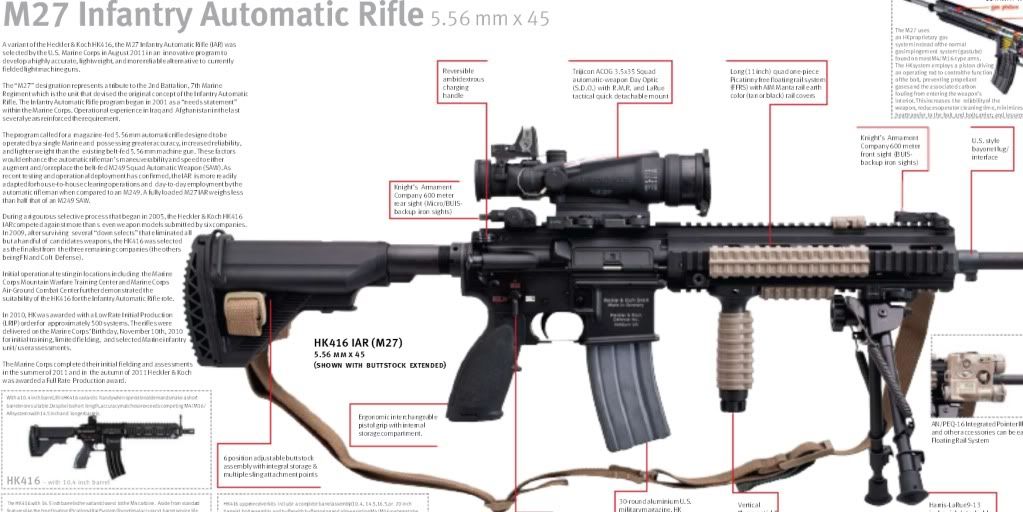 Quote:
Exclusive photos: The M27 Infantry Automatic Rifle in combat
JUNE 27TH, 2011 | AFGHANISTAN GEAR INFANTRY WEAPONS | POSTED BY DAN LAMOTHE

The M27 Infantry Automatic Rifle was approved for full fielding recently by Commandant Gen. Jim Amos. Marine Corps Times profiled the decision in its print edition last week, outlining what it means for each fire team, rifle qualifications and the gear Marines bring to war.
The decision is a big deal to the Corps, but until now, no photographs of the IAR in Afghanistan have been released. That's where Marine Corps Times photographer Tom Brown comes in. Below, you'll find images shot on patrol last week with 1st Battalion, 3rd Marines, out of Marine Corps Base Hawaii. It's the first battalion to take the IAR to war, and senior writer Gina Cavallaro has a feature on it in this week's print edition.
For now, the photos:


Lance Cpl. Joshua Houck, of Alpha Company, 1st Battalion, 3rd Marines, looks through the scope of his M27 Infantry Automatic Rifle during a June 23 patrol in Garmser, Afghanistan. (Photo by Thomas Brown/Staff)


Lance Cpl. Joshua Houck, of Alpha Company, 1st Battalion, 3rd Marines, crosses the Helmand River with the new M27 IAR during a June 23 patrol in Garmser, Afghanistan. (Photo by Tom Brown/Staff)


Lance Cpl. Kendrick Johnson, of Alpha Company 1st Battalion, 3rd Marines, holds the new M27 IAR during a June 23 patrol in Garmser, Afghanistan.
__________________
http://www.youtube.com/user/ICTTacAirsoft
"I am prepared to meet my Maker. Whether my Maker is prepared for the great ordeal of meeting me is another matter" -Winston Churchill
"Train as you fight!"
---
Last edited by Ming_the_Merciless; September 28th, 2011 at

15:46

..