It's been a busy season working on East Wind projects. Any of you who know an East Wind attendee have probably clued in on the fact that to many of us, this is not a once a year event but a year round obsession. At my house for instance, we rarely put in less than 40 hours a week working on East Wind stuff. On dedicated work weekends, it is not unusual for us to get up at 06:00 and work all the way round till 21:00 on projects hit the sack then do it again the next day... We stretch our goals then drive hard to meet them. Anyhow, without further ado here's what's new since July:
NATO Forces: *
6001 at East Wind 6
M151a1 6001 is my personal mutt. *Some of you probably don't know me enough to know what a nut case I can be about gear but this is a good example. * 6001 was at East Wind last year where it did quite well. *I drove it around basically all summer and everything was fine apart from the fact it was getting a little hot on extended high speed runs most likely due to the MASSIVE amount of grass seed that was lodged in the radiator. * I set to work to take care of a few issues related to that and 1.6 cups of mission creep later ended up basically overhauling the entire engine and changing basically every single bearing, joint and seal on the thing. * Should be pretty good now I think... *
M151a1 6007 was almost ready for East Wind 6 but ended up being too much to take on at the time. * Gallion bought it earlier this year and has taken on the overhaul. *His attention to detail and desire to have it be as nice as he can within his limited budget has lead to a very serious structural overhaul with the help of his very capable stepdad Ed. * He's now got the straightest and strongest mutt of all out here. * Just need to pull out and overhaul the front suspension system get the brake system all installed, and wrap up some wiring issues and we'll be ready to rock the block with this one. *
M151a1 6008 belongs to Switzer down in South Texas. *Over Thanksgiving weekend Curfman, Z, and I made a run down to help Switzer get the restore of this one kicked off. *After plenty of bodly welding getting everything structurally sound, Z got a coat of MERDC 4 color temperate Europe paint on it. *Still have some work to do on this guy but it shouldn't take all that much to have it up and rolling along. *
M35A2 6015 got a set of new fancy radial tires. * These are a MASSIVE improve for the deuces and doa *great deal to reduce drive fatigue on long convoys down and back from East Wind. *
M35a2 6019 is already converted to single rear wheel configuration. *David should have the 11.00-20 radials rounded up for it pretty soon then it too will be a radial truck.
M151A2 6021 got all of it's PMCS work done and it is currently deployed to D-Day ready for East Wind 7. *
m151a1 6022, long the red headed step child, has a new owner now in David who is hard at work on the pieces he is able to get hauled back to KC to work on. * Shorty, as soon as either 6037 or 6007 clears out, 6022 will be in the depot getting some major body overhaul work done. *We may yet see this one in time for East Wind 7. *
M35A2 6025 got an M66 gun ring installed on it. *Now we can finally keep those pesky Hinds at bay. *
M151A2 6033 got all finished up earlier this summer and caught a ride out west to Ft. Riley on the back of 6015.
At the Soldier Fort Stagg quickly set to work proving that normal cars are for squares. *6033 has been racking up the miles out there as both a daily driver as well as roaring all over the ranges amazing Stagg and others out there with what an M151A2 can do. *
M718 6037, our front line ambulance, is nearing completion. *Here Curfman shows off the new (old) ambulance top. *
The biggest stumbling block for this guy was it's transmission. * It had a bad input shaft bearing which has now been replaced. *Just waiting on a seal kit and we'll have it all together and ready to stick back in. *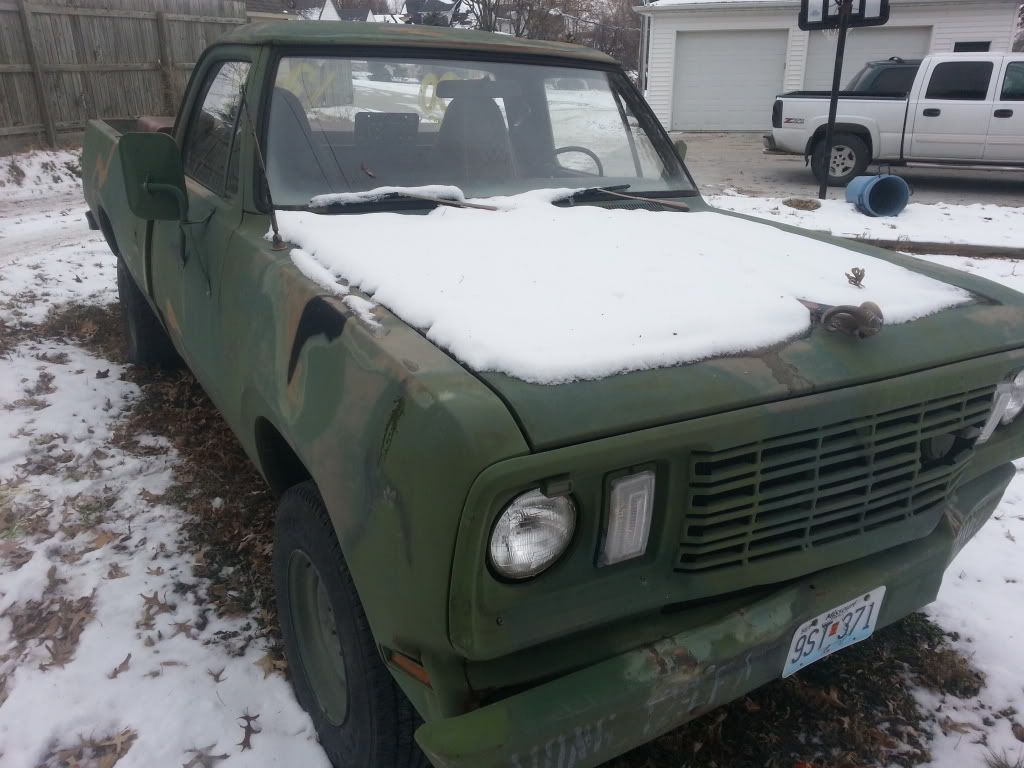 M882 #707 just joined the family. *It's an ex-Missouri National Guard radio truck that was bought by Ready for East Wind duty. * As is usually the case with the M880 series, it needs remarkably little work to get into good order and should be all set to go fairly quickly. *
Up north in sun baked blistering sands of of southern Manitoba, Rob Bye set to work building a pair of Carl Gustav launchers for our Canadian contingent.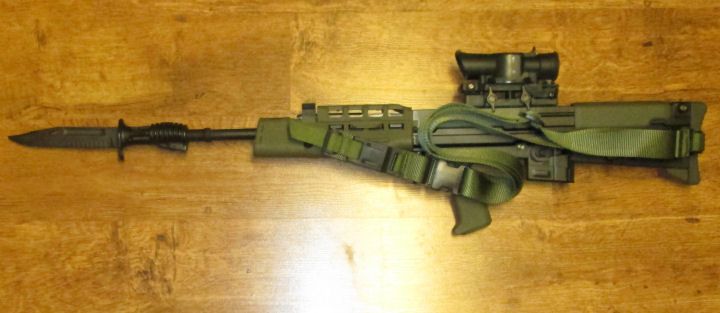 Down south in the frozen pine forests of South Louisiana Mercy set to work getting resin/rubber SA-80 bayonets cast for our UK guys. * You cannot be commonwealth infantry without bayonets you know!
Meanwhile over on Warpac: *
Stagg's Gaz-69M has been carted up to Wamego for service work. *This one really is in pretty decent shape so it ought to turn around really fast. *
In keeping with the general trend to containerise more in order to reduce set up times. *The Warpac has put together a new containerized supply shelter.
Warpac troops really got to work hard on drive train maintenance for their smaller vehicles this year. *For once, in a long time, it is looking like we may successfully deploy ALL of the Warpac vehicles next year! * Good work guys. *
The BTR-40 spun a rod at East Wind 6 and has, over the summer and fall, been getting it's engine overhauled. *Here Art pressure washes out the engine bay prior to it getting a new coat of paint. *
Trucker and I took a weekend and did some long haul trucking pulling the Robur LO-2002 from DDAP down to Mobile Alabama for Doorman to begin overhauling. *Lots of little stuff to do on this one but none too crazy. *Besides, I think Doorman will probably be able to fund the entire overhaul by selling off the acorns that were stashed in it by pack rats over the years. *
The SPW-152 is even moving along. * It's engine and transmission are installed. *The custom drive shaft is being built right now that goes between the transmission and the transfer case. * Once that's on there, it will move under it's own power. *We still need to get some of the this and that stuff taken care of like plumbing in the cooling system, adding some wiring and installing an air compressor for the air brakes but regardless, this big guy is well on it's way. *
East Wind is a very recon oriented event. *The two sides literally get ZERO intel from admin and have to rely on their own assets to determine what is going on in the field. * That puts a lot of value on good optics. *Good fortune smiled upon our East Germans as a supplier here in the states put the VERY high quality original East German Zeiss binoculars on sale for $90 a pair (they are usually closer to $300) *Many of our East German sprung into action scarfing them up. * These binos should help a great deal in the field at East Wind 7 and beyond. *
Not to be outdone by last years introduction of the tripod mounted MG-3 by the West Germans Coop out in Jersey has been getting a PKM set up for tripod operation as well. *In normal airsoft a tripod mounted medium machine gun is not match for a little fat kid with an MP5 and a high cap but when you start running 24/7, a medium machine gun quickly proves it value in the defense since you can preplan your fires and effectively support nearby positions that you cannot even see.