An AK Guru's help/advice is definitely desired, purists might want to look away..
I'm trying to get this season's boom-sticks all setup to my taste, and i'm running into a few issues, regarding mating of an (AABB?) compact 'shorty' PBS-1 suppressor purchased from airsoftdepot (
http://airsoftdepot.ca/catalog/produ...oducts_id=2337
) , to my Tactical Fantasy LCT AKMSU. I actually ordered the regular length (
http://airsoftdepot.ca/catalog/produ...roducts_id=284
) and the shorty appears to have been sent in error, instead. I'll need to rectify that issue, tomorrow when open. Even with the correct PBS-1 that i ordered, the basic issue still likely remains.
I got the idea from the below image: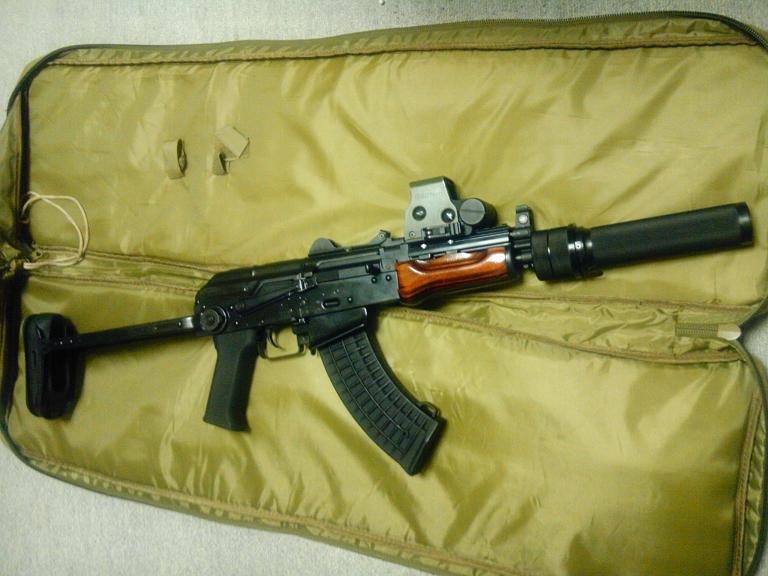 from this Japanese blog, translates fairly poorly through Google ..
http://carbinesan.militaryblog.jp/e252542.html
I'm not trying to direct copy, but get a similar approximation flush fit to the sight block/gas tube of the AKMSU muzzle, as seen on the above photo
.. and this is my result, so far.
As can be seen, i am using a Hephaestus Aluminum Silencer Adapter for GHK AK Series (24mm CW to 14mm CCW) .. the AABB PBS-1 in turn uses an internal thread insert that converts from 14mm CW to 16 or 18mm CW (I think). This is not ideal to me .. i would much prefer it being flush fit against the sight block, as already said, and as shown in the inspiration photo.
What do i need to do, to rectify this? Do i need to go to a different airsoft manufacturer sight block (LCT uses an integral 24mm threaded sight block/gas tube assembly) to make this work? Different PBS-1? Machine out and tap the PBS-1 to get to 24mm CW? What am i not getting here, in this equation to my ideal of perfection?
Thanks for any help/pointers..